We need to have an electrician do some work at our house and I thought it might be fun to have an electric car charger installed. Of course, we don't have an electric car, but maybe one day we will? We can't fit a car into our garage (packed with junk due to brilliant architect's 1960s decision to build this house with no basement) so the charger needs to be outdoors.
At first I was thinking "Shouldn't this just be an outdoor 240V outlet?" Then I discovered that there are "charging stations" for sale. Is there anything more to them than an extension cord on a reel? It is the car that decides when to start and stop charging, right, not the charger?
Finally, even if we wanted to buy one of these cord reels, which one should we get? Some web pages imply that there has been a VHS v. Betamax situation. Is that all sorted out now by the Combined Charging System?
(Despite the fact that it is fun to ridicule the Tesla fan club, I think that if we did get an electric car it probably would be a Tesla due to the "dog mode". See"Car/Kennel" for what I wrote about this in 2003.)
[Update based on comments below and further research: A hard-wired system seems to be required for reliability. J1772 is the standard connector except for Tesla, which requires a dongle adapter (i.e., there is no standard connector in the U.S., since the volume leader uses a different connector from everyone else). Total "Charlie-Foxtrot" as we say in aviation! Progress means that, unless you want to have huge amounts of power going through a dongle that is exposed to rain, every time you buy a new car you have to hire an electrician. If the family has two electric cars, it may need to have two different charging stations installed.]
Small parking lot in our suburb during lunch today included three levels of sanctimony: basic, plug-in, complete.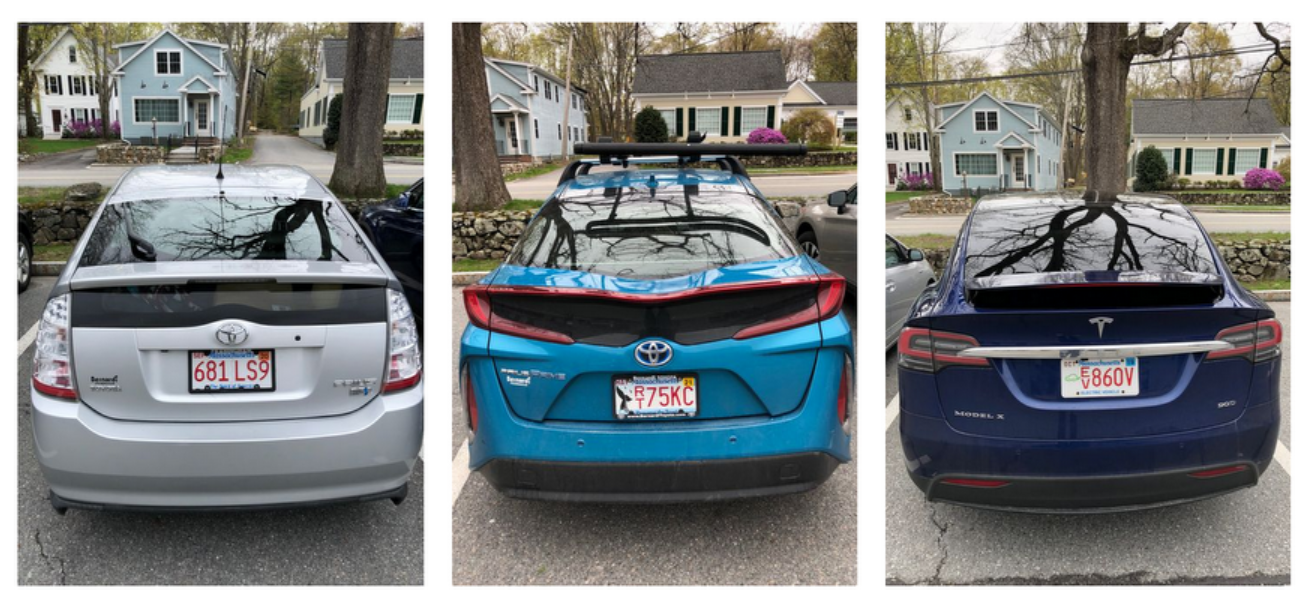 Related: