A Facebook friend shared the following post from a Conservative Rabbi: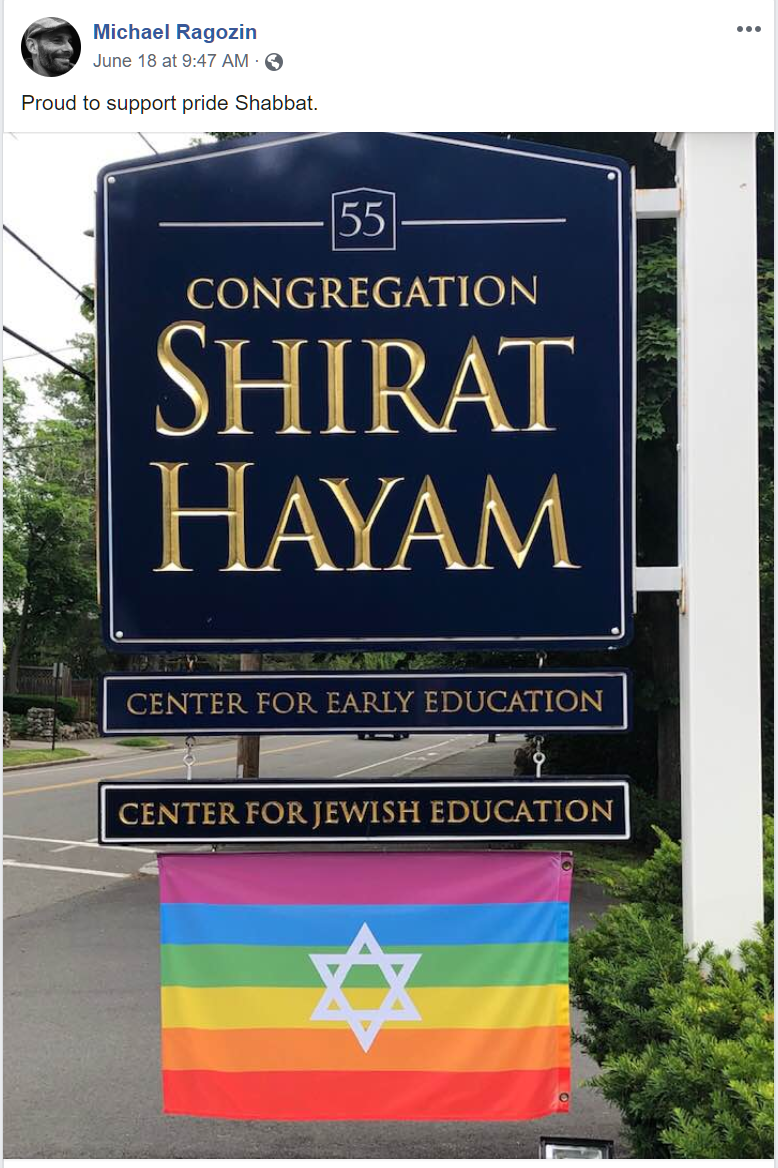 (i.e., a prime spot for a Black Lives Matter sign (in a nearly-all-white town, of course, with restrictive zoning to keep it that way) was taken up with a different victim group's banner)
He added "We stand for radical hospitality. EVERYONE is welcome!"
Of course, I had to ask "Would someone who advocated for strict adherence to Leviticus 18 and 20 be welcome?" (see Wikipedia for "Orthodox Judaism generally prohibits homosexual conduct")
There was a bit of back and forth, leading me to suggest an update: "everyone who agrees with us is welcome"
A righteous congregation member replied "Do you mean to suggest that the hypothetical conservative people you reference would be unable to respect that others have different moral perspectives from them, and would make a scene harassing others, causing them to be asked to leave?"
I refined the question: Okay, so the hypothetical person comes to the "EVERYONE is welcome" temple wearing a T-shirt reading "Follow Leviticus 18/20" on the front. On the back is "Outlaw abortion after a heartbeat can be heard". On the head of this person is a red MAGA hat. The person is carrying (not on Shabbat, I hope!) Tefillin in a Trump Hotel laundry bag in one hand and a Reelect Trump 2020 tote bag in the other hand. Will this person be just as welcome as a person wearing a rainbow T-shirt?
A sincere congregation member: I imagine such a shirt might prompt conversation, and as long as all parties engaged in conversation in good faith, I have trouble believing Mr. T-Shirt Man (as I'm now thinking of him/you) would be asked to leave.
I asked how this would be different from a Catholic Church putting out a "Stop abortions now" (an issue on which Americans disagree) and saying "EVERYONE is welcome,"
The righteous response: a key difference is that the Catholic Church promotes a moral code that is anti-abortion, and presumably could even excommunicate members who have abortions. Therefore, such signage would be hypocritical. It seems that perhaps you are perceiving there are "two sides" that are mirrors of one another, but there are crucial differences between a Catholic or Evangelical church that says "abortion is immoral" and are working to criminalize abortion—but still say "all are welcome" — and a Jewish Temple or, say, a UU church that sees abortion as a medical procedure between a women and her doctor (but not going around and foisting the procedure on others) and welcomes all comers. The former groups are trying to control / legislate others' behavior, but the latter groups are not.
I pointed out that the LGBTQ banner was sometimes unfurled in order to control and coerce others, e.g., preventing Chick-fil-A from opening restaurants, forcing the Colorado baker to make a same-sex wedding cake, or boycotting Israel (maybe they'd rather visit one of the anti-Israel countries in which homosexual acts are punishable by death?).
Me: Circling back to the original post, would your temple be equally welcoming to the Colorado baker who was the subject of the Supreme Court case as you would be to someone wearing a Provincetown Pride T-shirt? If not, it is inaccurate to say that EVERYONE is welcome!
Congregation Member 1: exerting pressure on corporations to change their practices is not the same as legislating the elimination of human rights for certain groups of people. Apples and oranges.
Congregation Member 2: you seem to say above that a flag representing "[Jewish] gays are welcome," is a point of view?
Readers: What do you think? Does hanging a pride flag signal adherence to a political point of view and therefore tend to exclude people who don't agree with that point of view (e.g., Orthodox Jews, observant Muslims, Catholics, etc.)? Or is it legitimately characterized as an "EVERYONE is welcome" sign?