After Trump was elected, a friend said "If Trump proposes any cuts to the military, Democrats will demand a 600-ship navy." In that same vein, while I was traveling around Greenland in preparation for a Northwest Passage cruise, my Facebook friends were defending continued white European colonialism in Greenland following Trump's offer to purchase the island from Denmark.
What does Greenland look like? Here's Sisimiut, one of the largest cities, population 5,500 (10 percent of the island's total population):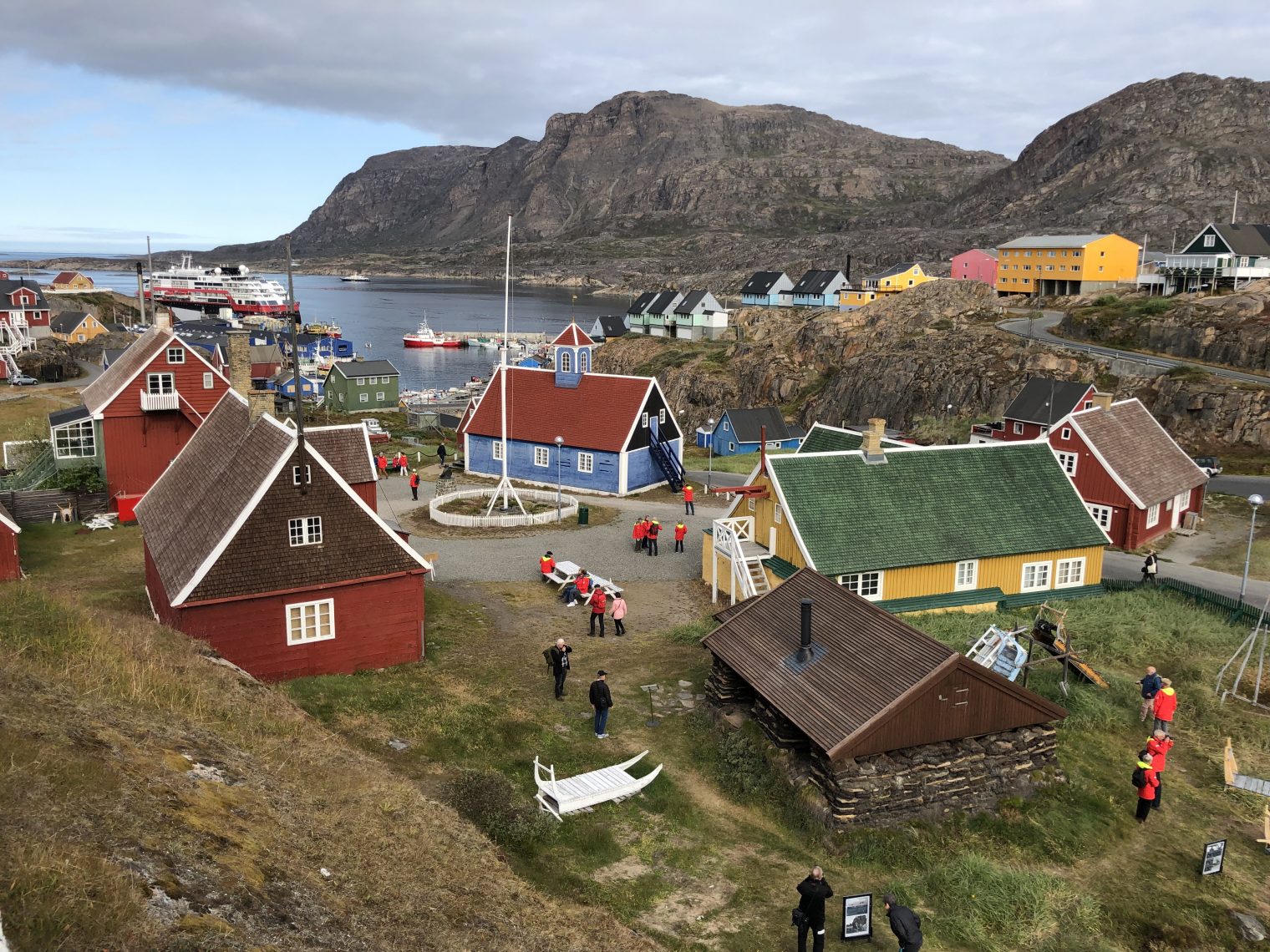 Danish colonial rule was legitimized (at least by the Klaboona) in the 1930s. History from the museum in Ilulissat (posited source of the glacier that sunk Titanic):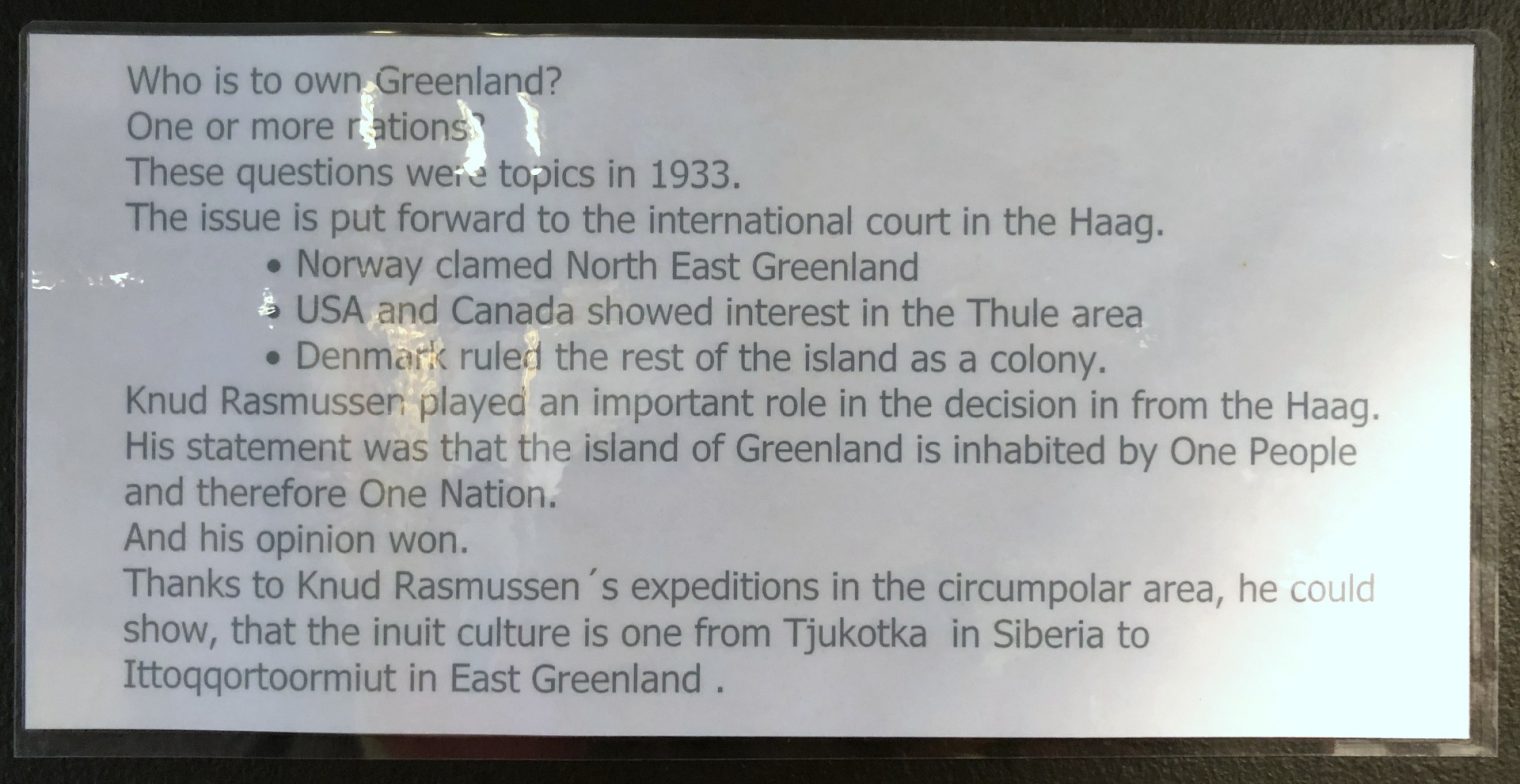 What did Greenland residents think of the Trump offer? I asked everyone whom I met during August 2019 visits to Kangerlussuaq, Ilulissat, Sisimiut, and Itilleq. There was a huge amount of enthusiasm for continued Danish rule… among those who were actually Danish, e.g., an art museum director who was born in Copenhagen to Danish parents and emigrated to Greenland roughly 25 years ago. There was zero enthusiasm for continued Danish rule among those whose heritage was "Greenlandic" (Eskimo/Inuit). People of mixed genetic heritage had a mixed opinion.
One Greenlandic gal noted "the Danes never thought about doing anything for us until Trump made his offer." The Danes living in Denmark with whom I spoke considered the offer in "What can Greenland do for us?" terms, e.g., what were the value of the minerals that could potentially be mined. They did not mention any consideration of whether Greenlandic folks would be better or worse off under the cruel boot of the Trumpenfuhrer.
Thus, based on my sample of roughly 40 individuals, native Greenlandic folks have the same affection for European colonialism that Native Americans do for European-American immigrants.
My notes from watching short documentaries on Air Greenland (nice airline) during the inbound flight:
People want to fight the Danish and be independent. Yet young people move to Denmark. Young people leave smaller Greenland towns for Nuuk. It is a huge waste of time for Greenland kids to learn Danish; they could be a lot more integrated with the world economy if they learned English instead.

Acknowledgement that they are financially dependent on Denmark, but expressed hope that they can be self-reliant as in the past. Why aren't the fishing rights lucrative enough for independence ? Plenty of cod back in Viking times.

Why do they have alcohol? Much coverage in the tourist promotional videos of the damage done by alcoholism. Young woman beat up a number of other girls at a bar. Had no memory and no reason to have attacked any of them. Sentenced to 70 hours community service. Industrial cheap alcohol in a place where the sun doesn't rise for 6 months?
Some photos from the in-flight magazine and seatback video:
Note that helicopters are included within the category of "aeroplanes." In case you were considering signing up for a dogsled ride, "Travelling with dogs is a sensual experience that penetrates travellers – and remains there". Mira Kleist, a young diplomat, gives advice to teenagers that might not make sense in the digital age: "Just do what you want to, people soon forget." (But Google, Facebook, and Archive.org remember, as anyone whose Harvard acceptance has been rescinded can attest.)
Related:
"Greenland's exit warning to Britain" (Politico), regarding the three-year process (1982-1985) required for an island of 56,000 population to leave the European Union. (one fun thing to do on the cruise, whenever the English passengers started to talk about Brexit, was to ask Norwegians at the table if Norway would like to join the EU, a proposal that was greeted with howls of derisive laughter)