JetBlue was honoring Justin Trudeau on the way out (September) …
Nobody who arrives at the Denver Airport in the late evening is going to get claustrophobia:
My experience at the Maven at Dairy Block Hotel proves that nobody older than 40 should attempt to stay at a hip hotel. Although it was Sunday and Monday night when I stayed, there was already a lot of noise from the outdoor dining tables in the alley underneath the room. Airstream and pinball in the lobby:
I did appreciate the room numbers done in nails. Instead of a vat of coffee in the lobby from which you pour yourself as many cups as you want (Hampton Inn-style), you take a coupon for a precious single cup of single vintage drip coffee served by a tattooed and pierced cashier at the artisanal coffee shop within the building:
There is an upscale food court attached to the hotel. If nothing else, it proves an example of the critical difference between possessive and contraction.
We were working near Union Station:
This area certainly won't win prizes for affordability. We didn't see a sandwich for less than $13. A haircut from a barber shop, with tip, was $40. The first native-born Uber driver that I met was during the departure ride to the airport (20-minute traffic jam delay at 8 pm). He said "I've lived here my whole life, but I can't afford it anymore. It is like San Francisco. I think I'll have to move." Certainly he can be replaced. The sandwich shops were staffed mostly by non-English-speaking immigrants who were receiving instruction in such basic tasks as ladling soup into disposable bowls.
Dinner was a $70 plate of tacos at Tamayo: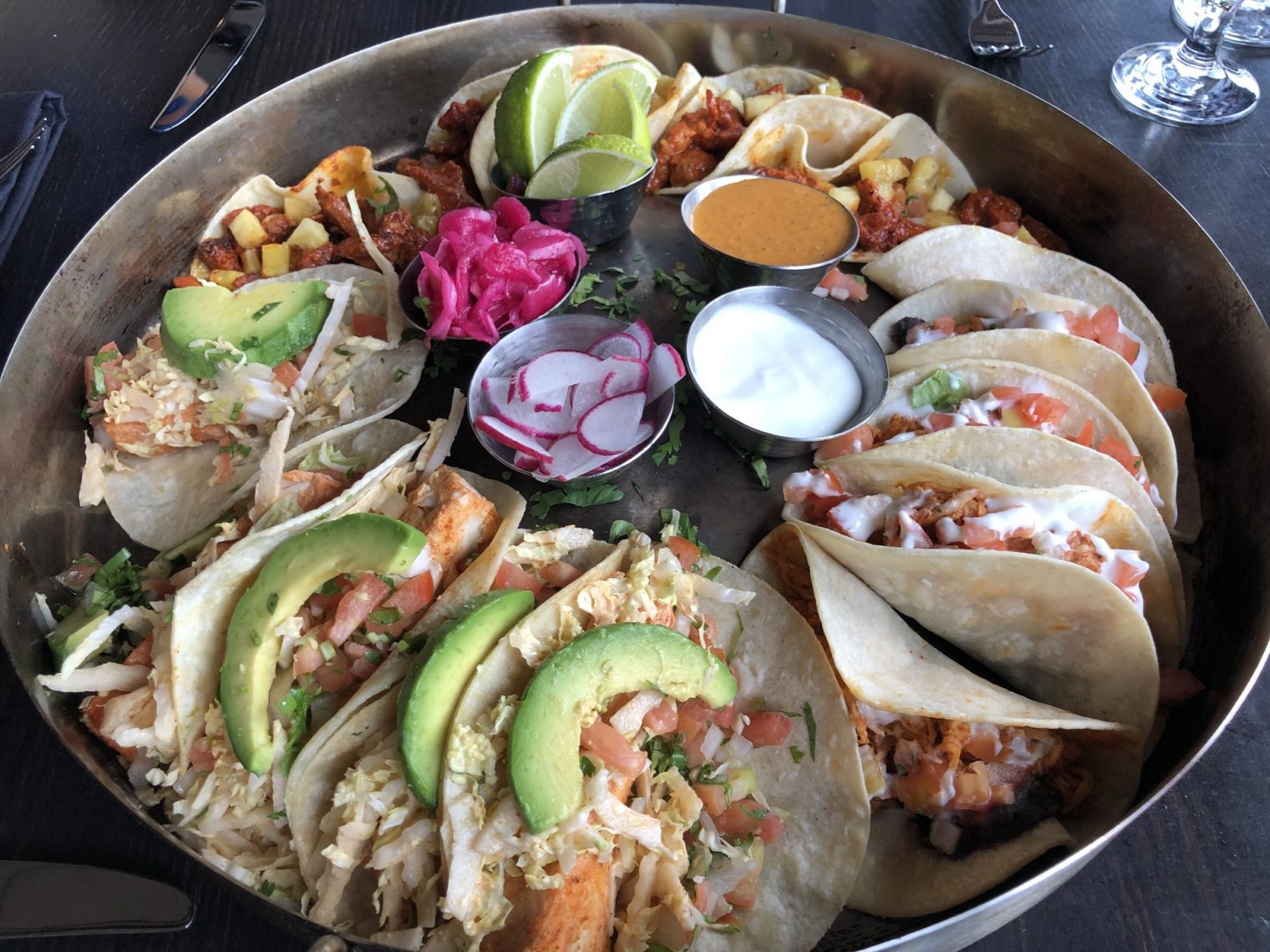 After we managed to eat most of these, our local friend gave us a tour of the 16th Street Mall. She knew many of the homeless people we encountered, whose environment was punctuated by video signboards advertising Patagonia, purveyor of $200 down vests. Instead of the garments, however, Patagonia was advertising its brand with a message about climate change:
The good news is that nobody over age 30 is "facing extinction," according to Patagonia.
(Wouldn't the actual "climate deniers" be Patagonia customers themselves? Suppose that someone bought a vest for $30 at Costco or $40 at Uniqlo instead of paying $200 for a Patagonia vest. He/she/ze would then have $160-170 left over with which to plant trees ($1/tree in bulk?) to reduce global warming. What is better evidence of climate denial than conspicuous consumption of luxury goods such as Patagonia clothing?)
The Denver Art Museum is mostly closed for a massive renovation. But there is still some great stuff on display. Kids were better dressed in the old days:
I love Nam June Paik's work, but how can it be maintained? Who has a stock of late 20th century Trinitron tubes?
I thought it would kill on Facebook to write "A big space needs a lot of rooftop A/C." over a picture of these Donald Judd sculptures.
How wrong I was!
A professional fundraiser was outside seeking donations for bringing more migrants to the U.S. I gave him my standard offer of paying for transportation and food if he wanted to house a migrant in his own apartment. This was refused: "That's not how we work."
Inside the museum, an Erika Harrsch installation/video promoting migration:
Watch this video for the words/lyrics ("alien" features prominently).
More exciting for the kids: a 1970 hall of mirrors by Lucas Samaras. The renovated museum will be open in 2022, just in time for Shanghai to have built another Manhattan full of office space.
What do people read in Denver? I visited the Tattered Cover, an old-school downtown bookstore, to find out. "For the sisters, misters, and binary resisters":
(Will the Mueller Report have to be shredded now that Trump is being impeached from his position as Fuhrer due to Ukraine, not Russia? Or will people still pay to read this in hardcopy? And I would hope that the one thing anyone can learn during National Hispanic Heritage Month is that nobody could ever have too many tamales!)
Denver got quite a bit younger and hipper as I made my way back to the airport. The airport is ready for the Elizabeth Warren presidency. JetBlue, regrettable, is showing movies by a convicted (in New Yorker magazine and on Facebook) rapist. To deceive the woke/outraged into watching Annie Hall, the airline tags it as dating to 2007 (Wikipedia says 1977).
Due to the easy flight connections to Asia and the appeal to the young workers that employers seek, I cling to my belief that Denver was the best choice for Amazon HQ2. At the same time, it seems that any more business growth will be very tough indeed on the lower skill members of the community.
My favorite pictures from the trip are of an app-linked electric scooter tossed into the garbage in front of a micro-brewery. I posted this to Facebook with "Public service announcement: eating avocado toast and steering don't mix."