What happens when Disney expands into China? How do the master storytellers of Hollywood tap into 5,000 years of history, art, language, and culture? Answer: you get U.S. Disneyland with a Chinese restaurant and without any obese people on mobility scooters.
A Metro ride will get you in smooth modern comfort from anywhere in the city to Shanghai Disneyland for between 50 cents and $1. There will be a clean restroom in every station through which you travel and the trains run every 2-5 minutes. From the center of Shanghai it is roughly 45 minutes on the Metro to Disney.
Bring your passport. Disneyland has not been briefed on the merits of hosting a large population of the undocumented. Tickets can be purchased in advance or at a ticket booth on site (no line at 10:00 am on a Monday, one hour after opening) at a cost of roughly 50 percent of what you would pay in Florida or California. Lines for rides can be 30-45 minutes so it makes sense to pay roughly double (still no more than the U.S. price) for a "Premier Access" add-on that gives you an anytime fast pass for each big ride.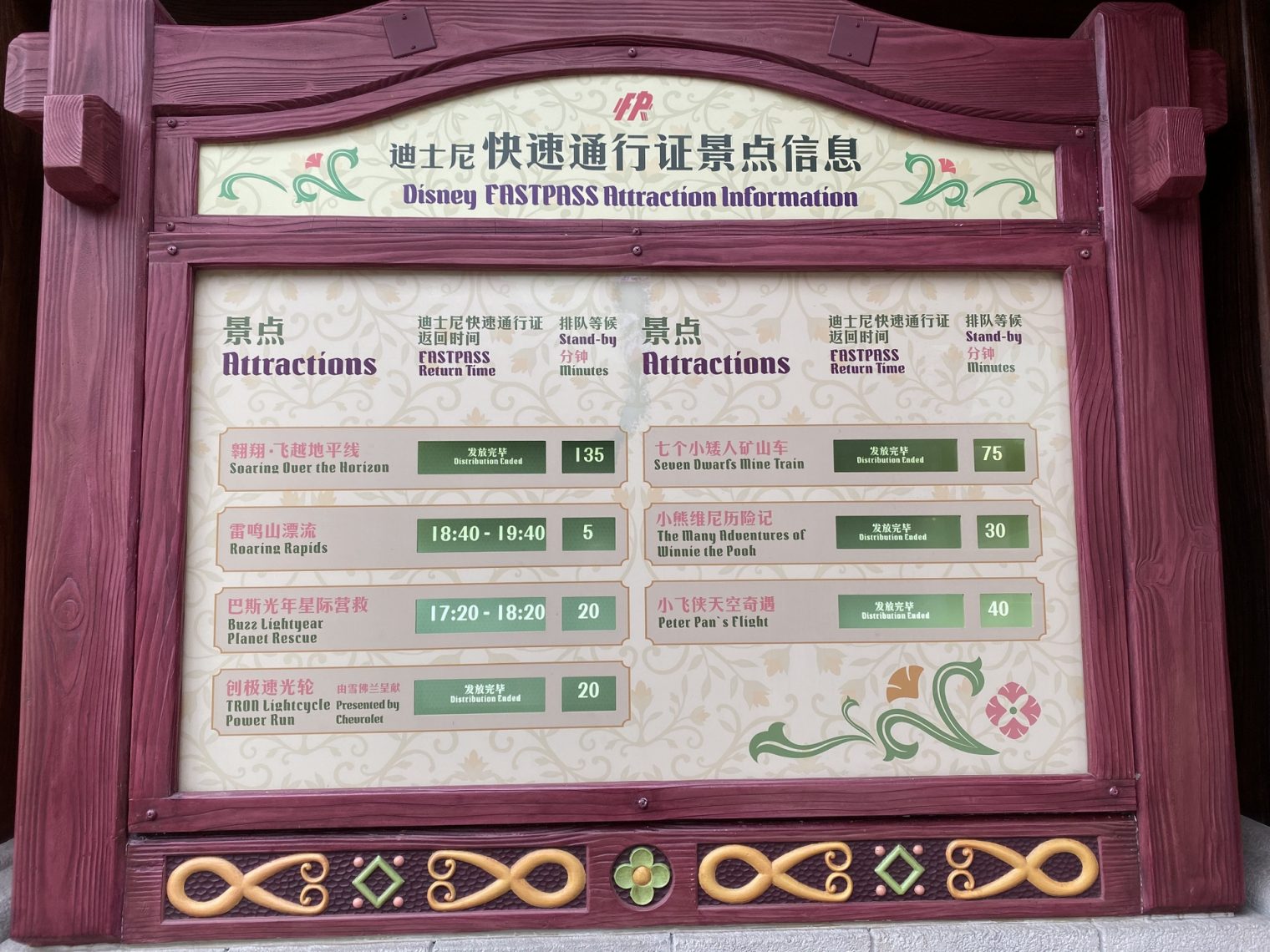 You can do all of the big rides in one day, but it would probably take two days to explore all of the corners of the and wait in line for the smaller rides for which fast passes are not available (you can pay about $1,000 for the super VIP guide, though, and maybe skip those lines too?). As a strategy, consider saving the Crystal Grotto ride for after dark. It has beautifully lit scenes that might not seem magical during the daytime.
Most of the rides are tame so it is easy to get inured to the dire warnings cautioning the pregnant, the drunk, etc. The TRON roller coaster (ride through), on the other hand, makes you wonder "Why is this legal?" There is a "recovery area" for after the ride.
There is a fun ropes course:
Alice in Wonderland gets a maze (how long before everything related to Lewis Carroll has to be ripped out of U.S. parks?):
I did try the Chinese restaurant for lunch, noting on Facebook "The same boring noodles with crab sauce as at US Disney parks."
Prices are fairly reasonable, but the most sensible strategy is to have lunch in the adjacent "town" that has a bunch of ordinary restaurants, including a Cheesecake Factory(!), selling Shanghai mall-style food at Shanghai mall-style prices (e.g., about $5 for a bowl of noodles with dumplings or whatever; divide the 35 price below by 7 and remember that it includes tax and service/tip). It is about a 5-minute walk from the park to these restaurants and getting back in is easy with your ticket.
Disney did bring the best of American cuisine to the captive Chinese audience e.g., turkey legs and corn dogs. A water bottle inside the park is about $1.50, but most Chinese bring their own bottles and refill as necessary.
Skip Remy's Patisserie. Maybe a rat can cook, but he can't bake.
If you need a souvenir, the castle contains a gift shop with a $260,000 glass replica of the castle..
The parade (video I made for the kids) is off the charts with between 5 and 20 dancers milling around each float and one float per movie. People begin occupying prime spots 30 minutes before it starts, though the Premier Access top level pass should give you a dedicated viewing area. It is helpful to be at least 6′ tall if you're not going to arrive well before.
Going back to a downtown hotel is as easy as strolling to the Metro station:
Overall: a much better experience than in the U.S. Disney park due to the reduced crowding, a fun activity for an off-peak weekday if you're in Shanghai, not too much Chinese-specific design.