Sick of the cold weather yet?
On a no-plans-in-advance island-hopping trip around the Bahamas everyone we asked for a hotel recommendation in Nassau said "Baha Mar". The good folks at the Odyssey FBO have a corporate rate with the Hyatt Baha Mar so that's where we ended up.
The Chinese-built complex is the newest development in Nassau and everything sparkles. Staff members at all of the hotels are friendly and competent.
Budget at least $100 per day per person for food within the complex. Restaurants are good, but everything is about 2X the price of what it would cost in a big U.S. city. Restaurants are crowded at dinner. We had trouble getting a table for two at 7:30 pm on a Thursday.
The epic breakfast buffet is worth it, though Michael Bloomberg would not approve of all of the dessert items available:
A taxi downtown is a fixed $18 for two passengers. There are no independent restaurants within walking distance. There is no Uber in the Bahamas.
There are a fair number of activities within the resort, including a twice-daily flamingo walk, a fountain show every 30 minutes, and a marine animal sanctuary containing sea turtles, sharks, rays, fish, etc.
When the massive hotels are full, the pools are busy and not relaxing. The Rosewood hotel is within the complex, but has its own private pools that are much quieter. If traveling with children, one big issue is that the pools close at 6 pm (maybe later in the summer months?). What are the kids going to do from 6 pm until bedtime? Play the slots?
Rosewood:
The beach is reasonably sheltered and the water is calm, though perhaps not as calm as in Provo (Turks and Caicos).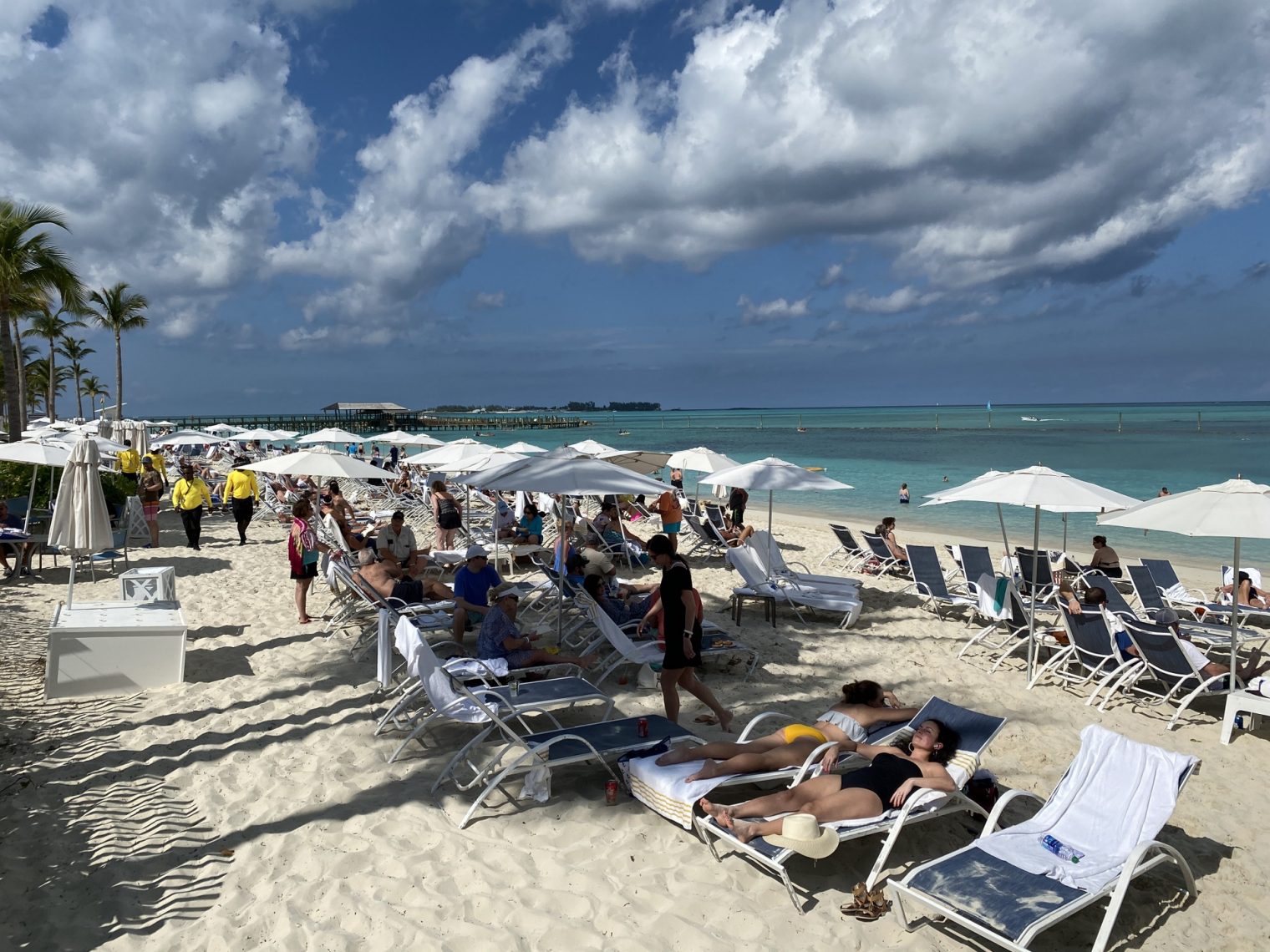 The gym seems to be shared among all of the hotels and it is huge and blessed with water views.
If you need to get work done or just enjoy Skype with friends around the world, the Chinese-financed and Chinese-built Baha Mar offers a Chinese level of WiFi: at least 75 Mbits symmetric everywhere that I tested and usually a bit more.
The Rainbow Flag Religion is weak here:
Competition: we had wanted to stay in Atlantis, but all of the Bahamians warned us against it. "It need to be renovated" and "It is run down" were typical comments. We hopped in a taxi to Paradise Island (formerly "Hog Island") and were awed by the lobby of the Atlantis. Public WiFi clocked in at 0.82 Mbits (1/100th the speed of Baha Mar) and then failed altogether. There are herds of cruise ship passengers who come here on tours. To keep them from wandering too far, there are security people everywhere challenging people (most of whom seemed like obvious guests, e.g., with nothing but flipflops and a towel) to see proof of hotel guest status. An adjacent marina has some impressive superyachts and signs telling people not to go anywhere near them (ignored by the Chinese tourists). My friend was unimpressed with the Atlantis: "even the chairs in the casino look old." The lagoon was deserted.
The veneer of luxury and wealth on Paradise Island is thin. Right across the street is a strip mall with a downscale casino, a grocery store with canned goods, and a Dunkin' Donuts. Farther to the east is the Ocean Club, run by the Four Seasons. This is a small expensive hotel with a single pool, which was fairly crowded. On a day when the Baha Mar beach was nicely sheltered and perfect for swimming, the Ocean Club beach was hanging a "caution" flag and the water was rough. It is a great place for lunch and probably a great place to stay if you want to get away from the crowds (but, if so, why not simply stay on one of the "out islands"?).
Conclusion: the locals seem to be right about the Baha Mar complex being the best place to stay in and around Nassau. However, you have to want to be in a city-sized development (2,200 rooms) that seems to be quite full even slightly off peak. Imagine a huge cruise ship that never leaves the dock. If you want to be in a smaller scale lower-rise hotel and enjoy a perfect beach, consider flying an extra 30 minutes to Turks and Caicos (Provo).
Separately, as here in Massachusetts, the construction of casinos is encouraged. Unlike in Massachusetts, however, it is illegal for a local to gamble: