Previously from the U.K.:
Yesterday: "UK has enough intensive care units for coronavirus, expert predicts" (New Scientist)
[the expert[ said that expected increases in National Health Service capacity and ongoing restrictions to people's movements make him "reasonably confident" the health service can cope when the predicted peak of the epidemic arrives in two or three weeks. UK deaths from the disease are now unlikely to exceed 20,000, he said, and could be much lower.

New data from the rest of Europe suggests that the outbreak is running faster than expected, said [expert]. As a result, epidemiologists have revised their estimate of the reproduction number (R0) of the virus. This measure of how many other people a carrier usually infects is now believed to be just over three, he said, up from 2.5. "That adds more evidence to support the more intensive social distancing measures," he said.
Who is this "expert" telling the Brits to chill out? Neil Ferguson, the lead author of the March 16 Imperial College paper that told the British to freak out.
(Professor Ferguson doesn't explicitly say "my Oxford competitors are right and I was wrong", but upping R0 to "just over three" supports the Oxford theory. Let's assume "just over 3" is about 3.4. He previously was thinking 2.5. How do these compare? If we just do the simple exponential and don't bother to consider people meeting the already-infected, after 8 exchanges of germs, the disease has spread 12X more widely under this quietly buried tweak. That's the difference between 5% of the population and 60% that are infected and, by inference (since 60% of Britons aren't dead), a huge difference in the lethality of COVID-19.)
How about the peak? The Imperial College model has a chart showing mid-May, without mitigation attempts and June with even the most basic actions, such as isolating sick people. Most of the Britons who need "critical care" won't be able to get it.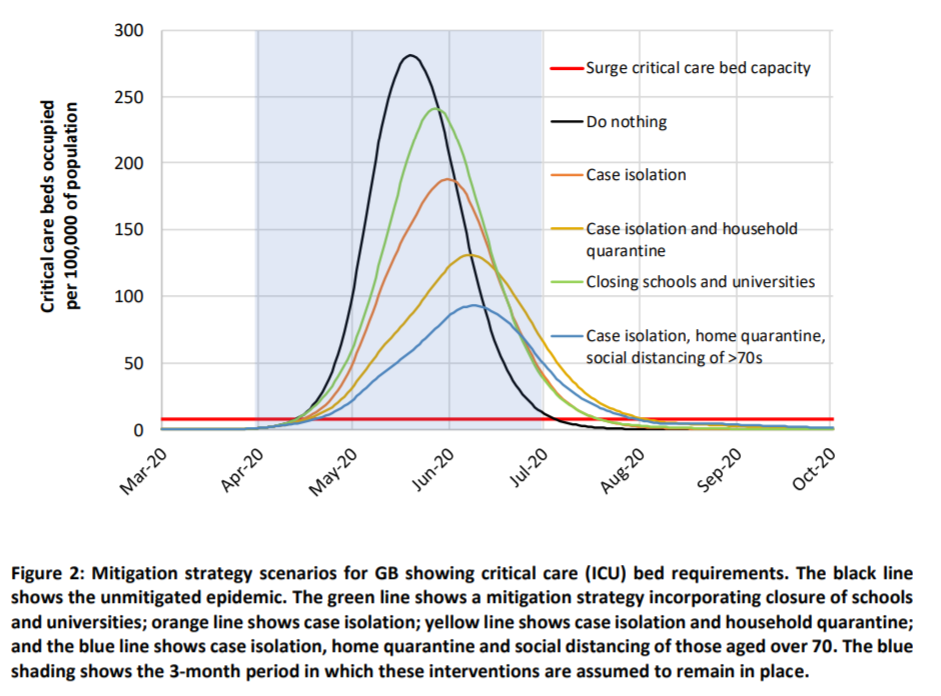 Now it seems that the peak will arrive in "two or three weeks," i.e., no later than Easter(!) and, as noted above, nearly everyone who needs critical care will get it (but, unfortunately, 20,000 will still die).
The text of the March 16 paper is just as inconsistent with the latest statement as the graphs. On page 16 of that paper, he says that "even if all patients were able to be treated, we predict there would still be in the order of 250,000 deaths in GB". So in a perfect world where the UK never ran out of critical care capacity and therefore every patient had access to all useful medical interventions, 250,000 would die just in Great Britain (not including Northern Ireland). He is saying now that, in an imperfect world where the hospitals are hanging on the hairy edge of figuring it out, 20,000 will die in the entire UK (including Northern Ireland). [see comments below for some discussion]
'I am surprised that there has been such unqualified acceptance of the Imperial model,' Professor Gupta [of Oxford] told the Financial Times.
Perhaps Imperial College professors don't accept the Imperial model!
(And what does 20,000 deaths actually mean? Are they people who would have lived another 50 years in great health? Or mostly people who would have died within a year or two from an underlying condition?)
What does this mean for the U.S.? Unclear. The "chill out" opinion assumes a competently run health care system that already has policies in place for rationing care (i.e., super old/sick people that were in the ICU in the U.S. in 2019 would have been unplugged and buried in the U.K.). "In the UK's health system, rationing isn't a dirty word" says that the U.K. won't spend more than $40,000 to keep someone alive for another year in good health. That's the cost of a handful of ED visits here in the U.S., without even being admitted! If we used U.K. standards, half of the older people who are admitted to a hospital would be given three ibuprofen and sent home in an Uber Comfort.
[March 28, 2020 update, from "As the rest of Europe lives under lockdown, Sweden keeps calm and carries on" (Guardian):
Anders Tegnell, Sweden's state epidemiologist, believes it is counterproductive to bring in the tightest restrictions at too early a stage. … His team at the Public Health Agency of Sweden is critical of the Imperial College paper that warned this month that 250,000 people in the UK would die if the government failed to introduce more draconian measures. A week later Johnson ordered the police to implement a partial lockdown to combat the virus, telling people they "must stay at home".

"We have had a fair amount of people looking at it and they are sceptical," says Tegnell. "They think Imperial chose a number of variables that gave a prognosis that was quite pessimistic, and that you could just as easily have chosen other variables that gave you another outcome. It's not a peer-reviewed paper. It might be right, but it might also be terribly wrong. In Sweden, we are a bit surprised that it's had such an impact."
]