Back on March 29, we looked at the Massachusetts forecast for coronaplague. Science said that "Nearly as many people in Massachusetts will die as in Florida" (I forgot to write down the number) and that 3,300 Floridians would die. Massachusetts would suffer peak hospital use on April 12: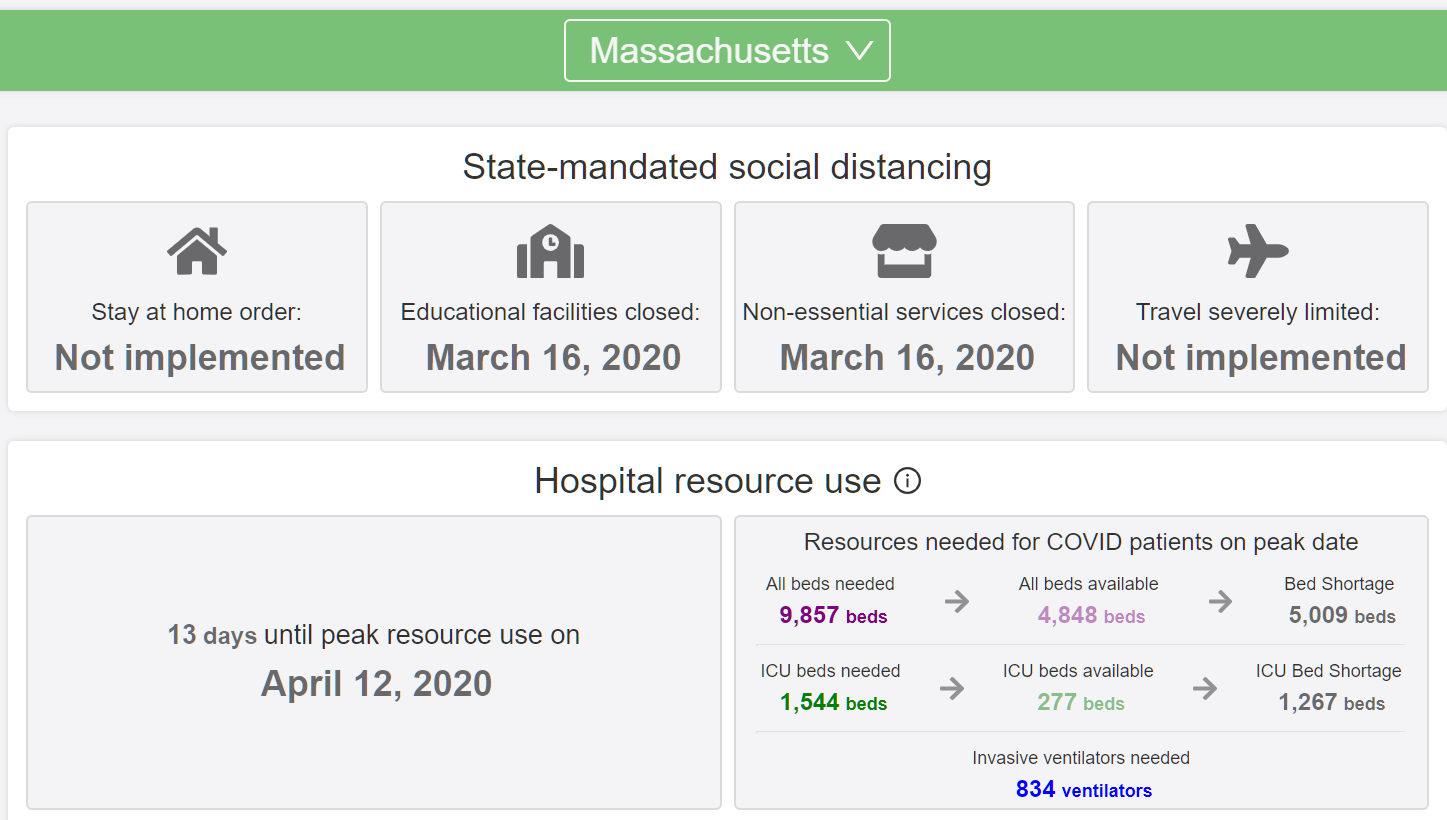 Science offers a much uglier prophecy today. Our peak is due on April 18, 2020 (another week of suffering and nail-biting). A shocking 8,254 of us will die (out of 7 million). That's a higher per capita rate than what New York (15,618 deaths out of a population of 20 million) will suffer and more than Florida (forecast at 6,770). The forecast for the entire country remains roughly constant at 81,766. We have less than 10 percent of the ICU beds that we need and only about one third as many hospital beds. In other words, if you're not crazy you'd be getting into a car right now and driving to Tennessee or Texas (both forecast to have few deaths per capita and no shortage of health care resources; Steve Jobs chose to get all of his cancer care in Memphis, ultimately).
Bad news: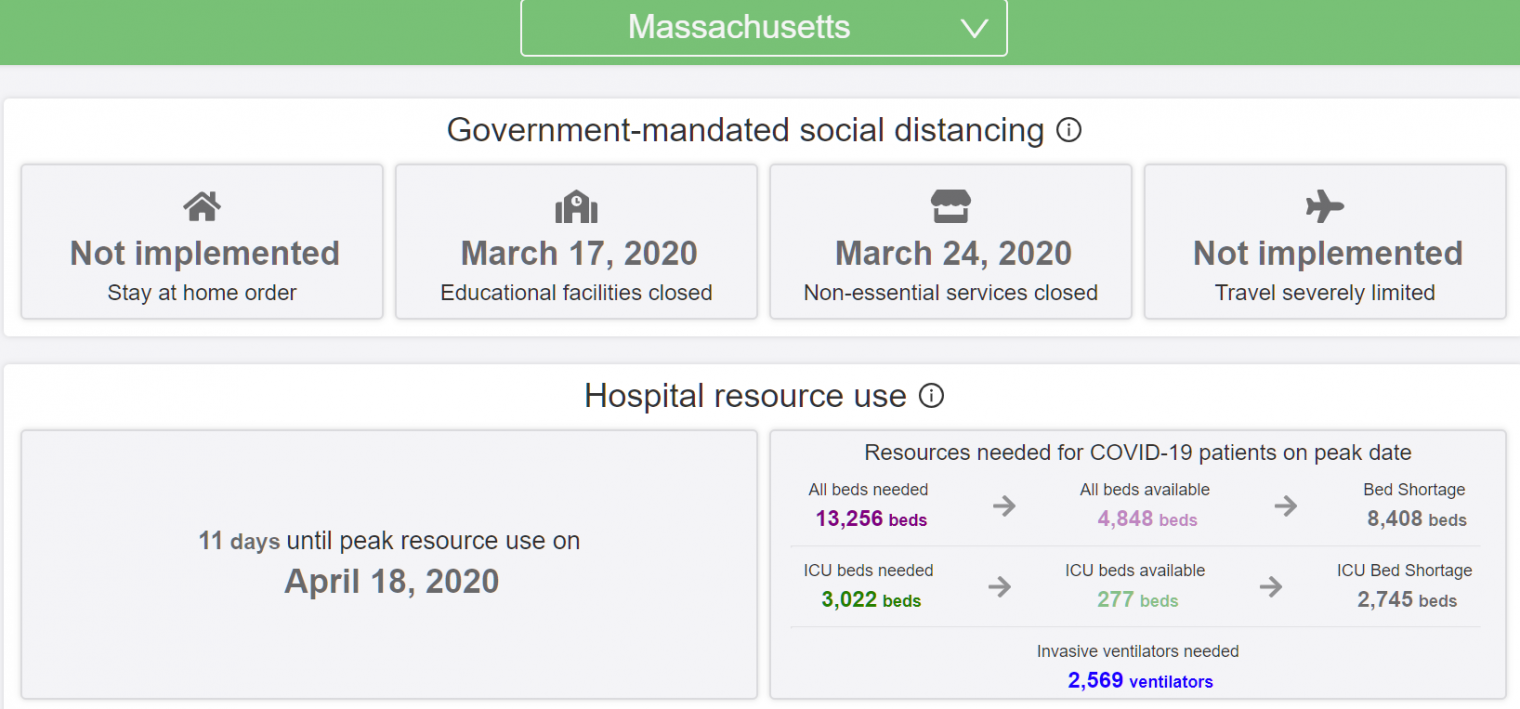 Worse news: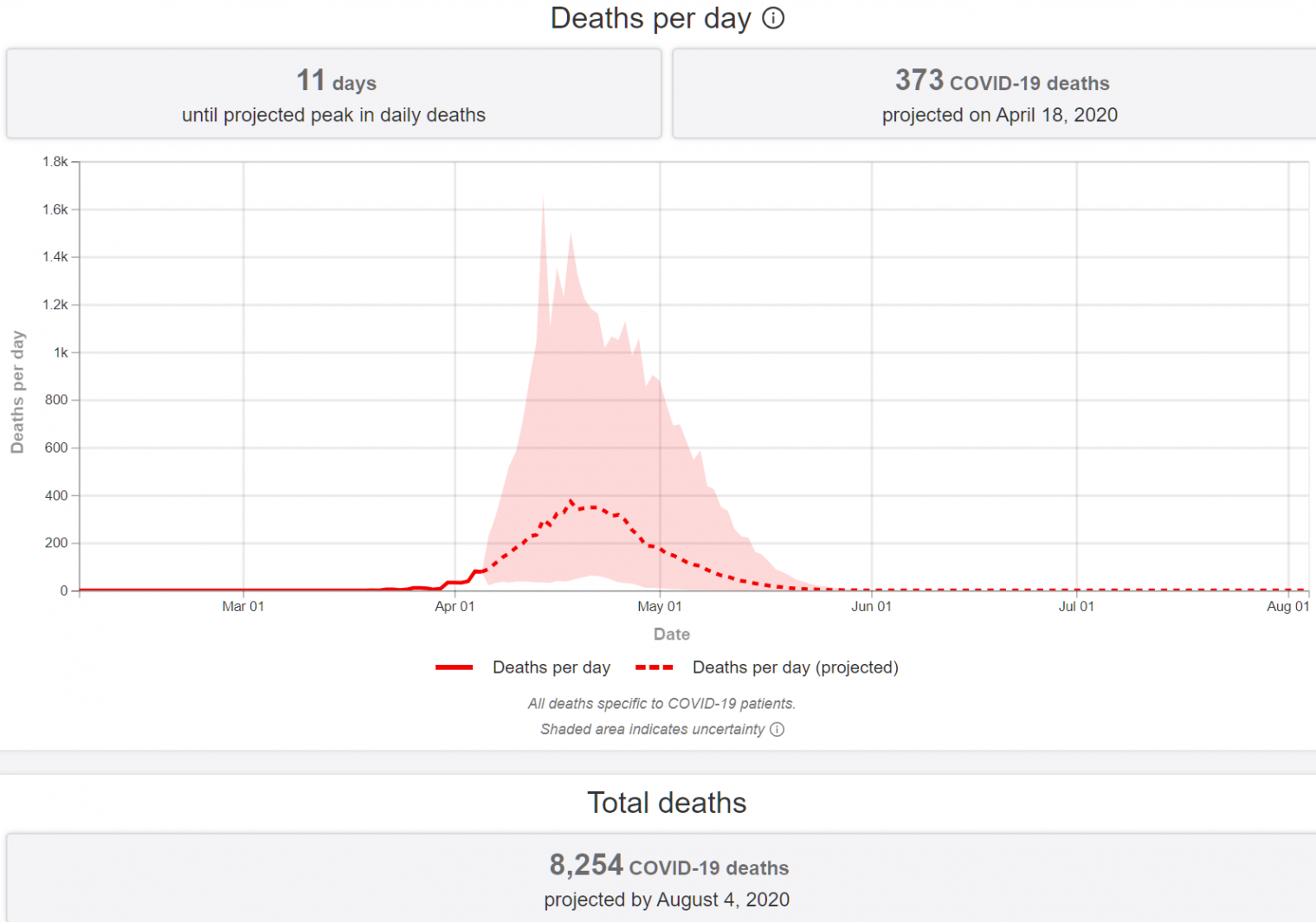 One thing that is very odd is the counting of deaths. In "Number of new COVID-19 cases worldwide is declining now?" I link to the official state reports of deaths. The forecast says that there were "78 deaths per day" (actual) on April 5, 2020. The New York Times today says that we have suffered only 154 deaths total in the greater Boston area (includes southern NH); worldometers says 260 total deaths so far in Massachusetts (I have a tough time believe many are occurring outside of the greater Boston area). The latest report from the state, which includes some deaths from over the weekend (apparently there is a reporting lag) says 356 people have died thus far, so maybe the correct data are being fed into the model.
It doesn't look as though the U.S. as a nation will run out of health care resources to supply every COVID-19 patient with whatever the state-of-the-art therapy is (i.e., not much that is useful right now). However, since there is no load-balancing system for sending patients to idle hospitals, even within a city or state, some places seem to be at risk of dire Fall of Saigon-style situations. Massachusetts appears to be one of the worst prepared states, on the same scale as New York, but without the military support of a field hospital or a hospital ship.
[What about our shutdown? We've closed our schools, restaurants, and stores (except for marijuana and liquor). What did that do for us? The model site forecasts 4,182 deaths for Sweden (population 10 million; not shut down) and 8,254 for Massachusetts (population 7 million; shut down). I.e., we're almost 3X as likely to die while alone at home watching Netflix compared to a Swede who is out eating and drinking with his/her/zer/their friends.]