Note the priority given to the options for a person who might live in the same house or apartment:
Textbook Heteronormativity.
The gender ID choices: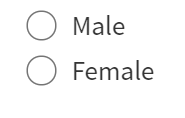 Textbook Gender Binarism.
Aside from the agency's failure to get up to speed on LGBTQIA+ issues, I have to say that Census has given us a good example of web design. Maybe it is best not to try to figure out what these forms cost the taxpayer, but the overall IT budget is in the $billions.
A 2019 article, "2020 U.S. census plagued by hacking threats, cost overruns":
The effort to move the census online aims to streamline the counting process, improve accuracy, and rein in cost increases as the population rises and survey response rates decline. Adjusting for 2020 dollars, the 1970 census cost $1.1 billion, a figure that rose steadily to $12.3 billion by 2010, the most recent count. The 2020 tally is projected at $15.6 billion, including a $1.5 billion allowance for cost overruns.
U.S. population was 205 million in 1970 compared to 330 million today. So a 61% rise in population corresponds to a 1400% increase in cost.
We are informed by the New York Times that Vladimir Putin does all of our voting for us (but it is the Chinese who post coronapanic on Facebook). Will Mr. Putin also fill out our Census forms?
T-Rex's work, which includes security, data storage and performance testing, is projected to cost taxpayers up to $1.4 billion, according to the census budget.
So if the $1.4 billion in spending includes a firewall, we will have to complete these forms ourselves…