One of my bored-in-quarantine activities is mocking Facebook friends for their faith in various Utopian government-run schemes for winning the war against the evil coronavirus. Most of these schemes require a perfectly efficient government, the elimination of the Constitutional rights of healthy young people, and a perfectly compliant population (including the 22 million undocumented).
Usually they respond by defriending me, because the only thing more offensive than someone who doesn't hate Donald Trump is a Holocough Denier. Occasionally, however, they'll ask "What would you do, then?"
My first response is "I'm sure that 'Do nothing' would be a better plan than what U.S. state and federal governments have done." Then I will disclose my favorite plan, which is to pair eldercare facilities with hotels so that all of the workers in a nursing home, for example, could move into the associated hotel as soon as a plague was declared, receiving battle pay for their 24/7 quarantine. In non-plague times the hotel could receive regular guests. Presumably there wouldn't be too many left by the time the plague was upon us, so there would be hardly any non-staff guests to kick out. Any worker that didn't want to suffer through the quarantine could leave, forfeiting the battle pay and, at least for the duration of the plague, the job at the nursing home.
The advantage of the above scheme is that nursing homes could be much better protected than they are now and have been during coronapanic. Currently, workers come and go every day, with no possibility of testing for the virus itself, and get a basic forehead temperature check when they report for work. A single asymptomatic infected worker could easily wipe out an entire nursing home. A second advantage is that it would be safe to run the rest of the society, including schools, for anyone under age 60 and in reasonably good health. Data from mass.gov: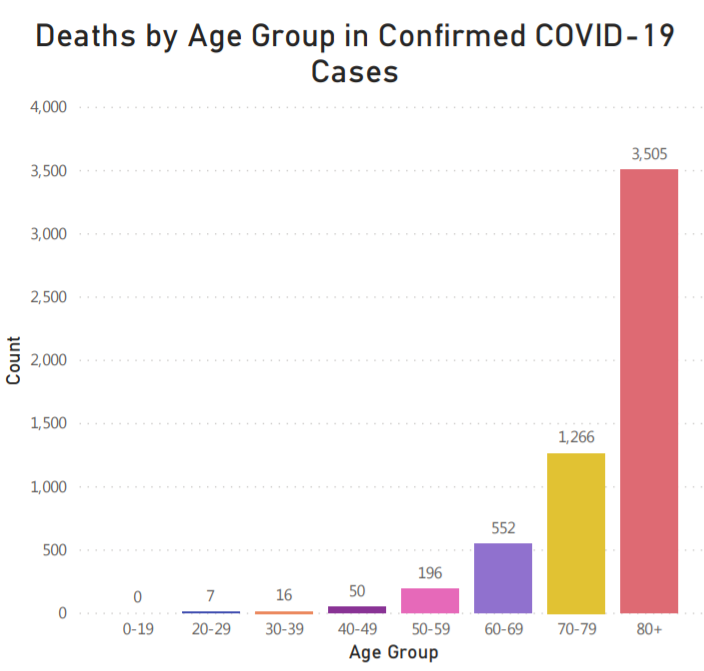 It is true that some people younger than 60 died, but 98.3% had "underlying conditions."
How much of a hit would an economy take it everyone over 60, plus those with a serious health condition, retreats into bunkers? Workers over age 40 are considered to be of such low quality by employers that the government has to force companies to hire and retain them.
I thought that this was an original idea, but of course a friend pointed me to an interview with Knut Wittkowski ("For 20 years, Wittkowski was the head of Biostatistics, Epidemiology, and Research Design at The Rockefeller University's Center for Clinical and Translational Science"):
The ideal approach would be to simply shut the door of the nursing homes and keep the personnel and the elderly locked in for a certain amount of time, and pay the staff overtime to stay there for 24 hours per day.
It is essentially the same as my idea, but with cots instead of comfortable hotel rooms.
(The rest of the interview is packed with heresy against the Church of Shutdown:
Governments did not have an open discussion, including economists, biologists and epidemiologists, to hear different voices. In Britain, it was the voice of one person – Neil Ferguson – who has a history of coming up with projections that are a bit odd. The government did not convene a meeting with people who have different ideas, different projections, to discuss his projection. If it had done that, it could have seen where the fundamental flaw was in the so-called models used by Neil Ferguson. His paper was published eventually, in medRxiv. The assumption was that one per cent of all people who became infected would die. There is no justification anywhere for that.

Knowing that the epidemic would be over in three weeks, and the number of people dying would be minor, just like a normal flu, the governments started shutting down in mid-March. Why? Because somebody pulled it out of his head that one per cent of all infected would die. One could argue that maybe one per cent of all cases would die. But one per cent of all people infected does not make any sense. And we had that evidence by mid-March.

Scientists are in a very strange situation. They now depend on government funding, which is a trend that has developed over the past 40 years. Before that, when you were a professor at a university, you had your salary and you had your freedom. Now, the university gives you a desk and access to the library. And then you have to ask for government money and write grant applications. If you are known to criticise the government, what does that do to your chance of getting funded? It creates a huge conflict of interest. The people who are speaking out in Germany and Switzerland are all independent of government money because they are retired.

One third of all deaths in New York State were in nursing homes. One could have prevented 20,000 deaths in the United States by just isolating the nursing homes. After three or four weeks, they could have reopened and everybody would be happy.

That would have been a reasonable strategy. But shutting down schools, driving the economy against the wall – there was no reason for it. The only reason that this nonsense now goes on and on, and people are inventing things like this 'second wave', which is going to force us to change society and never live again, is that the politicians are afraid of admitting an error.
It is a good thing that this guy is retired. He is definitely never going to get funding again!)
It is probably too late to do anything about coronaplague, but I wonder if we could implement this system in time for the next virus that turns out to be smarter than humans. I'm not sure that it would cost any money to have it ready to go. One thing that is cheap during a plague is hotel rooms. I would think that a hotel near a nursing home would be happy to have a contract guaranteeing them 75 rooms paid for during the duration of any plague on condition that they evict the general public. Who pays for the hotel rooms during the plague? Medicare! They're going to be saving a ton of money during a plague due to the deaths of beneficiaries and the shutdown of ordinary health care, so let them use some of these savings to isolate the nursing home workers.