"Expecting Students to Play It Safe if Colleges Reopen Is a Fantasy" (nytimes), is by a 67-year-old professor whose paychecks are guaranteed to keep rolling in. What does Professor Karen (a.k.a. "Laurence Steinberg") say?
Safety plans border on delusional and could lead to outbreaks of Covid-19 among students, faculty and staff.

Most types of risky behavior — reckless driving, criminal activity, fighting, unsafe sex and binge drinking, to name just a few — peak during the late teens and early 20s.

First, this is the age at which we are most sensitive and responsive to the potential rewards of a risky choice, relative to the potential costs. College-age people are just as good as their elders at perceiving these benefits and dangers, but compared with older people, those who are college-aged give more weight to the potential gains. They are especially drawn to short-term rewards.
This is fascinating to me! The alter cocker calls the students reckless and implies that they are not properly weighing "dangers" when, in fact, healthy 18-22-year-olds don't face any "danger" from coronaplague! Out of 7,647 people killed in Massachusetts by/with Covid-19 through June 15, exactly 15 were under 30: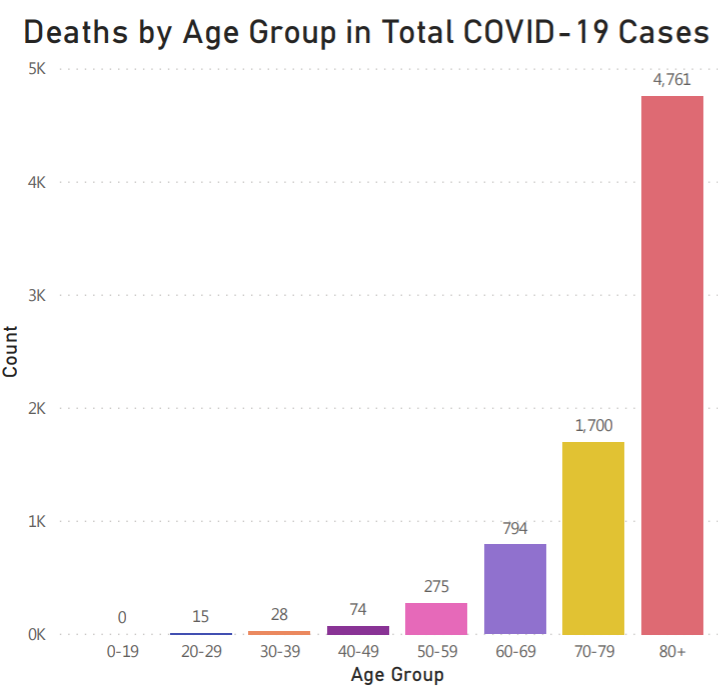 Maybe those 15 were running around the soccer field the day before coronavirus struck them down? Not likely. 98.3 percent of Covid-19 deaths in Massachusetts are among those "with underlying conditions" (dashboard example).
The old cower-in-place advocate for Zoom continues to write with the assumption that young people are taking "risks" unreasonably.
Finally, college-age people show more activation of the brain's reward regions and are more likely to take risks when they are with their peers than when they are alone. There are no such effects of peers among people who are past their mid-20s.

Not all adolescents are risk-takers, of course, and not all adults are risk-averse. But it's hard to think of an age during which risky behavior is more common and harder to deter than between 18 and 24, and people in this age make up about three-fourths of full-time American undergraduates. … It's one of those perfect storms — people who are inclined to take risks in a setting that provides ample temptation to do so.
The NYT reader will infer from this that two slender undergraduates meeting for coffee are taking roughly the same level of personal risk that Andy Green took while driving ThrustSSC at 763 mph.
My pessimistic prediction is that the college and university reopening strategies under consideration will work for a few weeks before their effectiveness fizzles out. By then, many students will have become cavalier about wearing masks and sanitizing their hands. They will ignore social distancing guidelines when they want to hug old friends they run into on the way to class. They will venture out of their "families" and begin partying in their hallways with classmates from other clusters, and soon after, with those who live on other floors, in other dorms, or off campus. They will get drunk and hang out and hook up with people they don't know well. And infections on campus — not only among students, but among the adults who come into contact with them — will begin to increase.

I look forward to a time when we are able to return to campus and in-person teaching. But a thorough discussion of whether, when and how we reopen our colleges and universities must be informed by what developmental science has taught us about how adolescents and young adults think. As someone who is well-versed in this literature, I will ask to teach remotely for the time being.
In other words, "Science (TM) tells me to stay at home and watch the direct deposits stack up in my bank account while occasionally checking in via Zoom."
In what other universe would a national newspaper run a plea by an old guy who wants to sit at home and do almost nothing, but still get paid at 100 percent?
Related: