Friends have a son who had planned to head into Lincoln-Sudbury High School for 9th grade. The superintendent/principal (remarkably, the same person does both jobs in this one-school school system), sent an email to parents:
As you may recall from earlier communications, we are required to develop three learning plans for the opening of school: 100% all remote, hybrid in-person and remote, and 100% in-person. We are required to submit the learning plans to the state by July 31st after approval by the L-S School Committee. The state is also requesting that we indicate which plan we anticipate utilizing when we reopen school this fall. The School Committee is scheduled to take its vote at its meeting scheduled for July 28.

As stated in the preamble for the initial draft for fall opening it is my recommendation that we reopen school with a hybrid of in-person and remote learning and not 100% in-person. This recommendation is based on the challenge of ensuring a safe environment with 100% students in school all at one time and the compromise to delivery of instruction. Maintaining 3' separation would significantly compromise delivery of instruction in all science classes. Maintaining 6' separation significantly compromises delivery of instruction in all classes. And, finally, maintaining a strict protocol of social distancing and disinfection during lunch periods, mask breaks and travel through the school between classes is not feasible with 100% in-person.
[Why a limit based on "disinfection" if masks are the answer (the link below says "All staff and students wearing masks") and if "science" now tells us that people are getting coronaplague from aerosols, not from funky surfaces?]
The "hybrid plan" recommended by Bella Wong (principal/superintendent) features two mornings per week of in-person instruction: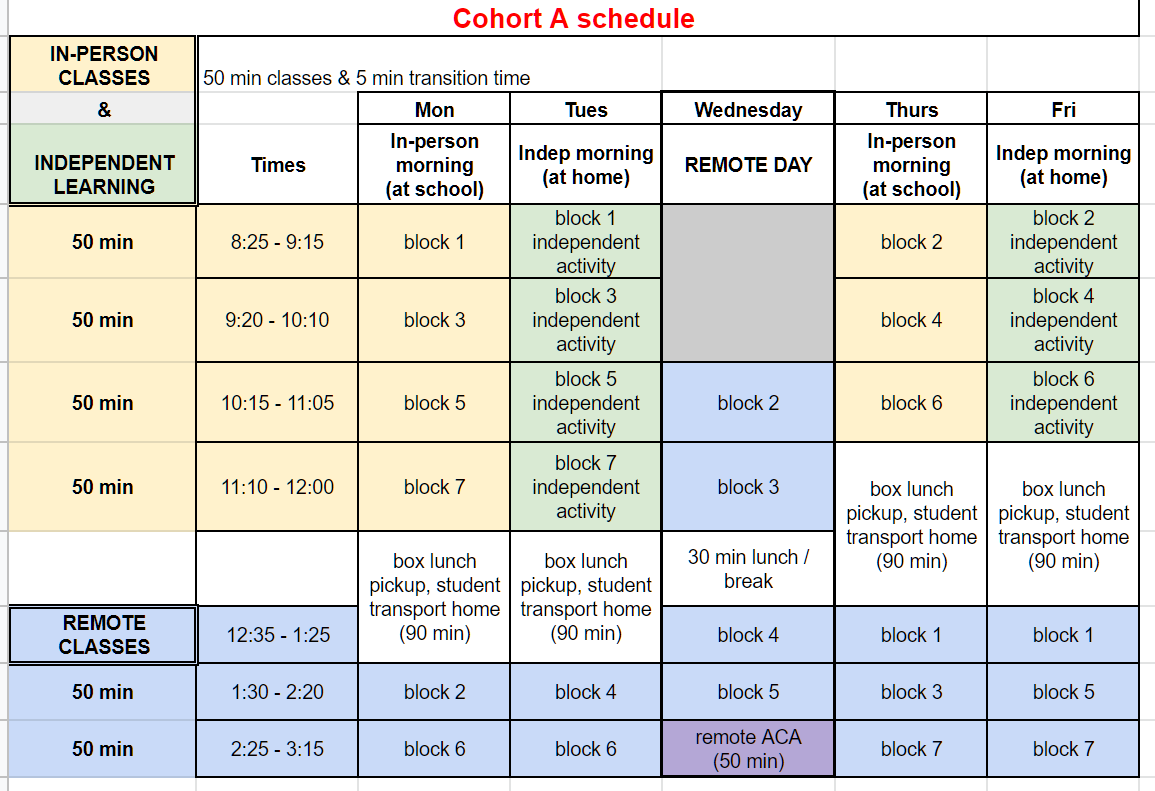 On Monday, the students tracked into "Cohort A" will attend school from 8:25 am to noon on Mondays and from 8:25-11:05 on Thursdays.
I asked the father of the 14-year-old boy who is headed into this arrangement why the teenage boys sitting at home wouldn't play shooter games during all of the time that they should supposedly be in "remote learning" or "independent activity". He responded "One of them was doing that already, according to [the son]".
Will we go back to the Victorian era when families of even slightly above-average means hire private tutors to come to the house?
Also, won't this heavily favor students who happen to live in super-sized McMansions? They can have a dedicated classroom, not just a desk in a cluttered "room room".
(Note that teachers will presumably have to clock in four mornings per week in order to collect a full-time paycheck.)
Related: