Good news from the Department of Correlation DOES Equal Causation: if we keep our schools closed, coronavirus will go away and leave us alone. From the maximally prestigious JAMA: "Association Between Statewide School Closure and COVID-19 Incidence and Mortality in the US"
Some excerpts:
All 50 states closed schools between March 13, 2020, and March 23, 2020.

The absolute effects associated with school closure during the 26-day period after school closure (days 17-42), which were calculated using model estimates with the assumption of linear growth, yielded 638.7 cases per 100 000 that would have occurred if schools had remained open (Table 3). Compared with the 214.8 cases per 100 000 estimated from the school closure model, the absolute difference associated with school closure was 423.9 (95% CI, 375.0 to 463.7) cases per 100 000.

In March 2020, states enacted multiple nonpharmaceutical interventions, including closing schools, nonessential businesses, and restaurants and bars, and prohibiting large gatherings, to curb SARS-CoV-2 spread and prevent death. Completely isolating the effects of any single nonpharmaceutical intervention is impossible because recommendations for increased handwashing, cleaning, and wearing of masks evolved simultaneously. Measured COVID-19 incidence also was affected by testing availability, which was limited early in the pandemic and varied nationally.
The authors reject the "Flatten the Curve" dogma as it was explained to us back in March. Infections are not merely delayed. They are prevented. The shutdown was "to curb SARS-CoV-2 spread and prevent death" and "school closure may be effective in curbing SARS-CoV-2 spread and preventing deaths during future outbreaks."
Should we be more afraid of touching a dog with coronaplague in his/her/zir/their fur (an often-voiced concern of neighbors here in the Boston area) or a child?
Studies have documented lower attack rates for children, and children comprise a small proportion of documented infections. Children may be less susceptible to SARS-CoV-2 infection; however, studies have documented viral shedding in asymptomatic children.
#AbundanceOfCaution time! #KeepThemSafeKeepSchoolsShut!
If you're going to criticize this paper, keep in mind that, based on the journal, this is the absolute pinnacle of American medical thinking! I would like to re-title the paper, though, even if I don't feel distinguished enough to criticize the statistical methods employed. Philip's title for this work: "We closed our schools in March 2020 and coronavirus has hardly bothered us since then."
Below, a picture of something we won't be doing any time soon… bringing one of the flight school helicopters to a local school and explaining to the youngsters how it flies.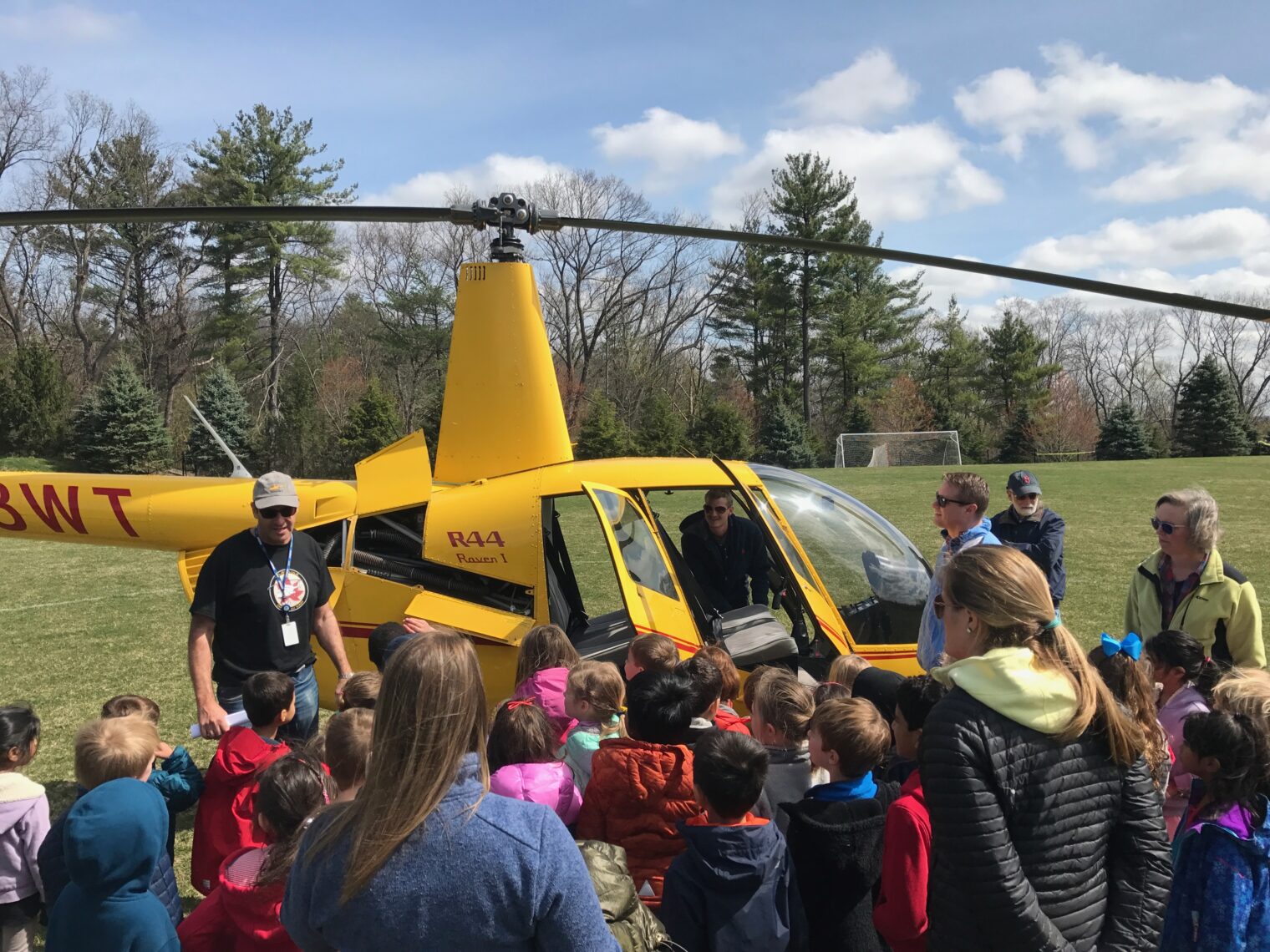 Related:
"Teachers Are Wary of Returning to Class, and Online Instruction Too" (NYT, July 29): Unions are threatening to strike if classrooms reopen, but are also pushing to limit live remote teaching. Their demands will shape pandemic education. … remote learning failed many children this spring, deepening achievement gaps by race and income. … one of the stickiest points of contention being how many hours per day teachers should be required to teach live via video. … a full school day over video would not be feasible for either students or teachers (although some private schools have embraced it).