One of the things that I have learned in meetings with a big health insurance company whose claims data we use in the classroom: emergency room ("ED") visits are expensive. A long wait followed by a temperature and pulse ox test then advice to take two Tylenols will cost the employer who sponsors a health plan at least $1,000.
One idea that I came up with around a conference table with the insurance folks was to put a doctor and nurse in a motorhome crammed with all of the stuff that one would typically find in a primary care clinic. Tell folks enrolled in the plan "You can go to the hospital and wait two hours to be seen and pay a $125 co-pay. Or you can stay comfortably at home and the doctor will be there in four hours."
This is plainly a bad idea because it is obvious and yet no insurance company is doing it. Maybe it is bad because the U.S. is so short of physicians that it is intolerably inefficient to have the physician idle when driving from one house to another. France has a lot of doctors per capita and they do still make house calls (see this 2009 article).
Perhaps the idea is a little less bad in the Covid-19 age. Do we want people congregating in hospital waiting areas now that we can be pretty sure that at least one of the waiting patients is plagued? If the patients are seen at home, at least there is no patient-to-patient contact/transmission.
We already have the technology and skills to build the motorhome-based clinics. Matthews Specialty Vehicles seems to have built a bunch, for example. Odulair in Wyoming has everything up to mobile CT and mobile MRI (these are perhaps overengineered for checking on a person who has flu-like symptoms). Laboit says that they can fit a primary care clinic with a single exam room into a 28 ft. Class C RV: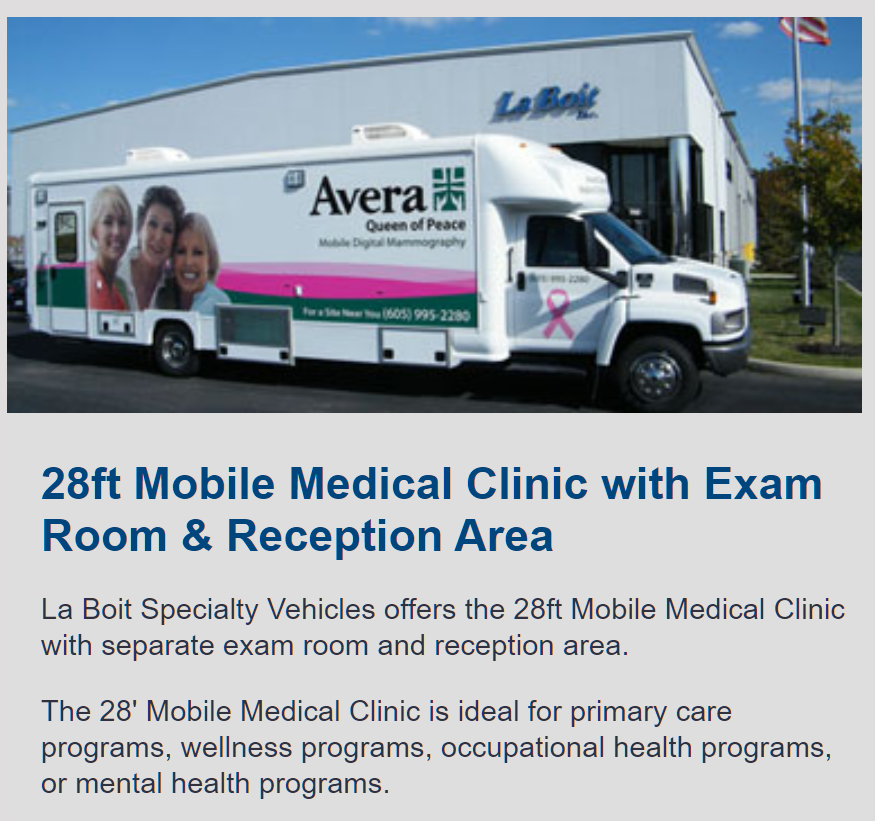 Readers: A year ago we would have said it was stupid to pay Americans more in unemployment than they had been getting paid to work. Has my stupid idea also flipped to brilliant?