Given that the U.S. phone system has been taken over by spammers (unintended consequence of what we expected to be the boon of free unlimited calls), you'd think that the core feature of any landline cordless phone system would be intelligent call screening and call blocking.
Panasonic has always been my favorite brand of phone (e.g., this five-handset system), but their call blocking system seems to rely on ringing the phone, having the owner answer, and then having the user press the "Call Block" button (plus some additional keys, I think) to store the caller ID in a small local database. When spammers can generate any caller ID that they want (thank you, American phone system engineers for ignoring 40 years of public-key cryptography!), including the phone number for the local public school, what is the value in this?
Given the low cost of computing hardware, why wouldn't cordless phones (a) connect to WiFi and then communicate amongst themselves a known list of spam caller IDs that don't correspond to real numbers, (b) do a "hello, may I help you?" interaction with callers whose IDs are not in the contacts directory?
"AT&T" brand phones (are these actually from AT&T or is it like "GE Appliances" that are run by Haier in China?) seem to have a partial solution, which they call "Smart Call Blocking". From the manual: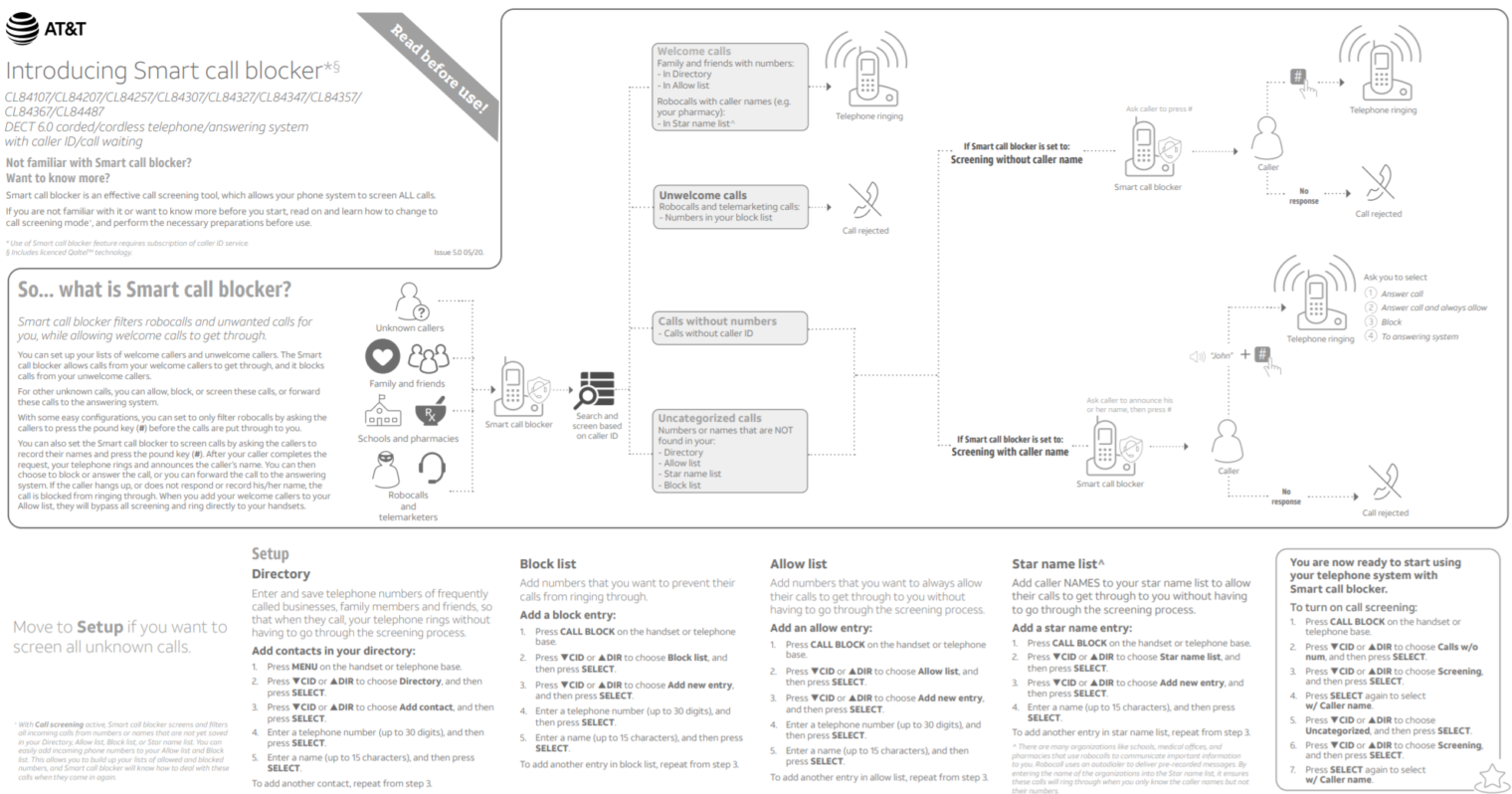 If the call is not in the directory, essentially, the caller is prompted to speak a name and type #. One issue with this is that automated calls from organizations that don't use email, e.g., pharmacies and hospitals, won't get through. But maybe the solution there is to always provide one's mobile phone number to these enterprises.
Presumably it is necessary for sanity to purchase a "Connect to Cell" AT&T model so that the directory can be preloaded from one's mobile phone instead of manually populated. Bizarrely, though, there seems to be only one AT&T model that has both the cell phone connection and the smart call blocker: DL72310 (the three-handset version).
Given that Americans have been going crazy for years being bothered by these calls, how is it possible that there are so few home defense solutions?