Although politicians don't generally campaign here in Maskachusetts (the outcome of almost every election is predetermined and, in fact, most candidates run unopposed), they do sometimes favor us with letters. Let me share one from Nancy Pelosi!
People tell me it must be a tough job to be Speaker of the House when the president belongs to the opposite party, lives in a world without facts or decency, and has nearly every Republican in Congress marching in unthinking lockstep behind him.

I've had a tougher one. I raised five kids born in six years. It taught me that children deserve our love and our caring.
What else did Mom Pelosi learn about children while the five brats milled around her ankles?
Trump and his followers on Capitol Hill want to take away women's most fundamental rights.

Your generous contribution of $15, $25, $35 or more to the DCCC's Headquarters Account will help the DCCC sustain and expand Battlestations across the country.

We will not let them end the right to choose in America.

Take it from a mom: We can't do this alone. Together there's no limit to what we can achieve.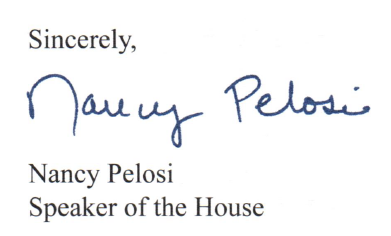 Then there is a postscript:
The most formative experience in my life has been being a mother to five children.
So half the letter is about how being a mom makes a person (not to foment anti-LGBTQIA+ hatred by saying "makes a woman", since men can also be moms) better. And the other half is about how babies should be aborted.
Presumably this was tested and actually did result in recipients getting out their checkbooks.