Suggested reading for 9/11, in which I hope we remember those who ran towards the stricken towers rather than following instinct and running away: Midnight in Chernobyl: The Untold Story of the World's Greatest Nuclear Disaster Kindle Edition, by Adam Higginbotham. This follows my general rule that the only good popular books on science and engineering are written by British authors, who tend to assume that their audience is actually capable of comprehending some of the technical and scientific points.
The heroism in the book is inspiring. I was partway through this book when a scheduled flight to Upstate New York came up. There was a 40-knot headwind which would, I knew, combine with the mountains and hills to form turbulence. The FAA had issued a warning for moderate turbulence below 10,000′. The trip was a favor to friends who wanted to look at an antique wooden boat for sale. I thought about wimping out on two hours of bumps, but then said "If the Soviet firefighters and nuclear plant ran toward Chernobyl Reactor 4 rather than away, I can handle a bit of discomfort."
A lot of the workers in the plant behaved heroically, trying to resupply what they thought was left of the exploded reactor with cooling water. They knew that they were going to receive lethal doses of radiation, but they strove to reach manual valves and controls in hopes of saving fellow citizens. About 60 of these men died within a month (Wikipedia).
Although there was no shortage of heroes following this explosion, I had never realized the heroic actions of Soviet helicopter crews. They flew directly into the worst of the radioactive cloud to drop, by hand, bags of boron-containing sand, straight down into the ruined core. "Historians estimate that about 600 Soviet pilots risked dangerous levels of radiation to fly the thousands of flights needed to cover reactor No. 4 in this attempt to seal off radiation." (Wikipedia, which also notes that the efforts might not have yielded significant results; as with coronaplague, when the guy running the helicopter operation was told that it was futile, he said "we have to be seen to be doing something")
From chernobylgallery.com: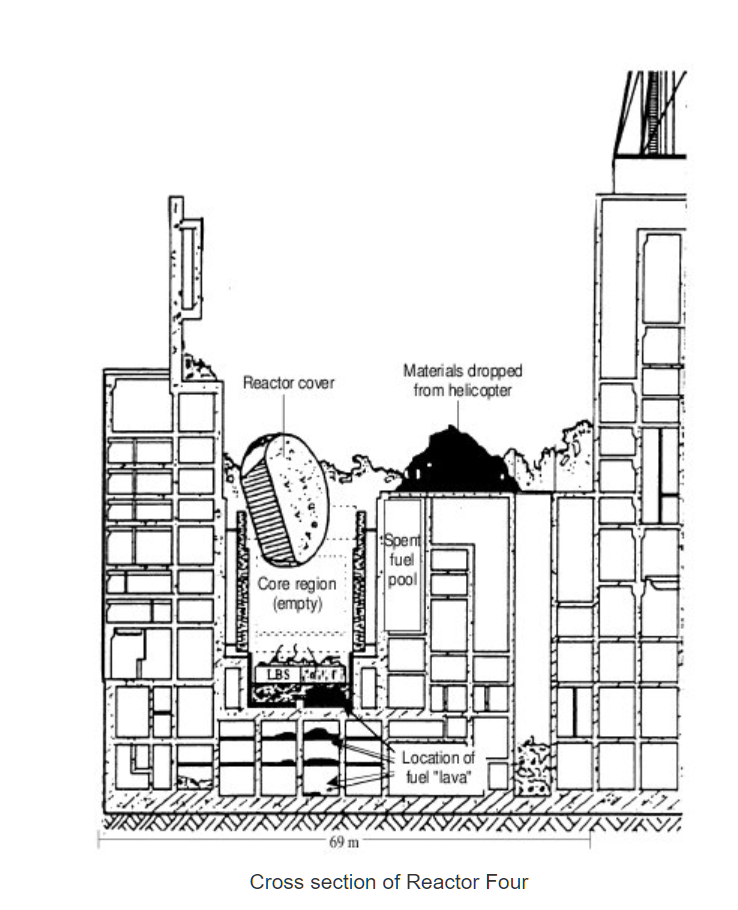 It is a good book. I haven't seen the HBO series. What do folks think of it?
Circling back to 9/11, the New Yorker ran a good article on Rick Rescorla, who went into the World Trade Center to get people out.
Related:
the cause of the accident (Chernobyl Gallery)
"How HBO Got It Wrong On Chernobyl" (Forbes): 2 immediate, non-radiation deaths; 29 early fatalities from radiation (ARS) within 4 months from radiation, burns and smoke inhalation, 19 late adult fatalities presumably from radiation over the next 20 years, although this number is within the normal incidence of cancer mortality in this group, which is about 1% per year, and 9 late child fatalities resulting in thyroid cancer, presumably from radiation.
Wikipedia: There is consensus that a total of approximately 30 men died from immediate blast trauma and acute radiation syndrome (ARS) in the seconds to months after the disaster, respectively, with 60 in total in the decades hence, inclusive of later radiation induced cancer.[2][3][4] However, there is considerable debate concerning the accurate number of projected deaths due to the disaster's long-term health effects; long-term death estimates range from up to 4,000 (per the 2005 and 2006 conclusions of a joint consortium of the United Nations) for the most exposed people of Ukraine, Belarus, and Russia, to 16,000 in total for all those exposed on the entire continent of Europe, with figures as high as 60,000 when including the relatively minor effects around the globe