An April Facebook post from a friend with a Ph.D. in engineering:
Folks, regardless of your specific political orientation the choice in this year's presidential election could not be more clear.

Biden is way behind on campaign funds. Way behind.

I just donated.
A September 1 post:
If you're going to vote for Trump this election, unfriend me now. Sorry extended family. I don't care who you do vote for, but if you vote for Trump you've lost my respect as a human being. I can't imagine thinking that this is OK. We are in the time we have always thought "what would I do if I was alive then?" Act like it. I sure hope your tax breaks are worth it.
And, of course, it is always popular to share this meme:
"Agree to disagree" is reserved for things like "I don't like coffee." Not racism, homophobia, and sexism. Not human rights. Not basic common decency. If I unfriend you during this, it IS personal. We do not have a difference of opinion. We have a difference in morality.
For me, these encapsulate of the American political situation. Democrats, though they officially celebrate "diversity", cannot imagine that anyone would have a substantially different opinion than they do regarding public policy, the appropriate role for government, etc.
There is a clear choice in this election. Moral intelligent people will vote for Biden-Harris. Only immoral stupid racist people who ignore the advice of their betters (e.g., in the media) will vote for Trump. Thus, I feel confident in predicting that if even a single person today votes for a Republican candidate, tens of millions of Democrats will be perplexed! How is it possible that the U.S. contains a substantial number of people who are simultaneously completely lacking in moral compass, cognitive ability, and racial tolerance?
What says the most-cited professor at M.I.T., whose research into Trump's deficiencies has apparently continued despite the general shutdown? From New Yorker: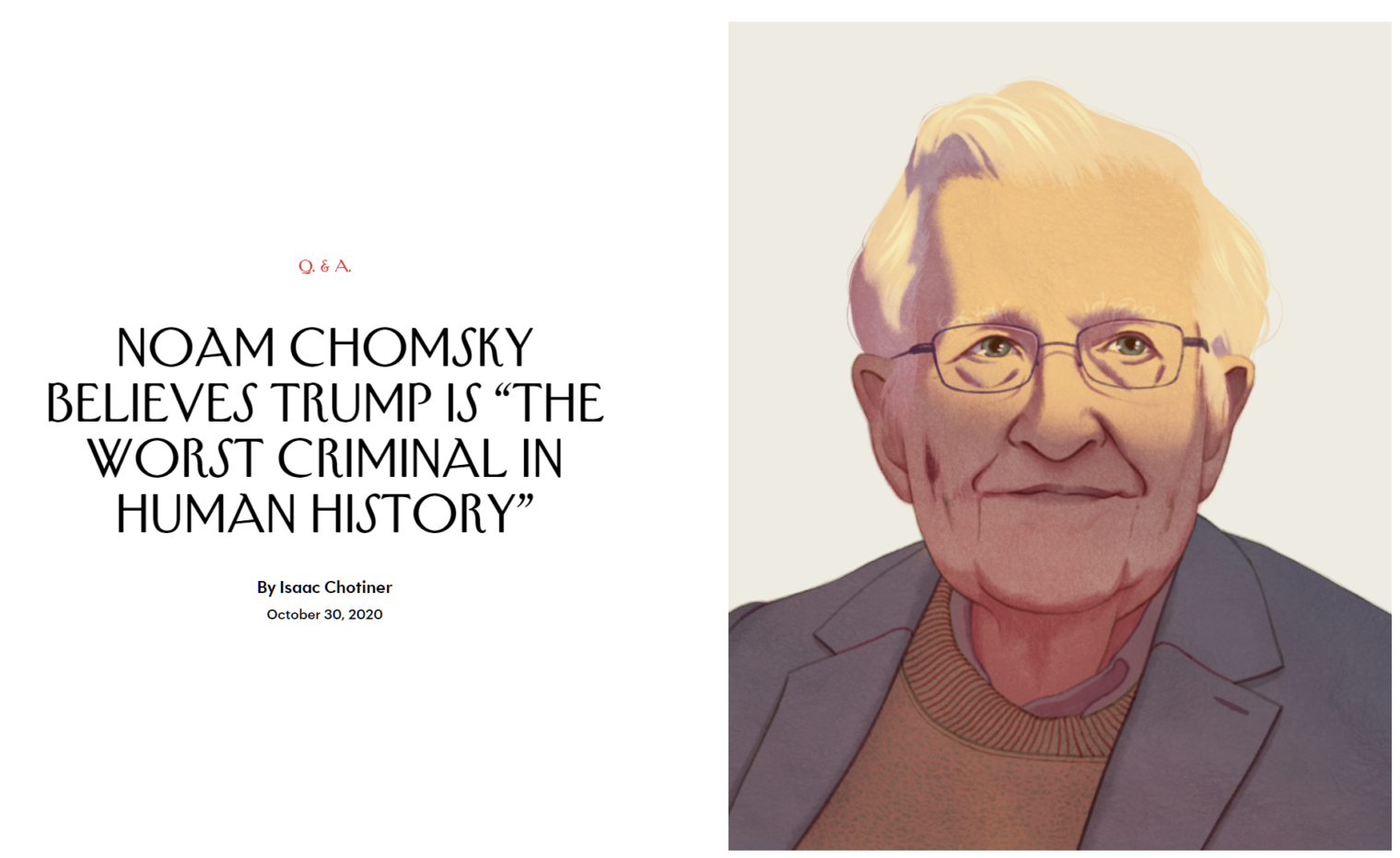 Professor Chomsky agrees with Joe Biden (see the debate transcript) that the Earth is almost destroyed and humanity is nearly finished and that this is primarily Donald Trump's fault:
Q: The worst criminal in human history? That does say something.

It does. Is it true?

Q: Well, you have Hitler; you have Stalin; you have Mao.

Stalin was a monster. Was he trying to destroy organized human life on earth?

Q: Well, he was trying to destroy a lot of human lives.

Yes, he was trying to destroy lots of lives but not organized human life on earth, nor was Adolf Hitler. He was an utter monster but not dedicating his efforts perfectly consciously to destroying the prospect for human life on earth.
This does lead to two perplexing questions: (1) if human life is nearly extinct, why do anything at all about coronavirus, which kills only a small percentage of people when allowed to rage, and (2) how can we have fellow citizens who will voluntarily vote for the worst criminal in human history?
Update, November 4, from a Facebook friend:
I don't care who wins. the country has already said it's totally acceptable to be a bigoted, proven pathological liar and that is really disappointing. Those who teach our kids trump is the very example of what not to do in life are now learning america likes it and want more of it. Very sad morning irrespective of the outcome.
From a Berkeley, California resident who works in a government-funded academic environment:
How could so many Americans have looked at what's happened over the last four years and thought, "Yeah, that's good, let's have more of that!"?
Related: