One of our young customers got it into his head that we should stay in Bellagio. We indulged him for two nights and enjoyed some of the architecture, e.g., the Conservatory, but the hotel felt crowded despite a 50 percent occupancy limit imposed by the state's COVID-19 mandarins (subsequently reduced to 25 percent). Lines developed at the breakfast restaurant, for example, and it wasn't practical to keep a 6′ distance from others when navigating from the parking lot to the room. (Partly this was due to the Swedish MD/PhD prediction that humans wearing masks feel invulnerable to coronaplague.) The air was always a bit stale/smoky. The kids were exposed to scenes of gambling every time we wanted to go out and do anything.
The Trump hotel, by contrast, is all non-smoking and there is no casino. It is conveniently located about one block off the Strip abeam the Wynn. There is a good restaurant in the lobby ("DJT") with reasonable prices and also a shopping mall across the street with a bunch of additional dining options. We got a corner suite on the 53rd floor. Senior Management: "The bathroom here is as big as our entire room at the Bellagio." (It was finished with enough marble to entomb a communist leader.)
Our suite had a full kitchen (Wolf, Bosch, Sub-Zero appliances; they must have gotten a screaming deal when buying hundreds of these!), but the plates, silverware, and pots had been removed due to local COVID-19 restrictions.
Valet parking is included.
If you're a light sleeper, be aware that the hotel is close to some train tracks and heavy/noisy freight trains roll by periodically. (But they're mostly carrying coal, so President Harris and AOC will put a stop to these soon?) On the plus side, the bed and linens are both top-of-the-line. The photo below shows the train, a sex shop, and a marijuana dispensary (though, as with San Francisco, the sidewalks are now so empty that you might need to buy your own marijuana if you want to get high).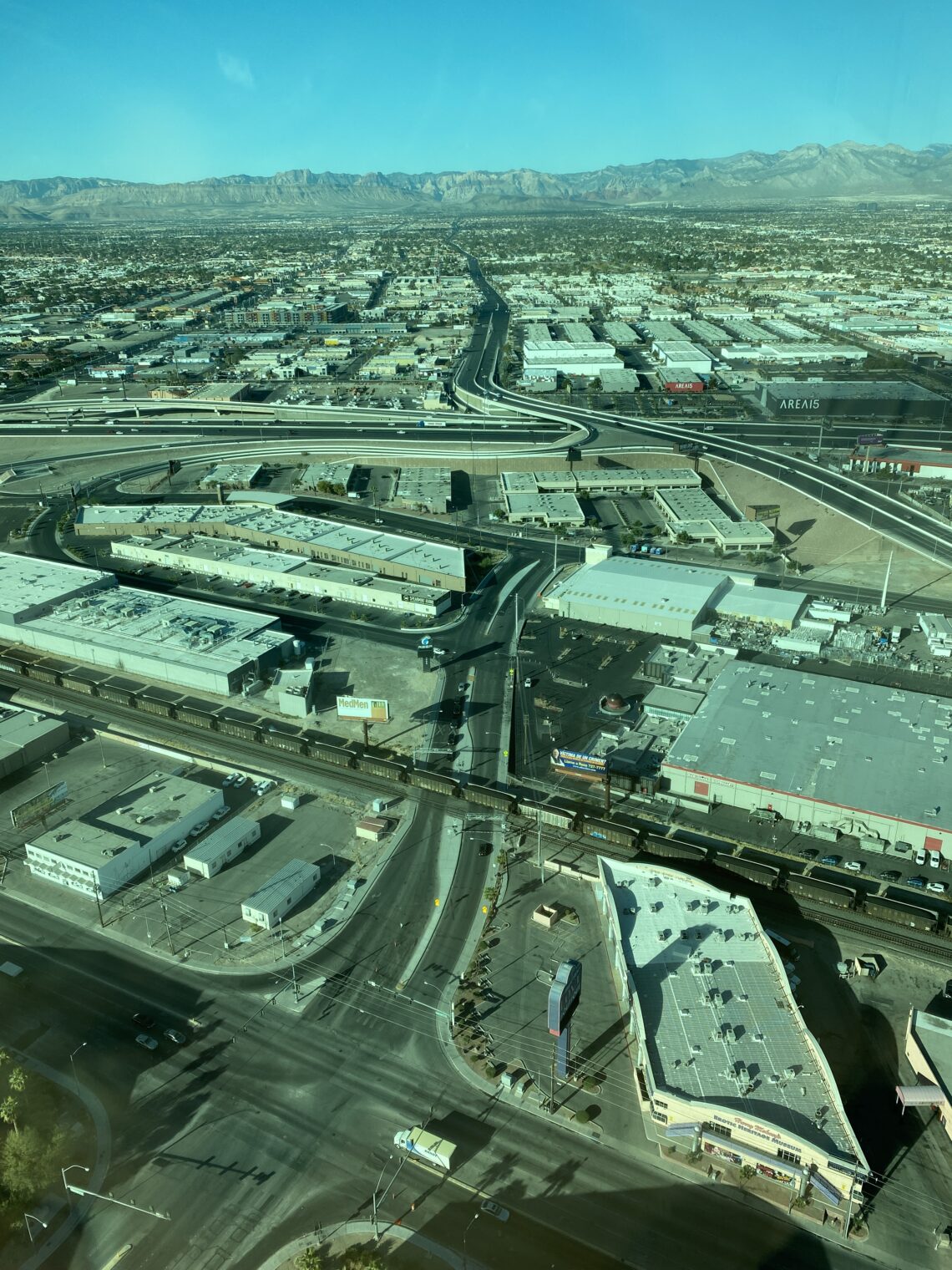 As at other Trump hotels, the staff is superb. We had a great breakfast at lower-than-Bellagio prices and, unlike at Bellagio, the servers got our order precisely correct.
The pool is huge, open longer hours than the casino pools (7a-6p in mid-November during our visit), heated to 80-85, and blessed with open southern exposure for nearly the entire day. It is a perfect late fall/early spring pool. The gym was large, well-equipped, and empty.
Depending on your politics/religion, the strongest or weakest spot might be the lobby's "Trump Store" with Trump logo items (suitable for wearing in most of America's counties, if not in the big cities where bigger government tends to spend taxpayer funds). For the Age of Coronapanic, the WiFi is also a weak spot. It seems to be provisioned at 70 Mbps download, but only 3 Mbps upload, a marginal speed at best for video conferencing.
Summary: An almost-perfect hotel in Las Vegas. It would be nicer with outdoor balconies for each room (only a handful of Vegas hotels have these, which is a shame considering the wonderful shoulder season climate) and with a higher WiFi upload speed for Zoom/FaceTime/etc.