The local 9th graders were sentenced to watch Hidden Figures by their English teacher. Immigrant Dad's running text message commentary:
Watching the movie "Hidden Figures" about Black women at NASA. About how they created the space program for us.

I stopped the movie to say that the real hidden figures were 1600 Nazi scientists, led by Werner von Braun, the SS Sturmbannführer [major] who basically did everything.

All white males.

Aryans.

In this movie, von Braun is nowhere to be seen despite scenes with Alan Shepard and NASA top brass

Can't afford to have an SS guy in this poetic script.

Black women all coding now. And teaching white men how to do it.

This whole film was a giant waste of time.

I need to help my kid write a paper referencing this work of woke art. I am teaching them how to feed idiots what they want to hear. Useful in life.
Another friend chimed in:
The scene where Harrison smashes the Colored Ladies Room sign never happened, as in real life Katherine refused to walk the extra distance to use the colored bathroom and, in her words, "just went to the White one"
A Silicon Valley coder in the chat group:
These ladies make money in a more civilized manner: https://youtu.be/hsm4poTWjMs (featuring Joe Biden's friend Cardi B). Those fingernails are like Chinese foot binding, they say, "I am too important to do a ghetto job like programming." Remember that the black struggle was all about getting off the plantation; why go back to it with all the Indians and people on the autism spectrum? [black power fist emoji]
I'm not sure that the youngsters learned what the teacher was hoping they would…
They are watching and making fun of it. Especially black women programmers. In [one kid's] view Blacks are as rare in computer science as whites in basketball.
How does Immigrant Dad's history lesson hold up? Wikipedia:
Operation Paperclip was a secret program of the Joint Intelligence Objectives Agency (JIOA) largely carried out by special agents of Army CIC, in which more than 1,600 German scientists, engineers, and technicians, such as Wernher von Braun and his V-2 rocket team, were taken from Germany to the United States, for U.S. government employment, primarily between 1945 and 1959. Many were former members, and some were former leaders, of the Nazi Party.
Some January photos from the Kennedy Space Center. Note that programmer Margaret Hamilton is depicted larger than life size, while Werner von Braun is at 1/10th the scale. (The photo on the bottom is captioned "The Original Mercury Seven Astronauts with a USAF F-106." Alan Shepard is among them. They are but midgets next to Margaret Hamilton.)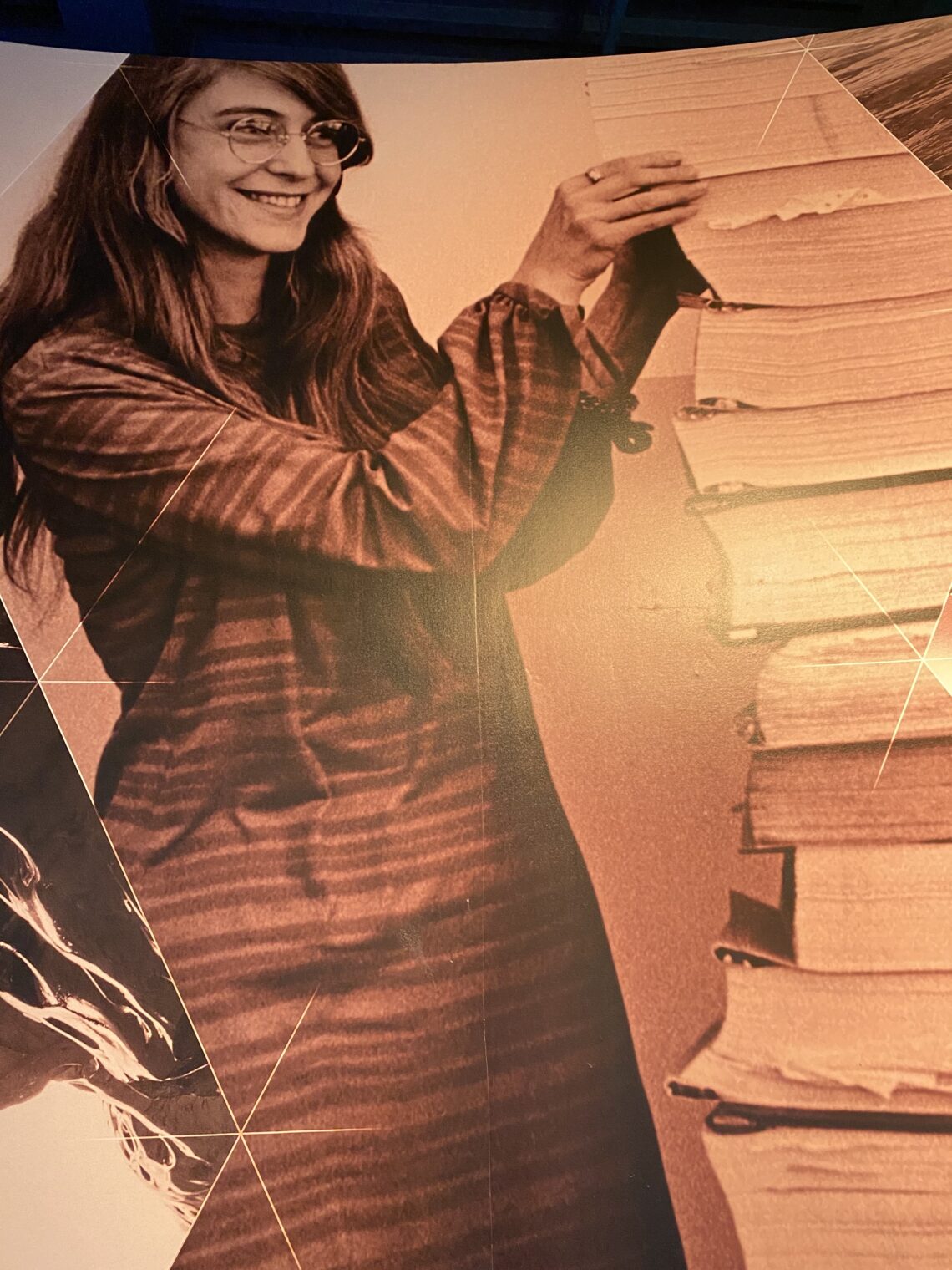 And this is a good time to reprise my heroic Cirrus SR20 landing on a 15,000′ runway (same trip):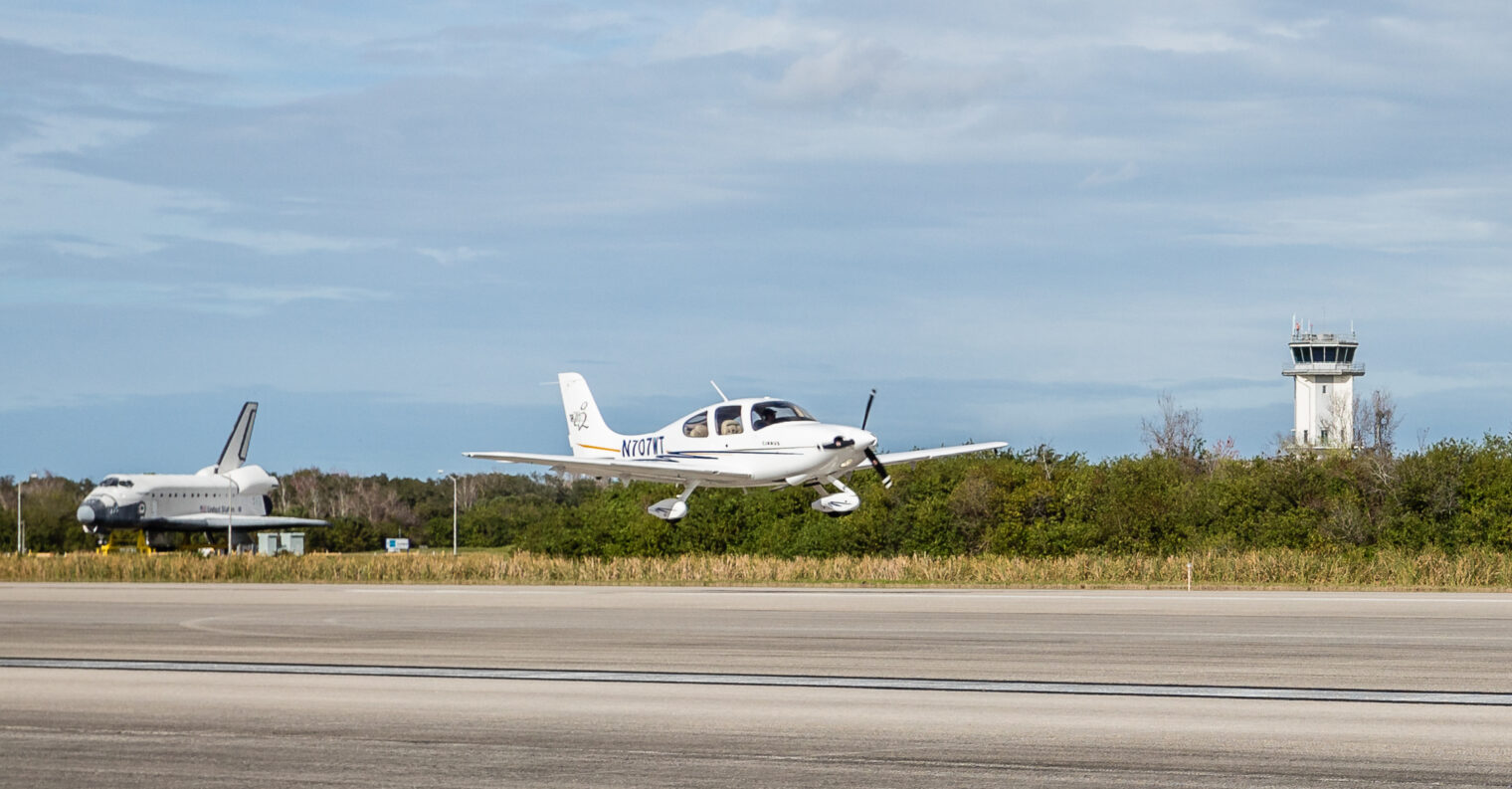 Also a good time to remember our hosts down there, Al Worden, who sadly died just 6 weeks later despite seeming to be in perfect health, and Bruce Melnick, helicopter pilot-turned-astronaut.
Related: