An email exchange with a friend who was trying to persuade me to see reason (i.e., accept that the obviously correct reaction to COVID-19 is shutdown). If you're short of time, just check out the two sections highlighted in bold face.
Me:
Opponents of shutdowns, including me, primarily argue that the shutdowns do not save either lives or life-years. While a shutdown in a non-police state may delay some deaths tagged to COVID-19, the shutdown itself, in our view, will kill far more people via deferred health care (e.g., cardiology), increased obesity, reduced fitness, increased alcoholism and drug use, despair due to loneliness, poverty due to unemployment, intensified poverty in poor countries with which we have reduced our trade and tourism. (a partial calculation).

It is not that we deny the value of "lives saved". We deny the assertion that the government is actually saving lives. It will be 5-10 years before we can see for sure who was right. And maybe we won't ever get an accurate total because a lot of the deaths due to shutdown will be in countries that may not be great at keeping statistics (see https://www.nytimes.com/2020/04/22/world/africa/coronavirus-hunger-crisis.html for example). And some of the deaths won't happen for another 60 years or so. Children who have lost a year of education will have shorter lives, if previous statistics of life expectancy versus education can be used as a forecast. We don't have an infinite fountain of money and resources, so the $trillions being spent right now on coronapanic won't be available to spend on health care and medical research in the decades to come.

Proponents of shutdown wrap themselves in virtue by claiming that they are the only people who care about human life. But I see these proponents as mostly indifferent to human life. They don't care about any deaths that aren't tagged to COVID-19.
Him:
Mostly people are scared and confused and it is hard to make an accurate model on which to base decisions, because we only have "in circuit" testing of the various components that makes the anticipated effect of changing things hard to gauge.

Complicating things further has been a president with a personality disorder and the unfortunate human susceptibility of many people to become enthralled to those with that disorder, so that the matter of shutdowns is conflated with that man and his followers.

In any case, I get what you are saying. If that was all you were saying I would not object. But mixed in is a streak of righteousness that I think is uncalled for. Your adversaries are mostly not stupid or badly motivated. They mostly just disagree with you.

Let's take obesity. I think it is highly unlikely the pandemic will directly affect obesity long term. … If you had appropriate clothing and water, you could walk to California without eating, because walking is extraordinarily efficient and fat is extraordinarily energy dense. Exercise and dieting rarely make a significant direct difference in obesity and often have a paradoxical effect, especially dieting. Babies born to women during famine develop obesity as a compensatory response. Obesity is a result of cheap high energy food intersecting with a natural response in some people's genes to hoard energy when available.
Me:
Folks who are advocating for shutdowns are presumably the most scared, though. So they are therefore the least likely to be thinking and acting rationally. If shutdown advocates actually had facts/science on their side, they wouldn't have to censor Facebook and Twitter, fire anyone who dissented (e.g., this trauma specialist), etc. Astronomers don't have to work on hunting down astrologers to get them fired for their heresy. The results of astronomy speak for themselves. To my knowledge, Anders Tegnell wasn't paying attention to Donald Trump. Nor were the scientists at the W.H.O. when they said (through June) that masks for the general population wouldn't stop the plague from spreading.

It wouldn't bother me if they disagreed, so long as they didn't also claim that they had a monopoly on scientific truth and that people who don't accept these truths are idiots. The raging plagues in fully masked Spain and California are good examples. People who say that science proves that masks for the general population will substantially slow down or stop a plague won't accept any evidence, including the Spanish/Californian plagues, as sufficient to falsify their hypothesis. This is a fundamental aspect of religion. An earthquake that destroys your church and kills innocent children won't shake (literally) your belief in a benevolent omnipotent God. …

Finally, there is an equity issue that would prevent me from supporting a shutdown. The shutdowns are ordered by people who live in mansions (governors) and supported by rich white people who live in 4,000+ square foot suburban houses (and who may have vacation houses in addition). I've heard a few of your [rich Boston suburbs] neighbors talk about how the school shutdown wasn't a serious inconvenience and they thought it should continue indefinitely nationwide. These are from people who live in 6,000 square feet, who have two college-educated parents at home, who have multiple private automobiles, etc. They never mention what they imagine school shutdown means to a single parent in a 2BR public housing apartment with three kids. Nor do these folks, generally in their 50s, ever say what benefit the shutdown is delivering to a 30-year-old single mom and her 10-year-old kids.

As a rich white 57-year-old, of course I would like to be protected from coronavirus. But even if I thought that wrecking the lives of a 30-year-old public housing mom and her not-at-risk children (via lockdown) would help me, I would be unwilling to use political and police power to extract this benefit for myself. In my view, the young mom and her kids should be free to continue with their lives and education. They're not stopping me from hiding in my suburban bunker. Why do I need to force them to give up their First Amendment right to assemble and their right to an education under https://www.un.org/en/universal-declaration-human-rights/ ?

[your lockdown arguments sound] reasonable, but, again, it is one in which old rich people (watching cash stack up even faster while quarantined in their massive beachfront mansions) say that they want to help Group A (the elderly) and they will make Group B (the essential workers) pay for this by taking away schools for Group B's kids, freedom for Group B to exercise and socialize, etc.
Him:
… it looks like Sweden has now admitted it botched things. and the numbers are rising quickly there now. No ?
Me:
The King of Sweden, a guy with 11 palaces and 3 taxpayer-funded Gulfstreams to move among them, has come out as an advocate of shutdown for the working class. So that's a kind of admission. And the Prime Minister has decided that he will keep his job by appearing to do some stuff (masks on the crowded metro system where people don't have the flexibility to social distance; reduce the max gathering size for public events (you can still legally have a party at your house for 100 people if you really want to)).

But I think it is more a shift in how people perceive the situation, not a dramatic change in numbers. Below is a chart of Swedish ICU occupancy by COVID-19 patients. Out of a population of 10.4 million they have 300 people nationwide in their ICUs with a COVID-19 tag. (Keep in mind that Sweden has only about 30% of U.S. ICU beds per capita.) They had closer to 550 during the April peak (and Swedish academic modelers predicted that 20,000 Swedes would be in the ICU during the spring 2020 peak).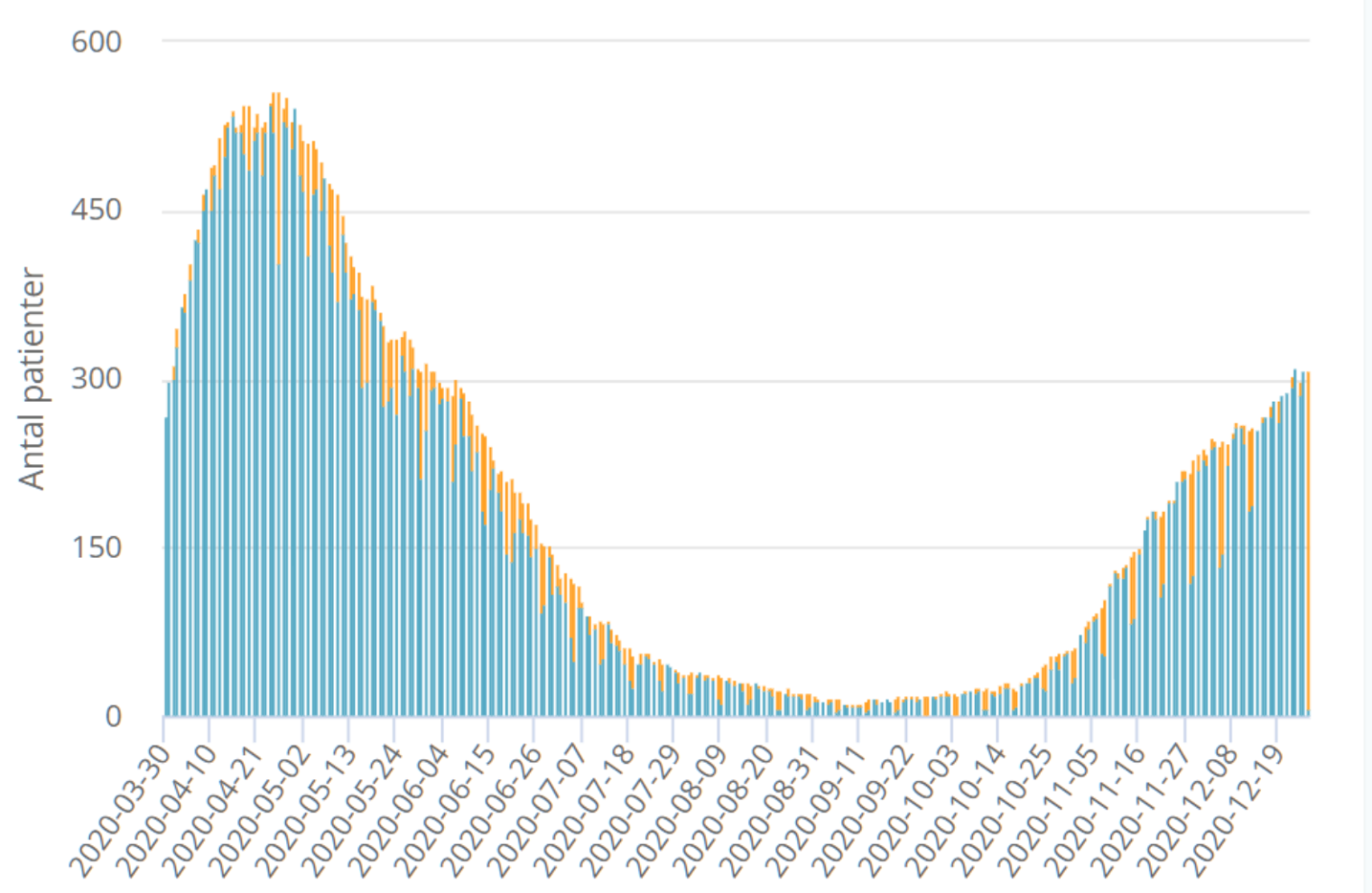 Is it a "mistake" to have 1 million children in school (without masks) and 300 old/sick people in the ICU with a positive COVID-19 test result? If you believe that humans are in charge of the virus AND that the interests of the old/sick people outweigh the UN-listed universal right of the children to have an education, maybe this is a "mistake". But the numbers from all around the world suggest that humans are not in charge of the virus, e.g., with raging plagues in masked-and-shut countries or states. In that case, it could look like a "mistake" to deny 1 million children a year of education in hopes of saving a few life-years.

The complete 2020 data won't be available until mid-January, but right now it seems almost certain that Sweden will have a lower overall death rate than it had in 2010 (the population has grown about 10% during that interval).

Sweden has a COVID-19 death rate that is less than half of the Massachusetts rate. Given recent trends, it seems likely that Sweden will have a cumulative COVID-19 death rate lower than California's. With lower income children here in Massachusetts and California now having missed nearly a year of education, I personally wouldn't say that it is the Swedes who are the failures.

So… anyway, I think we can explain different attitudes by different value systems and different personal situations. The Californians whom I know who are pro-shutdown and pro-mask orders do not have children in public school, do not have to leave the house in order to earn money, and simply deny that there is any cost to the loss of freedom of assembly, the loss of gyms, the shutdown of social life ("I can walk outside by myself any time I want"), etc. If we took them seriously, it wouldn't be cruel or unusual to put convicted criminals into solitary confinement because as long as they have Zoom they wouldn't have suffered any loss at all by being confined. Shutdown has almost no cost for them so they don't need a comprehensive scientific theory regarding the benefits of shutdown in order to advocate for it.

The working class people whom I know in Massachusetts (don't know any in California) feel that their lives have been mostly destroyed. So they demand a logical explanation for how the governor's 59 orders (so far) will accomplish something more than delaying a few cases by a few weeks. And, of course, the state of the "science" is nowhere near sufficient to provide them with a coherent-sounding explanation. The virus is an aerosol… but a bandana will provide a lot of protection and children who are together in a (white suburban) classroom for 5 hours/day won't spread the virus to each other so long as they're all wearing bandanas. Flying and driving lessons are banned after 9:30 pm for COVID-19 safety, but it won't be unsafe to be in an enclosed car or aircraft prior to 9:30 pm. If this is our best science, it is not good enough to justify the costs of what is being done in the name of science in the eyes of the working class.
We had to agree to disagree, of course, on what is a religious issue. We're both MITers so, unlike the Facebook righteous, we are able to disagree on a technical issue without destroying our friendship. I asked him to confirm his mailing address for a New Year's card. He sent me a new address, which I looked up in Zillow. He is living in more than 8,000 square feet in a house with an estimated value of $9.6 million.
Related, an #InThisTogether aerial photo of a house in Lincoln, Maskachusetts: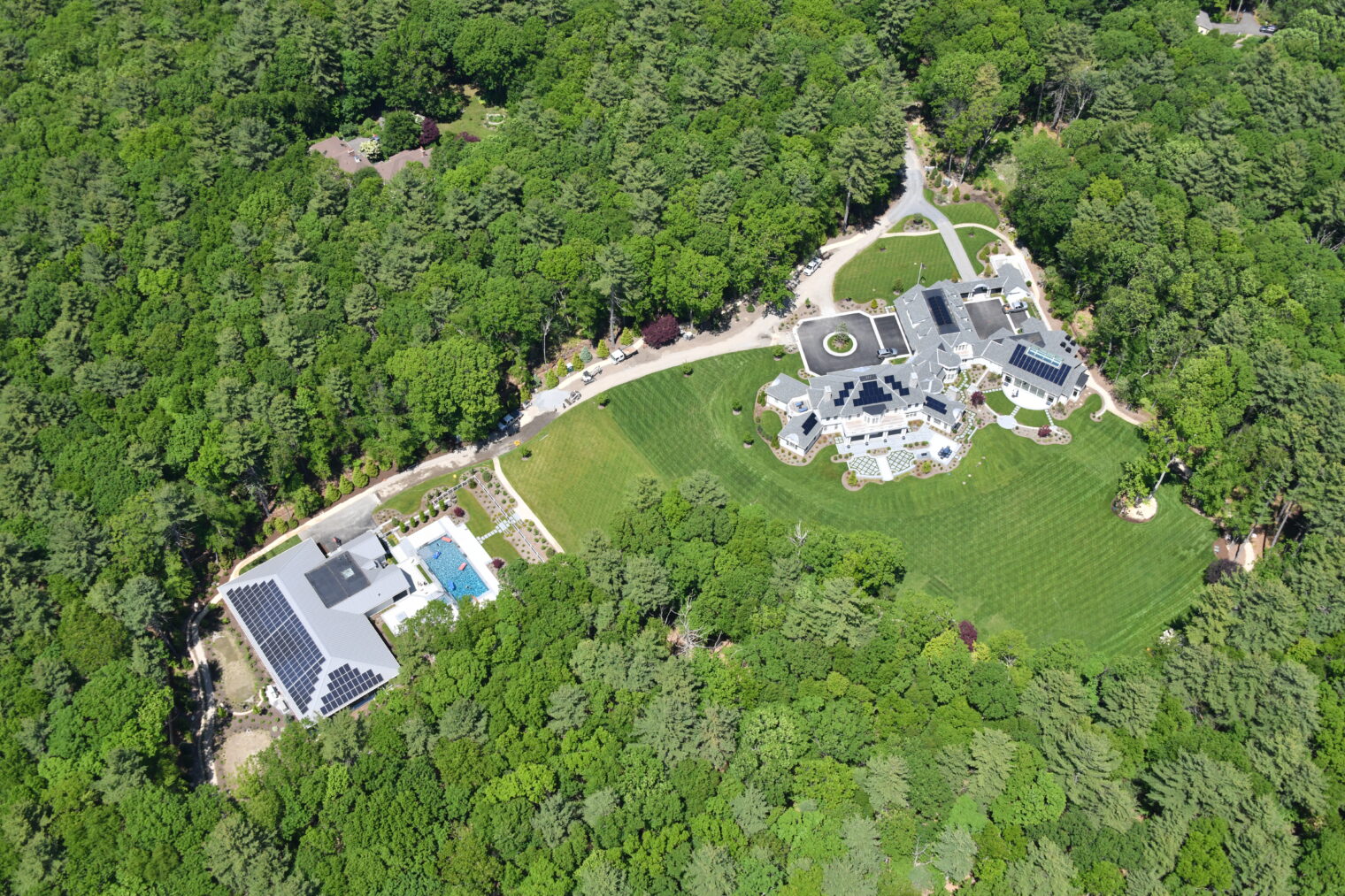 (by Tony Cammarata with me flying the helicopter)
Related: