Assembly Bill A416 was recently introduced in the lower house of New York State's legislature. The bill lets the governor remove and detain any "suspected case, contact, or carrier of a contagious disease". This can be used any time "the governor declares a state of health emergency due to an epidemic of any communicable disease." (so it would work for flu season or systemic racism? (racism is contagious according to the United Nations))
As written, I think the law would allow the state government to round up anyone who'd been at a 50-person party if 1 out of those 50 tested positive (with a PCR machine cranked up to the max?) for COVID-19. Masks or no masks, they've now become "suspected cases".
How about an unmasked individual caught on camera walking through Times Square? Based on a scientific consensus around masks, it would make sense to regard the unmasked person, after walking through a crowd of hundreds, as a "suspected case".
How about an unvaccinated person who leaves the house and enters a grocery store? He/she/ze/they is at risk and therefore can be detained as a "suspected case."
A similar bill was presciently introduced in 2015, 2017, and 2019. Maybe it has a good chance of passing this year, though, now that COVID-19 has changed folks' minds regarding the proper limits of government. Would it make sense to think, from the safety of a free state, about investing in the construction of internment camps that can be leased to New York State? The bill says "such person or group of persons shall be detained in a medical facility or other appropriate facility or premises designated by the governor…" But if there is a real epidemic going on, the medical facilities will be at least reasonably full.
Separately, will there be demand for interning anyone who quotes Adolf Hitler or Donald Trump (now unpersoned by Facebook and Twitter? Where will people find the archives to know what hate looks like?)? For example, "Congresswoman Apologizes for Making an Approving Reference to Hitler" (NYT):
Representative Mary Miller, an Illinois Republican, had faced condemnation and calls to resign for declaring at a rally: "Hitler was right on one thing: He said, 'Whoever has the youth, has the future.'"

"Each generation has the responsibility to teach and train the next generation," Ms. Miller said at the rally. "You know, if we win a few elections, we're still going to be losing, unless we win the hearts and minds of our children. This is the battle. Hitler was right on one thing: He said, 'Whoever has the youth, has the future.' Our children are being propagandized."

The United States Holocaust Memorial Museum was among the groups that had roundly criticized Ms. Miller's remarks. The museum said it "unequivocally condemns any leader trying to advance a position by claiming Adolf Hitler was 'right.'"

"Adolf Hitler, the Nazis, and their collaborators murdered almost every member of my family, destroyed my entire community, and ended a centuries-old culture," Irene Weiss, an Auschwitz survivor, said in a statement released by the museum. "I implore our leaders and all Americans not to misuse this history — my history."

Gov. J.B. Pritzker of Illinois, a Democrat, called Ms. Miller's remarks "unfathomable and disgusting," and urged her to visit the Illinois Holocaust Museum and Education Center "to learn just how wrong Hitler was."

Several Illinois Democrats went further and demanded that Ms. Miller resign. They included Senator Tammy Duckworth, Representative Jan Schakowsky and Representative Marie Newman.
Why condemn when we can intern and reeducate?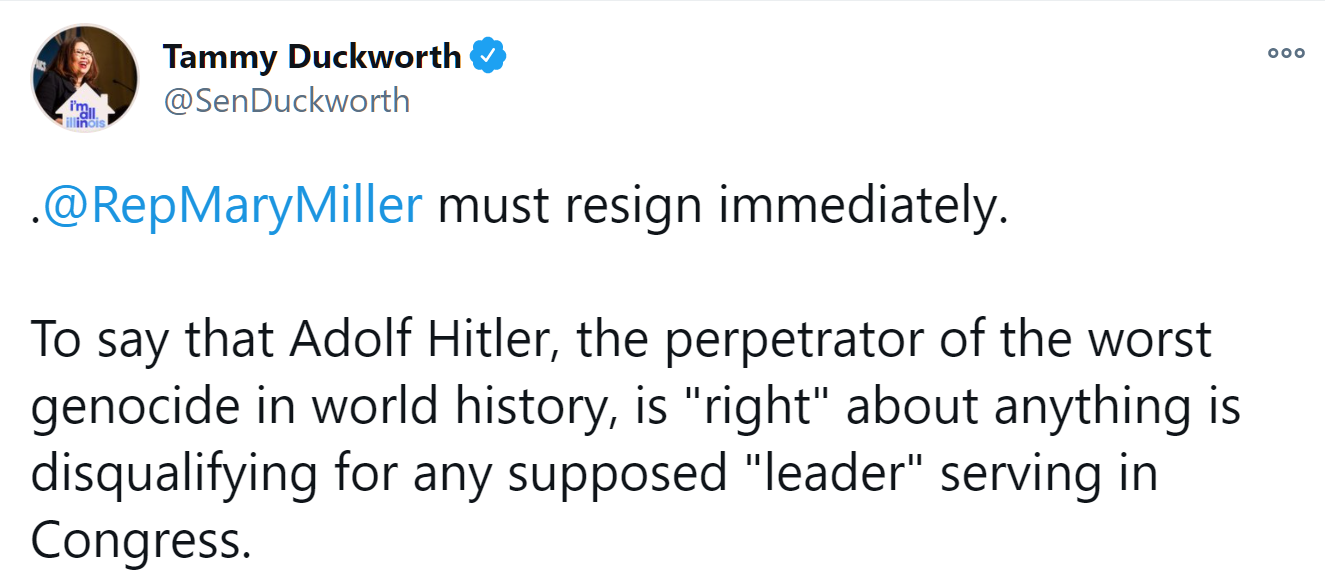 Hitler, of course, has been proved completely wrong, and definitely not right about anything ever in his life, by COVID-19. Why does Dr. Fauci have such a tough time persuading Trump voters to wear masks?
"It is always more difficult to fight against faith than against knowledge."
If you want to shut down schools for years, would it be helpful to convince people that healthy children face a substantial risk from COVID-19?
"The state must declare the child to be the most precious treasure of the people. As long as the government is perceived as working for the benefit of the children, the people will happily endure almost any curtailment of liberty and almost any deprivation."

"What luck for rulers that men do not think."
(but, of course, those who identify as "women" do think!)
If you want to do a one-year shutdown and outdoor mask order, does it make sense to start with a one-month shutdown and indoor mask suggestion?
"The best way to take control over a people and control them utterly is to take a little of their freedom at a time, to erode rights by a thousand tiny and almost imperceptible reductions. In this way, the people will not see those rights and freedoms being removed until past the point at which these changes cannot be reversed."
Use a traditional vaccine or stick people with mRNA so that their bodies actually produce what would have been in the vaccine?
"As in everything, nature is the best instructor."
Should healthy 20-year-olds be required to get vaccinated?
"Society's needs come before the individuals needs"
If you're issuing executive orders, does it make sense to call anyone who questions one "anti-science"?
"The leader of genius must have the ability to make different opponents appear as if they belonged to one category."
Are exploitation of Blacks and inequality problems important enough to worry about even as the COVID-19-tagged bodies stack up?
"I don't see much future for the Americans … it's a decayed country. And they have their racial problem, and the problem of social inequalities … How can one expect a State like that to hold together?"
Could Trump have won in 2020 if he'd donned a Speedo for a dip in the Atlantic opposite Mar-a-Lago?
"No politician should ever let himself be photographed in a bathing suit."
Is the Oval Office the World Center of Peace and Harmony?
The American president increasingly used his influence to create conflicts, intensify existing conflicts, and, above all, to keep conflicts from being resolved peacefully.
On first-time office holders…
"There is a better chance of seeing a camel pass through the eye of a needle than of seeing a really great man 'discovered' through an election."
On estate tax avoidance:
"The amount of money that is in your bank at the time of your death is the extra work you did which wasn't necessary"
Bad advice if you love having friends over ..
"don't let what other people think, stop you from doing the things you love"
Related: