From a friend with kids in high school in a rich Boston suburb…
One of the beautiful things about remote school is that I get, for the first time, to hear what teachers say to taxpayers' children. Excepts from the "Advanced accelerated" math teacher's 30-minute monologue (within a 50-minute class period ostensibly devoted to mathematics):
This is not about politics. My politics are clear to you, but it's not. It's not up for discussion. All reasonable people agree that what happened in Washington yesterday was a coup. Armed people, who are in charge, tried to take over the government. They had guns, they had bombs. That is the definition of a coup. . […] I know some of your parents had very clear reasons for voting for Trump. It's okay, it is just their values are different from mine. These values conflict with our 200+ year old democracy. Everyone agrees about the election, except ONE person and those who blindly follow him. … You can be scared. I want you to be scared. … We need to address this s**** so that it f**** never happens again … When Obama was President, the country was flourishing. Now it's falling apart.
Some kids in the class listened together in an Instagram chat. One asked, "If a cross in the classroom is not okay, how is this?"
[It is okay for parents to vote for Trump despite their values conflicting with democracy? Wouldn't it make more sense to expel them as we expelled the Loyalists?]
The harshest attack from the teacher was on the students themselves:
Your generation is failing us. This is on you. It is your fault!!!
[Queried, my friend responded "That is correct, he actually said it was the kids' fault (for not standing up to the tyrant and their terrible parents, some of whom voted for him)." Me: The kids learned about Gandhi so they were supposed to emulate him by going on a hunger strike at home until the parents put out the correct yard signs? But Maskachusetts voted correctly and by a parent-proof margin. And the mostly-not-peaceful protesters were mostly from other states. So, with respect to this issue, why does it matter how anyone in MA voted or what anyone in MA has as a lawn sign? (Separately, do high schools teach "after his wife, Kasturba, died in 1944, Gandhi began the habit of sharing his bed with naked young women: his personal doctor, Sushila Nayar, and his grandnieces Abha and Manu, who were then in their late teens and about 60 years younger than him."?(Guardian))]
That was math. How about English?
Teaching moment gone wrong. My daughter's English teacher decided to ask this question on a free-for-all jamboard: "The Capitol Building: what is one idea or fact that DID NOT surprise you?"
Responses:
liberals got mad
americans are fighting for their freedom
All of the hypocrites because this happened before [during BLM?]
that liberals would say how bad this was, when they did very violent things during blm
it did not surprise me that our soon to be EX PRESIDENT did almost absolutely nothing to control this situation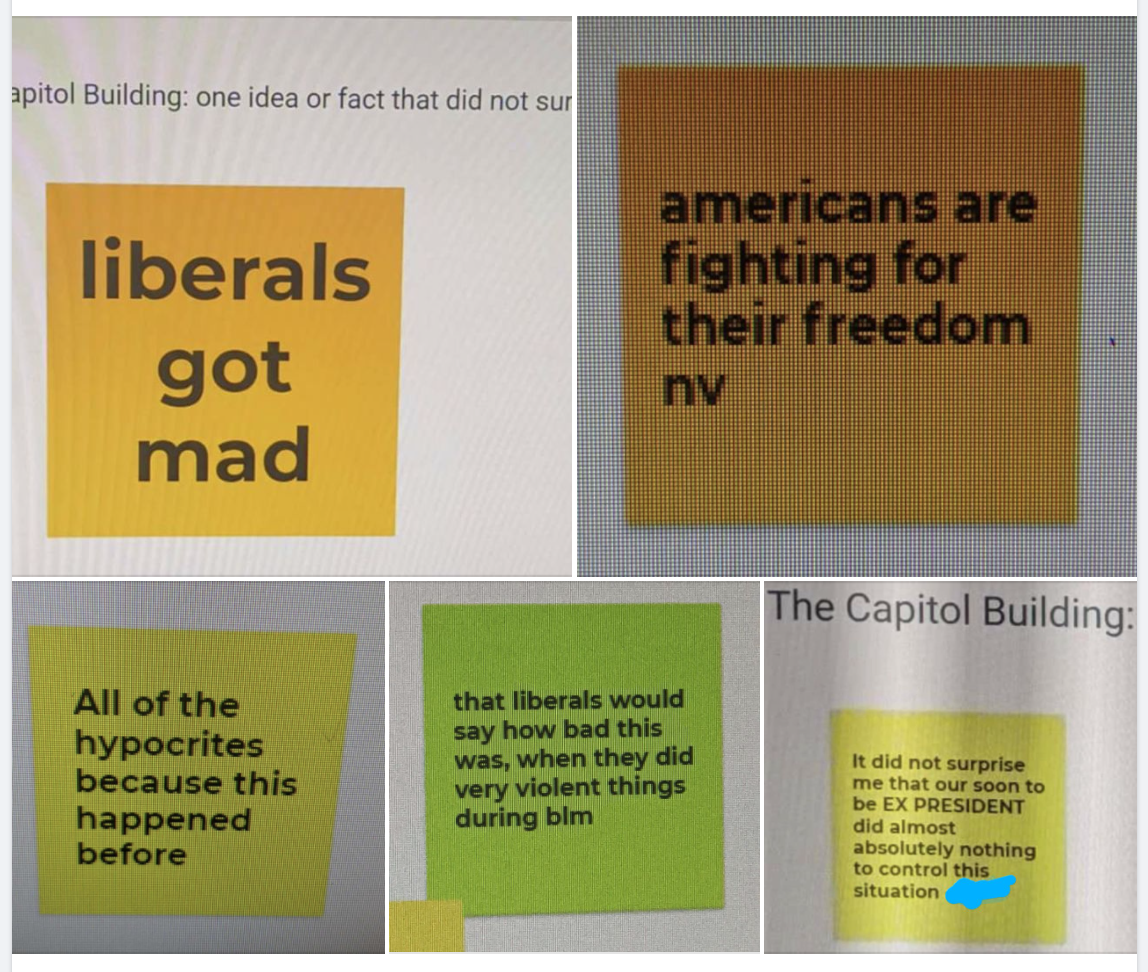 The teacher acted quickly to condemn "students who wrote inappropriate things."
In the middle school
6th grader, comparing to elementary: "I like middle school because the teachers are actually helpful and they're not Black Lives Matter and Rainbow Flag-oriented 24/7."
Related:
"Democrats were for occupying capitols before they were against it" (Washington Post): "Thousands of protesters rushed to the … Capitol Wednesday night, forcing their way through doors, crawling through windows and jamming corridors." That is how one newspaper described the storming of the Capitol — not the one in Washington last week, but the state Capitol in Madison, Wis., a decade ago. Back then, thousands of pro-union activists — many bused in from out of state — rampaged through the historic building in an effort to stop a vote on collective bargaining reform legislation. … House Speaker Nancy Pelosi (D-Calif.) praised the occupiers for an "impressive show of democracy in action" and tweeted as they assaulted the Capitol that she continued "to stand in solidarity" with the union activists. In other words, Democrats were for occupying capitols before they were against it.