Happy Presidents' Day, a.k.a. George Washington's Birthday, a.k.a., Happy Birthday to a slaveholder.
In addition to owning slaves and behaving in a traitorous fashion to the British Empire to which he'd sworn loyalty as a military officer, George Washington had a reputation as a unifier of disparate American interests. Could he have unified us today?
First, we should ask why middle class Americans aren't already unified. If Americans generally vote their pocketbooks, how can people with similar levels of income split into passionately different political camps, as evidenced by their dramatic rhetoric on Facebook. A possible explanation from "The Two Middle Classes":
Politicians across the Western world like to speak fondly of the "middle class" as if it is one large constituency with common interests and aspirations. But, as Karl Marx observed, the middle class has always been divided by sources of wealth and worldview. Today, it is split into two distinct, and often opposing, middle classes. First there is the yeomanry or the traditional middle class, which consists of small business owners, minor landowners, craftspeople, and artisans, or what we would define historically as the bourgeoisie, or the old French Third Estate, deeply embedded in the private economy. The other middle class, now in ascendency, is the clerisy, a group that makes its living largely in quasi-public institutions, notably universities, media, the non-profit world, and the upper bureaucracy.

Standing between the oligarchs, who now own as much as 50 percent of the world's assets, and the growing population of propertyless serfs, the traditional middle class increasingly struggles for survival against those with the greatest access to capital and political power. The power of this modern-day equivalent of the Medieval aristocracy, what the French referred to as the Second Estate, seems likely to grow; a recent British parliamentary study projects that, by 2030, the top one percent will expand their share to two-thirds of the world's wealth, with the biggest gains overwhelmingly concentrated in the top .01 percent. One of the upshots of this concentration of economic power is that entrepreneurship is now declining even in the capitalist hotbed of America.

In contrast, the clerisy has a far less adversarial relationship with the uber-rich, since they operate in large part outside the market system. Like the Catholic Church in Medieval times, this part of the middle class enjoys something of a symbiosis with the oligarchal elites, the main financiers of NGOs, and the universities, and dominates the media and culture industries that employ so many of them. They are often also beneficiaries of the regulatory state, either directly as high-level government employees, or as consultants, attorneys, or through non-profits.
It's an interesting theory. One major flaw in the article is that he accepts the bogus idea that American serfs are "propertyless". A resident of the U.S. who has never worked and who will never work nonetheless holds substantial wealth (i.e., "property"). She is entitled to 100+ years of housing, 100+ years of health care, 100+ years of food, and 80+ years of smartphone service. Any children she chooses to have will be entitled to a free education and also, if they do not choose to work, free housing, health care, food, and smartphone. That's $millions in wealth for every American on welfare (about 70 million people on Medicaid, for example).
If a person with $2 million in cash buys an annuity with the $2 million, do we say that she has suffered a $2 million loss of wealth? If not, it is absurd to consider Americans on our various forms of welfare as being without wealth.
Or consider the retired stripper who turned into a family court entrepreneur by suing Hunter Biden for child support. She may have already spent every dime that she earned in the gentlemen's clubs and every dime that she has gotten from Mr. Biden. But as long as she retains custody of the cash-yielding child, she is not without substantial wealth. (And anyone who reads "Child Support Litigation without a Marriage" can replicate her success!)
How to explain the current era of Peak Sanctimony?
Like their Medieval counterparts in the old First Estate, members of the contemporary clerisy insist that they are motivated not by self-interest but rather by pursuit of the common good. They constitute "the privileged stratum," in the words of French left-wing analyst Christophe Guilluy, operating from an assumption of "moral superiority" that justifies their right to instruct others. This power is greatly enhanced by their control of culture, most media, the education systems—eight in 10 British professors are on the Left—and throughout the bureaucracy.
Readers: What do you think of this article? If we believe it, could a figure analogous to George Washington actually accomplish anything today in terms of unifying Americans who, in fact, do not have common interests? And who would that figure be? It couldn't be someone from the military, since we no longer have military victories. What about a Great Scientist? Dr. Fauci perhaps?
Inside the Washington Monument (November 2019):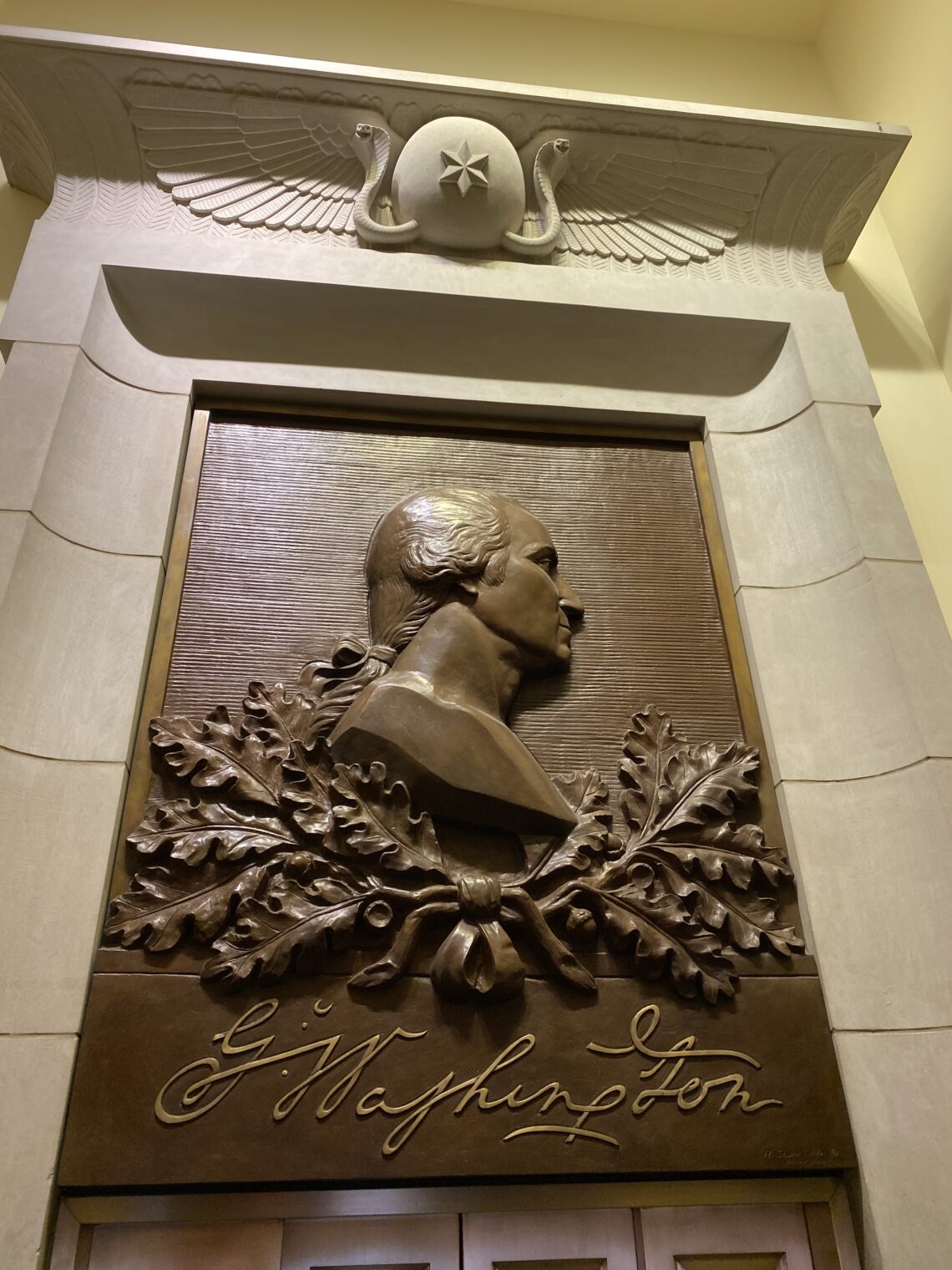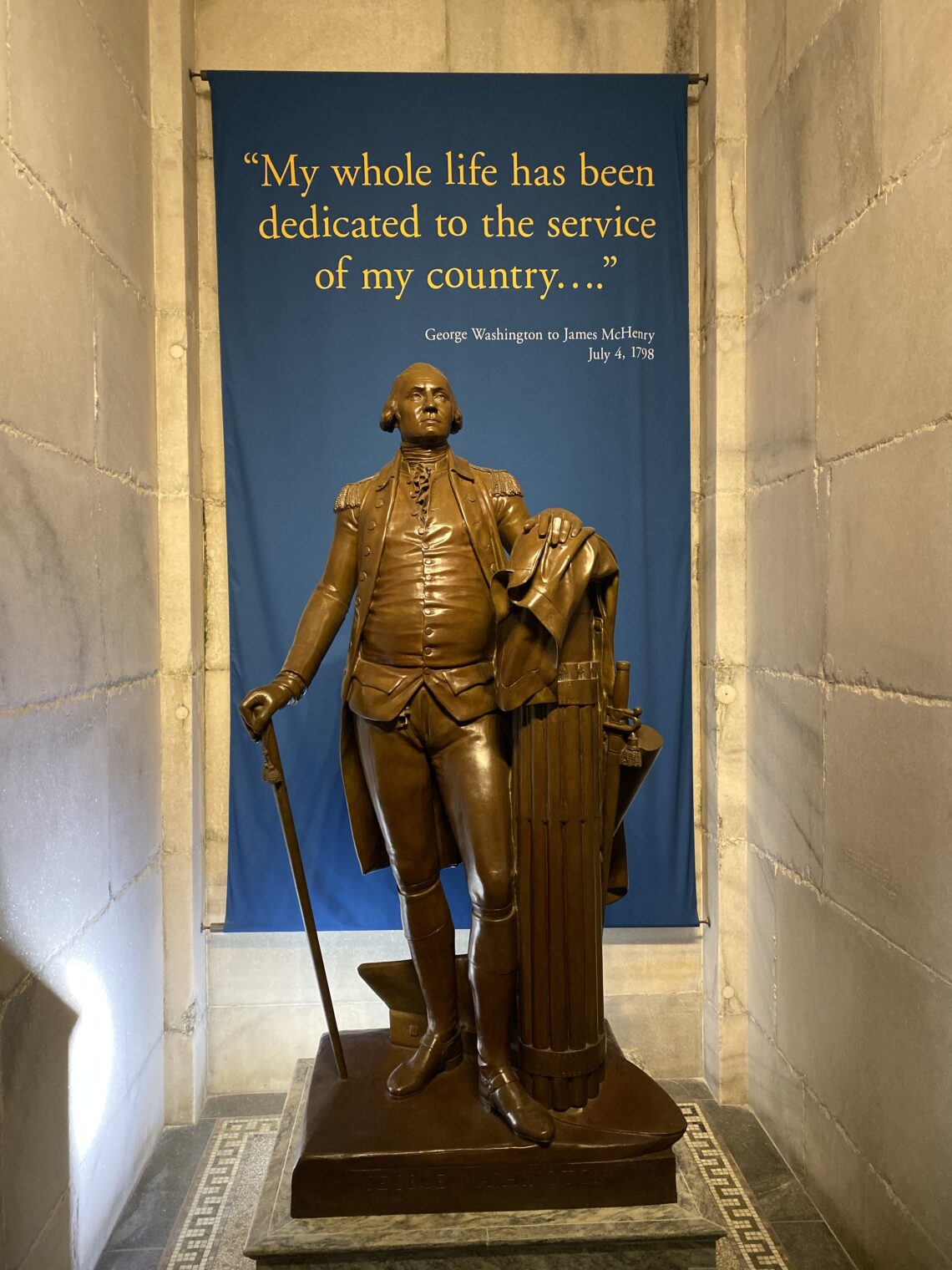 The view from the top, which I posted on Facebook with "Massive crowd for the Trump inauguration." (#NotFunny?)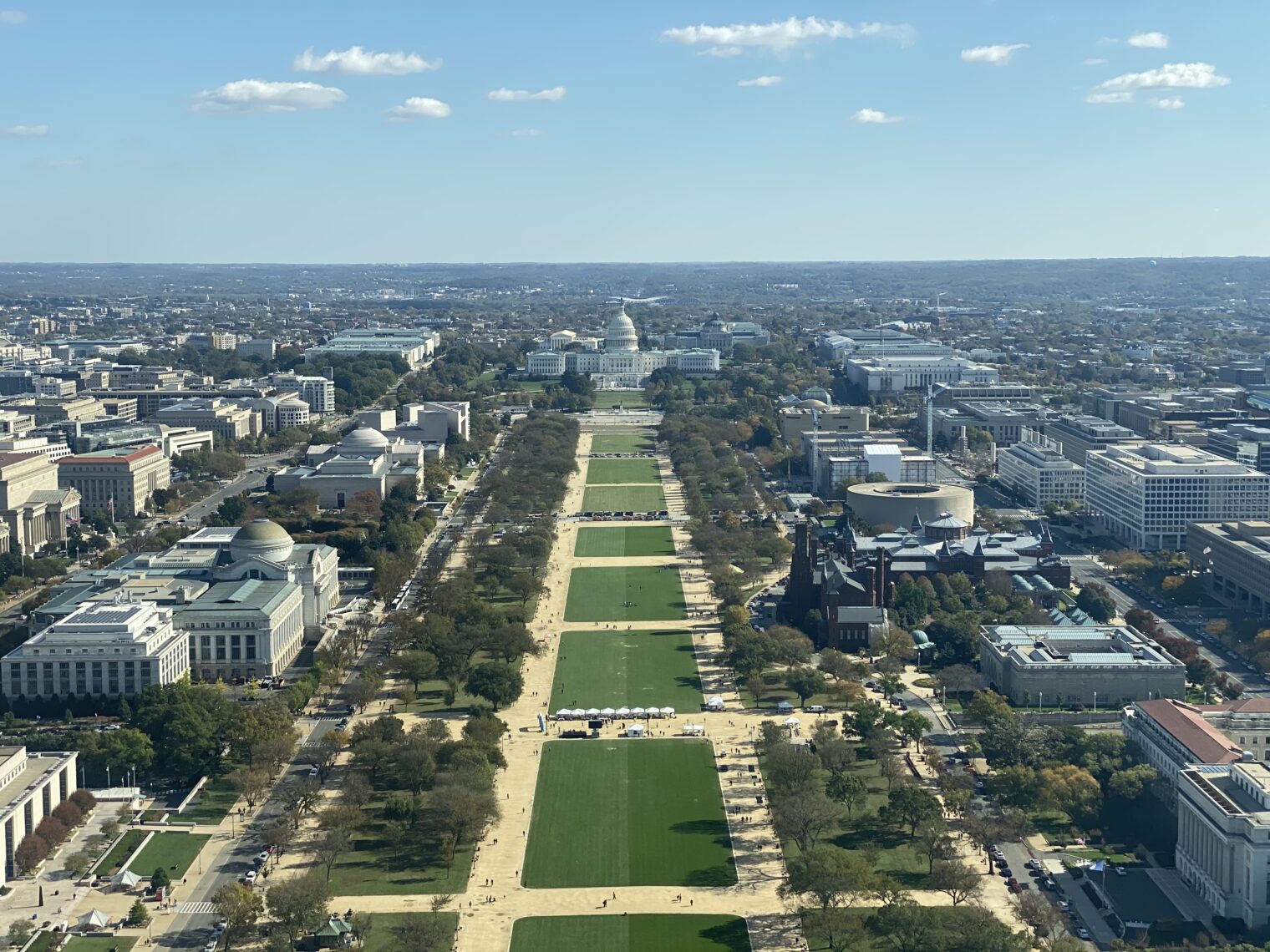 Speaking of Trump, if we wanted to include him in Presidents' Day this year and going forward, which of his achievements should be highlighted?