Five years ago I purchased two Samsung 32-inch 4K computer monitors for $1300 each. These UD970s boasted "99.5% Adobe RGB and 100% sRGB Color Compliance", which I thought would make them good for editing photos. They're also reasonably bright, at 350 nits. Unfortunately, one now has a vertical line permanently stuck to cyan, about 1/3rd of the way in from the left. The other one has a flaky power supply and turns itself on and off at random.
I can't go with a fashionable curved monitor because I had a treadmill next to a chair and, in theory, want to be able to drive setup from either the left or right side of the desk. So it needs to be a primary and secondary monitor of roughly 32″ in size.
One thing that might be interesting is a monitor with built-in speakers so that I can clear the speakers and amp (optical digital in to speaker-level out) off my desk. It is rare that I listen to anything where high sound quality is required.
Here are some ideas, based on Amazon ranking:
After I get at least one new one, I could maybe have some fun with the kids trying to assemble a single working Samsung out of the two broken ones (panel from one and power supply, etc., from the other?).
Here's a question for genius readers? Why aren't there OLED computer monitors? Problems with burn-in, you say? You'd have pixels burned to standard user interface elements? What if the monitor were 10 percent oversized horizontally and vertically? Have the 4K image slowly float among the corners, which would ensure that the pixels along the edges got some completely dark time. (LG already seems to do a weak version of this with its OLED TVs; they call it Screen Shift.) What about central pixels? Have the monitor and/or video card watch for extended periods of constant illumination (maybe it would be white since so many documents have white backgrounds) and do some selective dimming as necessary.
The LG "Ergo: design":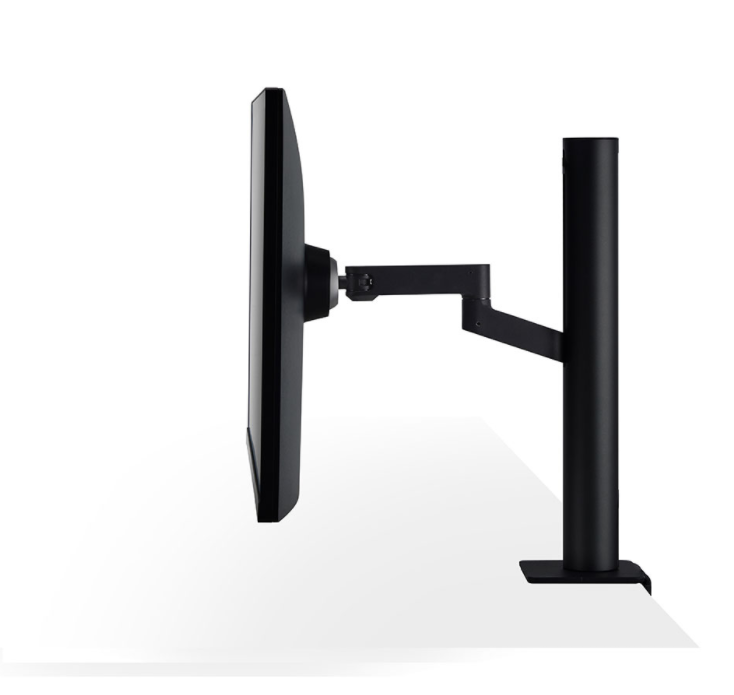 Update: It wouldn't have been simple to mount the Ergo on my particular desk, so I got the LG 32UN650-W (a $500 IPS monitor). The built-in speakers far exceeded my expectations… for tinniness. They are unusable for music, YouTube sound tracks, etc. I guess they're a good emergency backup in case my external amp (Nuforce DIA, purchased in 2012 and now discontinued) or Audioengine P4 speakers fail and I need to be on a Zoom call. I never calibrated the Samsung monitor (the one that still works, but has a stuck line), but photos appear brighter and bluer on it. Comparing to the iPhone 12 Pro Max, on which the photos originated, the LG is a little closer.