Back when same-sex marriage was the subject of referenda (eventually rendered irrelevant by the Supreme Court), the haters said that same-sex marriage was the camel nose under the tent for polygamy. This was an outrageous calumny. See "Polygamy Is Not Next" (TIME, 2015), for example and "No, Polygamy Isn't the Next Gay Marriage" (Politico, 2015): "Opposing the legalization of plural marriage should not be my burden, because gay marriage and polygamy are opposites, not equivalents."
From CNN, six years later: "Three dads, a baby and the legal battle to get their names added to a birth certificate":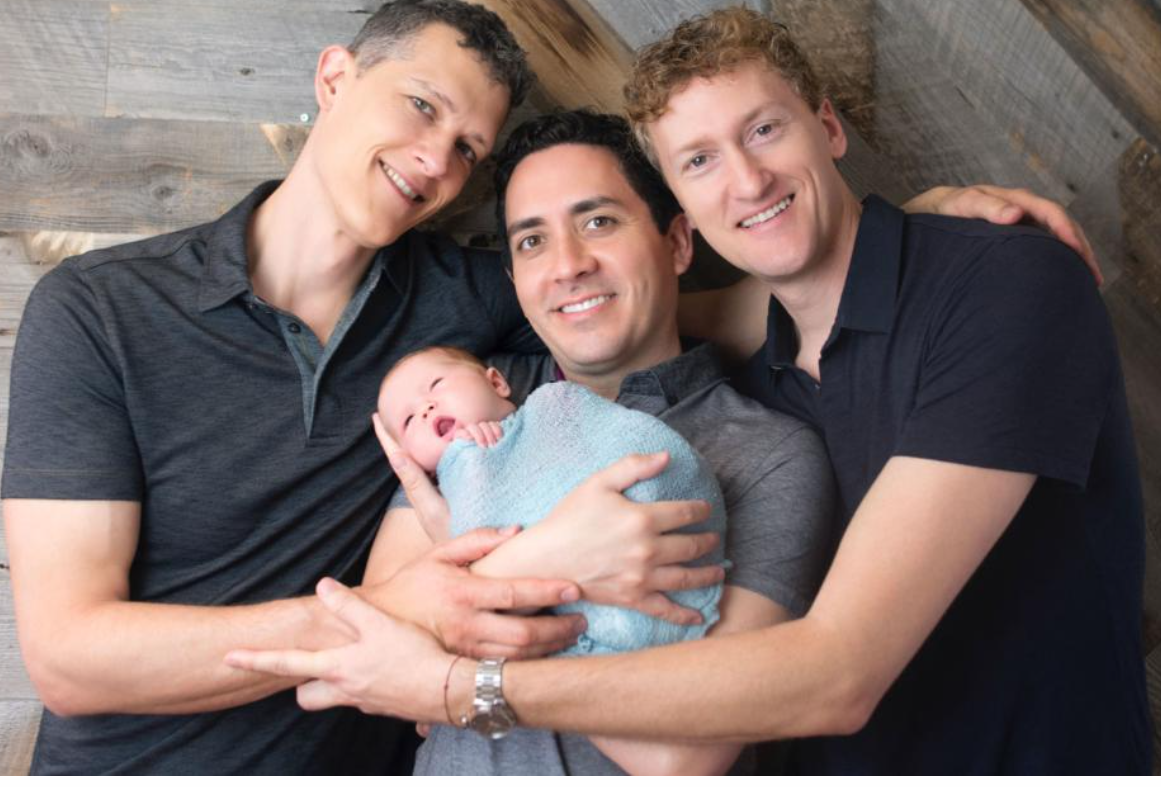 This isn't news, actually, but we're just hearing about it now…
The judge ruled in their favor before their daughter Piper was born in 2017. Jenkins believes they are the first polyamorous family in California, and possibly the country, to be named as the legal parents of a child.
The journalists want us to know how much better this is than when there are two squabbling opposite-sex parents:
The dads and their children share a bustling house with two Goldendoodles named Otis and Hazel.

"We've had zero negative feedback from coworkers and friends. Everyone seems to just be delighted about the arrangement and that's because they know us," Jenkins says. "I think some people will look at this and say like, 'Oh, this is exotic. It's going to harm the child.' But people who know us know that we have been taking care of these kids as best as we possibly can."

That however hopeless things may seem as a young gay man struggling to fit in, the world is changing. And that he'll someday find more love under one roof than he ever imagined.
(If two dads are good, maybe three are better! See The happiest children in Spain live with two daddies,)
From my inbox, "How Polyamorists and Polygamists Are Challenging Family Norms" (New Yorker): "Campaigns for legal recognition may soon make multiple-partner marriages as unremarkable as same-sex marriages."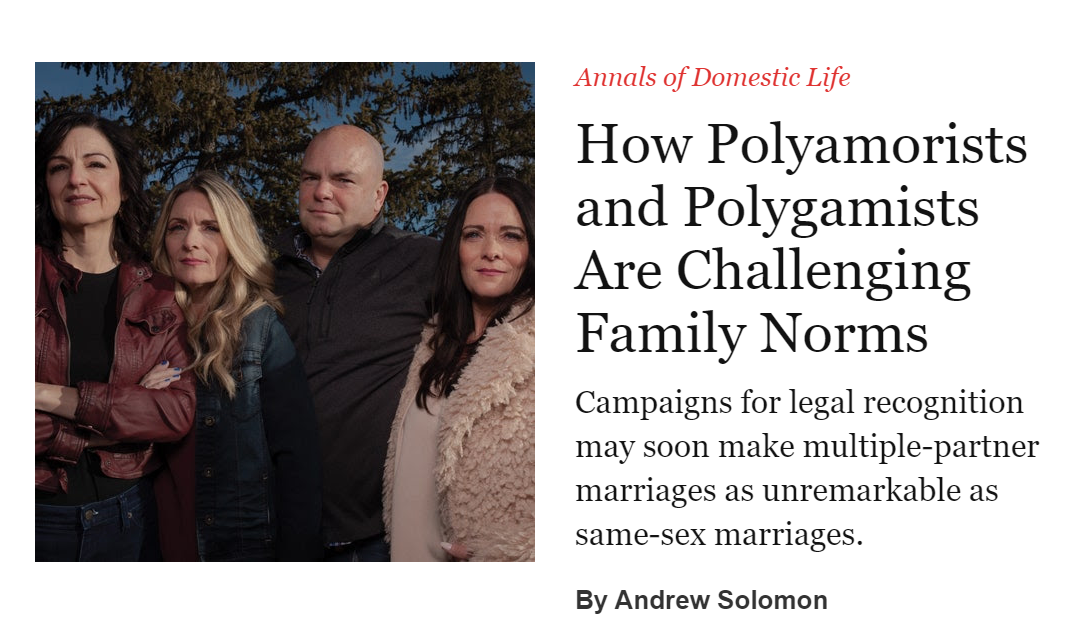 Some excerpts:
The next year, in an online forum, they saw a post from a woman in her early thirties named Julie Halcomb that said, "I'm a single mom, I've got a two-year-old daughter, and I'd like to learn more." Rich wrote, "If you want to know more, ask my wives." Angela had opposed adding a third wife, but when she got off her first call with Julie she said, "O.K., when is she moving in?" Julie visited, mostly to make sure that the kids would get along, and joined the household permanently a week later.

Their living arrangements attracted other unwelcome attention. Neighbors called the police, and Child Protective Services interviewed the children. Since there was only one marriage certificate, the police couldn't file bigamy charges. "They said, 'We don't like it, but there's nothing we can do,' " Julie recalled. "But we had them at our door constantly. One of the kids would have an accident at school—we'd have them there again. They were constantly trying to find signs of abuse."

At the family's largest, Rich had four wives, but when I met him, a couple of years ago, he and Angela were divorcing, and another woman, April, had come and gone. Rich, Brandy, and Julie were living with their kids—six, including Rich's and Julie's from earlier relationships—and saw Angela's two every other weekend.

The Austins would like one day to enjoy the legal benefits that married couples take for granted. Brandy and Julie take heart from the success of the gay-marriage movement. "I've got a wedding invitation on the way from a friend who's transitioning from female to male," Julie said. "I've got classmates that came out almost twenty years ago. They've been lucky enough to get married. I wish people would be as accepting with us as we try to be of everyone else."
We already have functional polygamy in the U.S. An American doesn't need to settle for the highest-earning partner whom he/she/ze/they can find for a long-term marriage. He/she/ze/they can have sex once with an already-married high-income defendant and earn more via child support (see Hunter Biden's plaintiff) than by getting married to a mediocre earner and enduring his/her/zer/their presence in the apartment 24/7. Soon we can have de jure polygamy?