It's still Passover and I hope that readers of the Jewish persuasion are enjoying their matzot! Nothing like a week of Matzah to make you appreciate Wonder Bread.
It's also April Fools' Day, in which we celebrate the credulous.
What if we combine these celebrations? Wikipedia:
The consensus of modern scholars is that the Bible does not give an accurate account of the origins of the Israelites. There is no indication that the Israelites ever lived in Ancient Egypt, and the Sinai Peninsula shows almost no sign of any occupation for the entire 2nd millennium BCE (even Kadesh-Barnea, where the Israelites are said to have spent 38 years, was uninhabited prior to the establishment of the Israelite monarchy). In contrast to the absence of evidence for the Egyptian captivity and wilderness wanderings, there are ample signs of Israel's evolution within Canaan from native Canaanite roots. …

The biblical narrative contains some details which are authentically Egyptian, but such details are scant, and the story frequently does not reflect Egypt of the Late Bronze Age or even Egypt at all (it is unlikely, for example, that a mother would place a baby in the reeds of the Nile, where it would be in danger from crocodiles). Such elements of the narrative as can be fitted into the 2nd millennium could equally belong to the 1st, consistent with a 1st millennium BCE writer trying to set an old story in Egypt. (The name of Moses, for example, belongs to 1st millennium Egyptian, and would have been Mase in the 2nd).

A century of research by archaeologists and Egyptologists has found no evidence which can be directly related to the Exodus captivity and the escape and travels through the wilderness.
We Jews say that we were enslaved and forced to labor for the Egyptians, whose pay records of voluntary laborers (farmers in the off season) are well-preserved and for whom "slavery" meant subjecting non-Egyptians to a 20 percent income tax. We Jews say that we weren't permitted to leave Egypt, but there is no record of Ancient Egypt having any controls or restrictions on emigration (as the richest and most advanced civilization in the region, why would substantial numbers of people have wanted to leave it?).
When proffering a tale of victimhood, details add credibility. Example from a Haggadah:
This Pharaoh made the Israelites slaves. He forced them to do hard labor, building cities with bricks made from clay and straw. The people knew neither peace nor rest, only misery and pain. The cruelest decree of all was Pharaoh's order that every baby boy born to an Israelite woman be drowned in the River Nile.
In contemporary western nations, where the most valuable coin is victimhood, should Jews be credited with having developed the first false victimhood narrative?
And what about a contemporary victimhood narrative that is fit for April Fools' Day? On a collective basis, maybe immigrants to the U.S. could get the prize. From "Immigrants May Be Fed False Stories to Bolster Asylum Pleas" (New York Times, 2011):
Mr. Strauss-Kahn's accuser said in her 2004 asylum bid that she was gang-raped, and that soldiers destroyed her home, beating her and her husband, who she said died in jail. She recently admitted to prosecutors that she had been lying. Her lawyer, Kenneth P. Thompson, said she was desperate to leave Guinea, and had been encouraged to exaggerate her claims. She told Manhattan prosecutors that a man had given her a recording of the asylum story to memorize.

Whether here legally or illegally, immigrants can apply for asylum within one year of arriving. To qualify, they must show a well-founded fear of persecution on account of race, religion, nationality, political opinion or membership in a particular social group — which could cover gays or abused women.

Immigration courts across the country granted 51 percent of asylum claims last year, government statistics show. Such courts in New York City, which heard more cases than in any other city, approved 76 percent, among the highest rate in the nation.
How about in the individual category? For fans of the TV show The Good Place, the actor Jameela Jamil should be a candidate. Insects are three of the ten plagues in Exodus: lice, flies, and locusts; from Wikipedia:
In interviews, Jamil has mentioned several bee attacks in her life, including being hit by a car at age 17 when running away from a bee. In 2015, Jameela claimed that while she was interviewing musician Mark Ronson in the Hollywood Hills, the 'biggest swarm of killer bees' she had ever seen made them retreat. Ronson contradicted Jamil's version of events, describing 'one or two individual bees' and walking 'slowly inside' in response. Jamil related that while filming the first season of The Good Place in 2016, she was chased by a dark swarm of bees and again got hit by a car. In 2019, Jamil states she ran away from bees while crossing the road to the UN headquarters to give a speech.
(see the "bee on my arm" at about 1:15 into the "Solar Panel Guy" recording at jollyrogertelephone.com)
Exodus talks about boils. Jamil:
In 2015, Jamil mentioned that she left the BBC Radio 1 Official Chart Show because of a breast cancer scare in 2014, and had lumpectomies on both breasts, in which she says she lost a 'large chunk' of breast tissue. However, in the 3 October 2019 Hardtalk interview, she concurs with the interviewer that she had a breast cancer scare 'in 2016', and that this precipitated an immediate move to Los Angeles after 'a week' waiting for test results that showed it to be a single 'benign lump'.[105] Separately in a segment recorded in 2016 for Fashion Targets Breast Cancer, she instead describes having 'recently' experienced 'a lump in her breast that showed signs of precancerous cells'. Also in October 2019 in the same month as the HardTalk interview but not in the interview itself, she stated she suffered from actual cancer twice, having cervical cancer in 2016 and 2019.

In 2020, a social media user accused Jamil of having Munchausen syndrome and falsifying or exaggerating specific public claims of health issues. For instance, Jamil claimed to have had a peanut allergy at birth and had recently posted an image of a peanut snack, ….
What if you search for "children's haggadah"? One of the first results is from JewishBoston. The document fails to disclose that the Ancient Egyptians who purportedly oppressed the Jews are not the same people (except for a few Copts who have survived) as the people who live in Egypt today (i.e., even if we believe the story we should not hold a grudge against a modern person who says "I am Egyptian."). It also fails to disclose that scholars doubt the historicity of the tale and that the Ancient Egyptians may not have been bad people. So the false victimhood narrative lives on!
(Separately, this Haggadah devotes roughly 1/10th of a page to telling us that "Nearly 50 Million Americans suffer the oppression of hunger." So… our neighbors are starving. By contrast, "feminism and women's rights … gay and lesbian Jews … spit out the seeds in their orange segment to reject homophobia and hatred" is a full page story: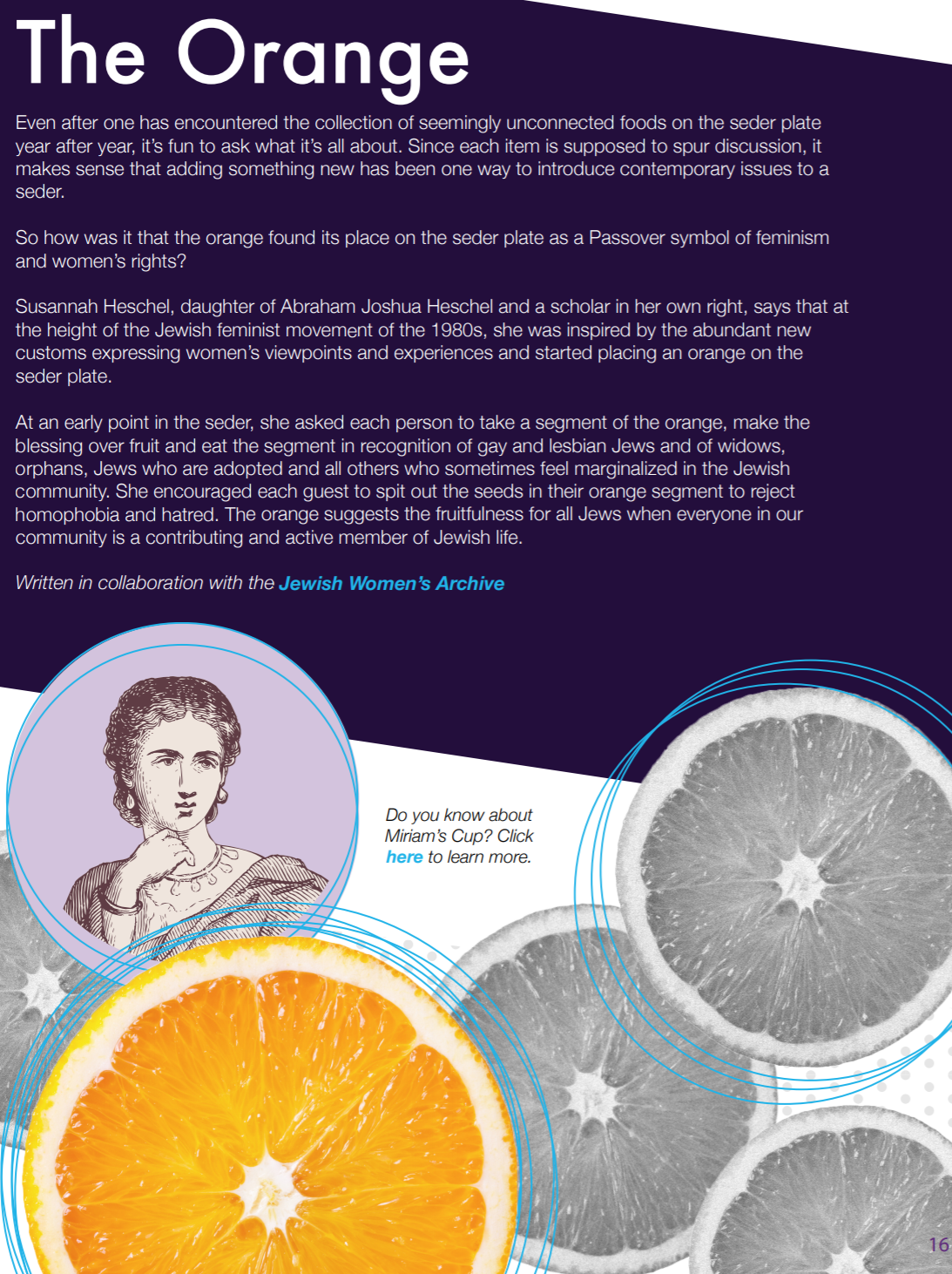 More about the Good Orange Woman from the Jewish Women's Archive.)
Whether or not you've Jewish… Happy April Fools' Day!
Related, from the Labor Seder put on by a temple in Falls Church, Virginia (median household income $125,000 per year):