Snowflake (SNOW) is valued at $62 billion and had 2020 revenue of $265 million with losses of $348 million (i.e., they lost more than 100 percent of revenue!). The company was at one time worth more than IBM (now at $120 billion).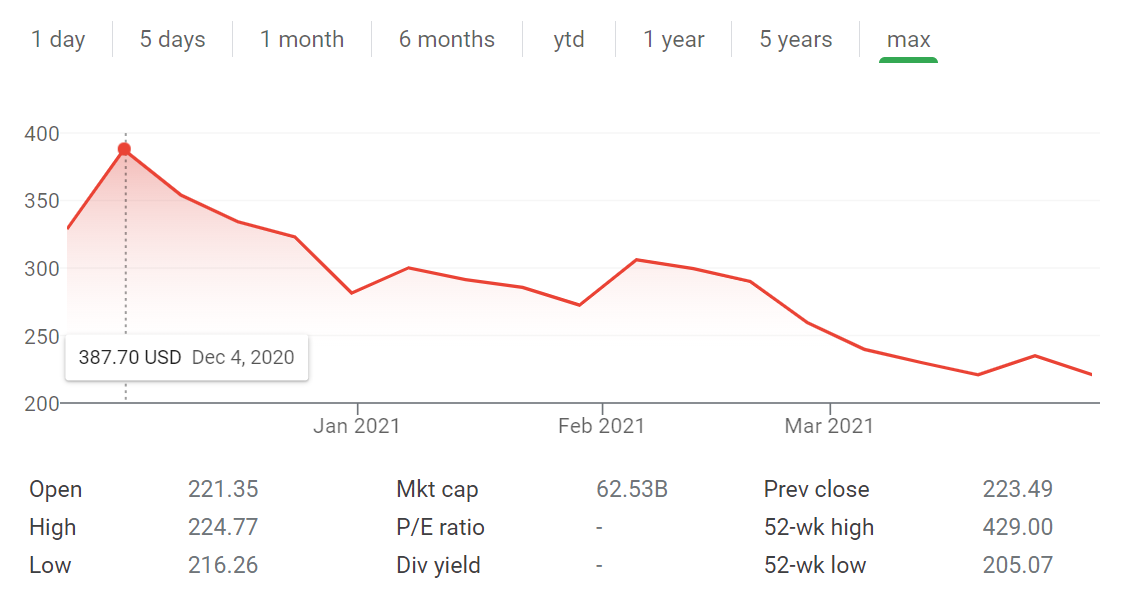 How can a startup data warehousing company be worth a substantial fraction of Oracle's $200 billion market cap? Oracle's 2020 revenue (admittedly flat compared to 2019) was $39 billion with $10 billion in profit. Data warehousing is a small fraction of Oracle's business; the company competes with SAP in the ERP market and sells its core RDBMS for transaction processing. Data warehousing is sometimes useful, but if a company's Oracle systems were shut down the company wouldn't be able to take orders, manufacture widgets, pay employees, pay vendors, etc. The actual operation of a business (which is what Oracle supports) has to be worth way more than sifting through data to learn that customers buy more alcohol after they've been locked down by state governors (what you can learn in a data warehouse).
Snowflake says that they're doing something exciting layered on top of Amazon Web Services, but what if a lot of their customers are motivated by the fact that Snowflake is selling services to them at a loss? If Snowflake buys storage and computer from Amazon, then marks it down by 30 percent, plainly it is better to buy from Snowflake until and unless the party with investors' money ends.
This guy liked Snowflake in 2018, but notes that it competes with a native Amazon offering: Redshift. The Gartner folks picked traditional data warehousing leader Teradata as superior to Snowflake in four out of four use cases. This mid-2020 comparison shows that AWS Redshift has substantially more customers, but Snowflake is growing rapidly: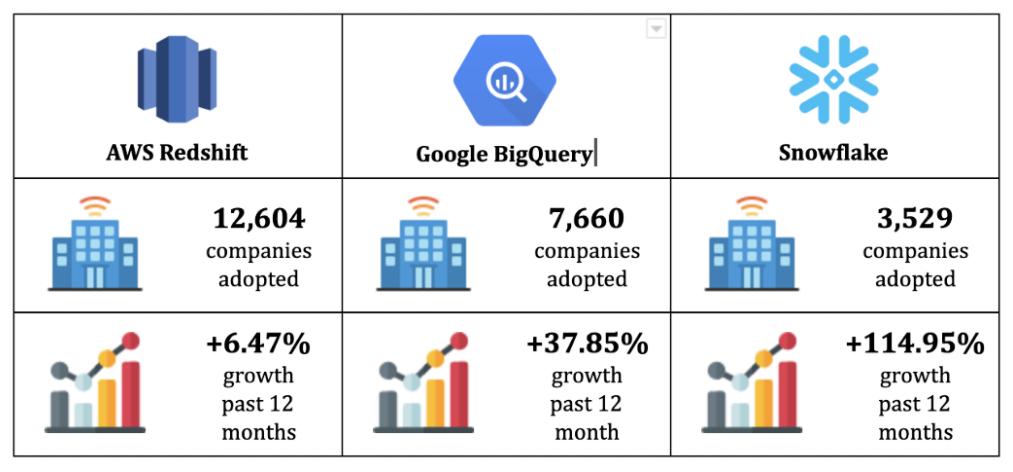 The author does not come out strongly in favor of Brand A, G, or S:
Ultimately, in the world of cloud-based data warehouses, Redshift, BigQuery and Snowflake are similar in that they provide the scale and cost savings of a cloud solution. The main difference you will likely want to consider is the way that the services are billed, especially in terms of how this billing style will work out with your style of workflow. If you have very large data, but a spiky workload (i.e. you're running lots of queries occasionally, with high idle time), BigQuery will probably be cheaper and easier for you. If you have a steadier, more continuous usage pattern when it comes to queries and the data you're working with, it may be more cost-effective to go with Snowflake, since you'll be able to cram more queries into the hours you're paying for. Or if you have system engineers to tune the infrastructure according to your needs Redshift might just give you the flexibility to do so.
If "the main difference … is the way that the services are billed," how can Snowflake be worth $60+ billion? Amazon and/or Google could simply change the way that they bill their services.
Readers: What am I missing? I hate to think that markets are wrong, but I can't figure out how SNOW is worth $60 billion. In our current bubble, the average P/E ratio for the S&P 500 is 40 (15 is normal and Oracle is only at 17 right now). So SNOW would need $1.5 billion in annual profit to justify its current market cap. If the company settles in at Oracle's fabulous 25 percent profitability, that would correspond to $6 billion in required revenue. Teradata (TDC), after 42 years in this business, has annual revenues of $1.83 billion, with profits of only $129 million. TDC's market cap is $4.2 billion. If SNOW has not come up with new and better algorithms for analyzing data, how can they be worth more than the database warehousing businesses of IBM, Oracle, Teradata, Microsoft, Amazon, and Google combined?
Happy April Fools' Day again and remember that nobody is more foolish than an investor in a bull market! (Also remember that nearly all of my investment instincts, including refraining from buying Bitcoin, have proved to be wrong!)
Related: