In a Clubhouse discussion back in February, an immigrant to the U.S. from China said that, in her opinion, our roughly nine months (so far) of #BLM and #SocialJustice was the primary driver behind people perniciously identifying as "white". As far as she was concerned, prior to all of the efforts in "anti-racism", people who happened to be white would primarily identify as "Italian" or "German-American" or "New Yorker" or "Dentist" or whatever. But with the constant media drumbeat of Black vs. white, Asian vs. white, and Pacific Islander vs. white, the former "Anglo-Scotch-American" now identifies as "white".
Speaking of Pacific Islanders, how many white Americans know what a "Pacific Islander" is? Is there an organized group of white Americans who hate people from the Marquesas and Kiribati? Amazon thinks that there is. This look at my Amazon Prime app on launch, punctuated by a "We stand in solidarity with Asian and Pacific Islander communities. #StopAsianHate", should give you a good idea of what life is like in our household….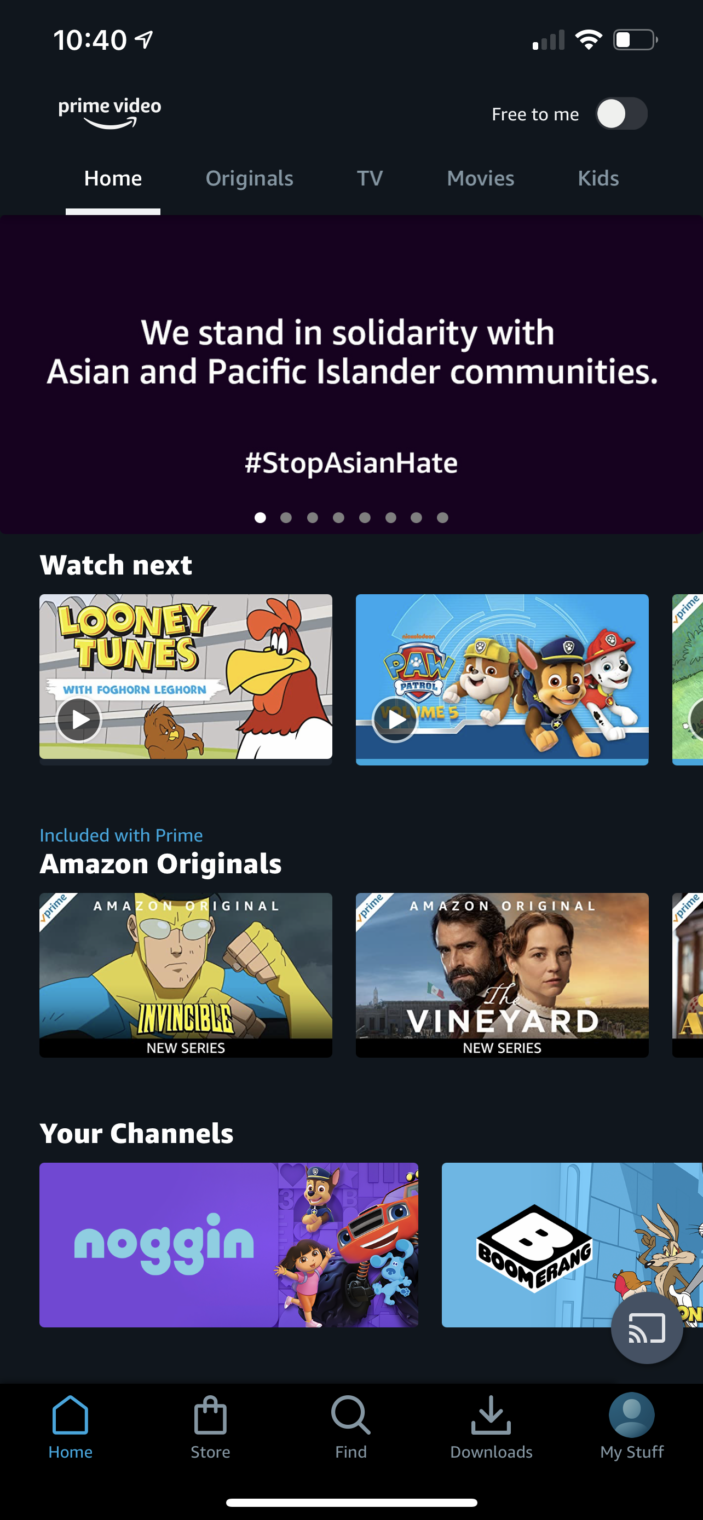 Or maybe Amazon's Artificial Intelligence has figured out that people who watch Foghorn Leghorn are haters of Melanesians? There are quite a few problematic Foghorn Leghorn quotes:
"That woman's as cold as a nudist on an iceberg" (Cuomo after a typical meeting with voters?)
"He's so dumb he thinks a Mexican border pays rent"
"Hmmm, bare, I say bare as a cooch dancers midriff" (Hunter Biden?)
"That dog's like taxes, he just don't know when to stop"
"Gal reminds me of a highway between Forth Worth and Dallas – no curves"
Foghorn Leghorn : Let me guess, dearie. You're looking for a husband." Miss Prissy : Yes! Foghorn Leghorn : "Well, you're going about it the wrong way, sister. You don't bat 'em on the bean with a rolling pin. That comes later."
but none of these bash our brothers, sisters, and binary resisters spread out on the other side of the International Date Line.
(The #StopAsianHate signs have begun to sprout in the Boston suburbs, incidentally, sometimes displacing #BLM signs and LGBTQIA+ rainbow symbols.)
Related:
"I Am Not Ready to Reenter White Society" (The Nation): As the pandemic wanes, and I have to leave the safety of my whiteness-free castle, I know that racism is going to come roaring back into my daily life. … Going out into white society for me is a little bit like a beekeeper going to get honey. I know what I'm doing: If I put on the right protection and blow enough smoke, most of the bees will leave me alone and the ones who don't won't really cause me that much pain. But I've got to put on the suit and the hat with the mesh and carry the smoke machine and be careful every time I want some goddamn honey. … With vaccination (I get my second shot next week) comes reentry into the larger society. I've been the "default" skin color in my personal life for a year, but as I open back up, I'll be thrust again into a world where I'm treated like an "other," one where white people feel empowered to just walk around like they own the place.
"Captain Underpants author withdraws book over 'passive racism'" (Guardian): The Adventures of Ook and Gluk: Kung-Fu Cavemen from the Future, first published in 2010, follows two cavemen who travel to the year 2222 and meet Master Wong, a martial arts instructor. Last week, publisher Scholastic announced that it would stop distributing the book and remove all mention of it from its website, saying it had "the full support" of Pilkey. "Together, we recognise that this book perpetuates passive racism," Scholastic said. "We are deeply sorry for this serious mistake." (From Amazon, where the not-banned book was offered at $680, a 2017 review: "but what got to me about this book was Master Wong and his granddaughter Lan. Omg talk about drawing stereotypical Asian people! When master wong first appeared with his thin, line eyes (I'm not kidding, he literally has lines for eyes) I gritted my teeth and just continued reading. Sure, some Asians have small eyes, nothing wrong with that. But then Lan, Master Wong's granddaughter also has the same damn line eyes! Like seriously bruh! You gonna draw Asians using this ancient ass stereotype? I would have deducted from the name Wong, the kung fu shop, and master Wong's traditional Chinese outfit that he was Asian. I know it's a kids book and people may say, don't take it so seriously. But it's micro aggressions like this that children who read this book will learn! Kids DO pick up on this stuff. Trust me, I've seen too many kids while I was growing up making pulling their eyes to make the slanted 'Asian eyes.' It wasn't funny then, and it's not funny now, as it appears in this Pilkey book." (a good barometer of social change; the book was universally acclaimed in 2011 and was too racist to sell in 2021)