We are informed that sex between a high-income senior worker at a company and a lower-income junior worker is bad. Yet MacKenzie Scott, then a secretary ("administrative assistant") at D.E. Shaw, turned sex with Jeff Bezos, a vice-president at the firm, into a multi-$billion fortune. And recently we've learned that Melinda Gates, who had sex with the founder/CEO at her employer (Microsoft), will soon join the ranks of strong independent female billionaires. Nobody is saying that it was a mistake for these women to have sex with their respective bosses. Nor is anyone criticizing the bosses for having sex with subordinates and then paying them $billions.
(What if the boss is already married and only "high income" rather than rich? Sex with the boss can still be far more lucrative than continuing to work, depending on the state (see Real World Divorce for each state's child support formula and this calculation of how much better Ellen Pao would have done by having sex with her boss compared to suing Kleiner Perkins).)
How are people supposed to distinguish between bad-sex-at-the-office and good-sex-at-the-office?
An immigrant friend has been writing about Melinda Gates pulling the ripcord. A sampling:
[14-year-old] read Bill Gates' divorce tweet and reacted: I so hate it how Americans always describe these things in this annoying sugary way: "we no longer believe we can grow together as a couple" or "we're no longer a perfect match." A Russian woman would have said directly: "He got boring" or "He is crazy, I don't want to deal with him anymore" or "he is running out of money" or "screw him, I am out of here." In fact, I don't think any European would talk like Americans do. They wouldn't probably even say anything because who cares?

I am anticipating a firehose of stories: "Melinda Gates is the real founder of Microsoft, while Bill with the rest of the white men took all the credit", "Melinda breaks the next layer of the glass ceiling in philanthropy", "The rising tide of female billionaires: here is how divorce can empower you too".
From a U.S.-born friend:
So I heard Bill Gates is having a massive parasite removed. The surgical process should cost about 65 billion dollars.
The actual complaint for divorce ("petition" in Washington State) filed by Melinda Gates: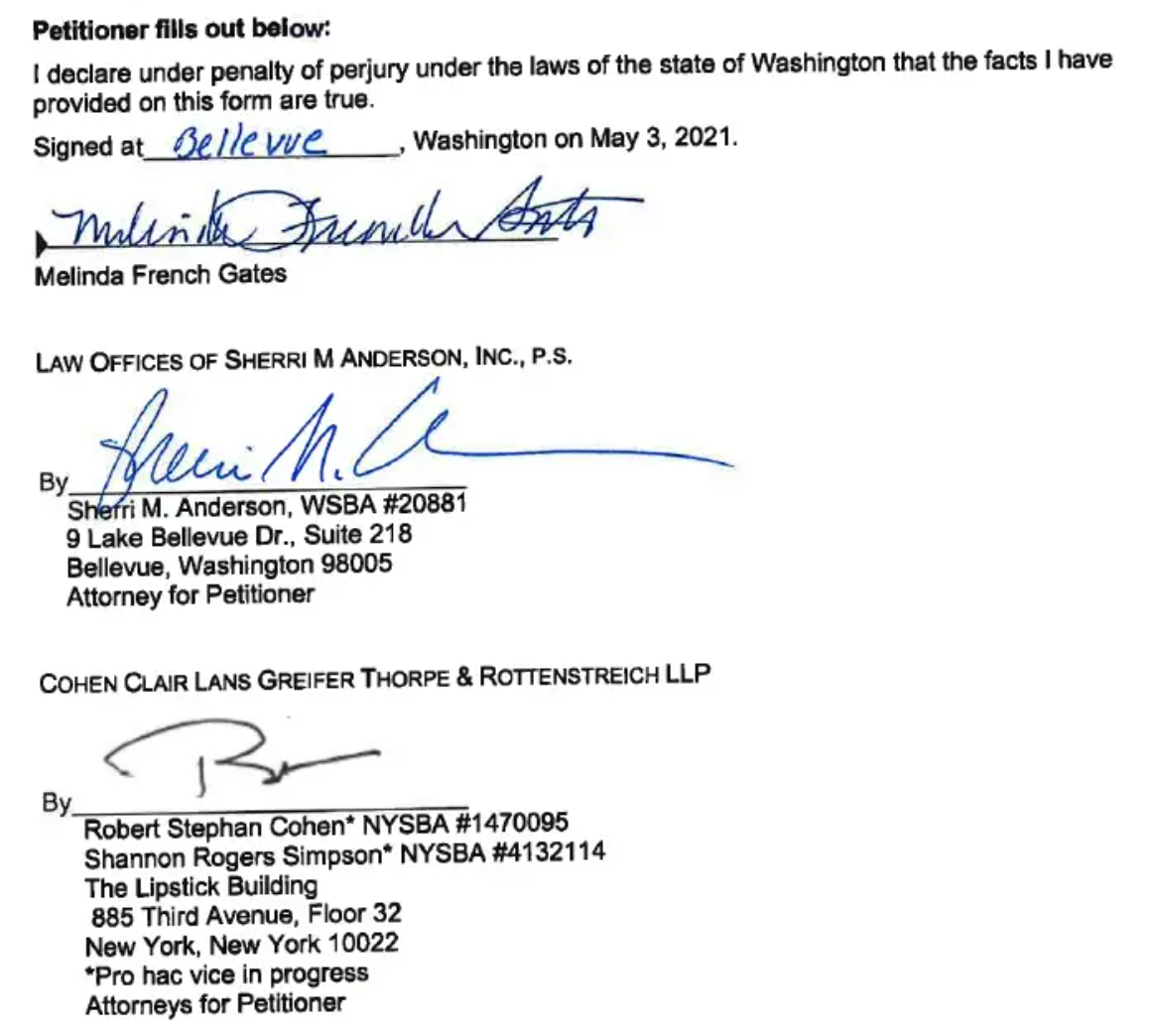 Related:
Bill Gates Just Taught a Big Lesson to Every Husband in American 'Moment of Lift,' Melinda Gates explains how the couple make their partnership work. (Inc., January 2020): "… having both partners share fairly in household work and emotional labor is a very worthwhile goal." (i.e., the spouse who identifies as a "man" should be responsible for earning 100% of the money and also 50% (as determined by the spouse who identifies as a "woman/plaintiff") of the household work). Bill Gates apparently adopted a craven posture of submission, but his obeisance wasn't sufficient to appease the person who ultimately became his plaintiff.
"Bill and Melinda Gates Shared a Profound Secret to Their Success. It's a Lesson in Emotional IntelligenceThe Gateses' ability to deal with disagreements reveals major lessons for teams of all sizes." (Inc., August 2020): "They exercise empathy. … They give valuable feedback. … They begin with respect. In a world where women are afforded much less opportunity than men, Melinda says she is thankful that she and her husband have achieved true equality–both in their marriage and work relationship." (but how many people who identify as "men" had the opportunity to have sex with Jeff Bezos or Bill Gates and harvest $billions via divorce?)
"Bill and Melinda Gates reveal the secret to their marriage success and the topics that are off limits on date night" (Business Insider, February 2018): By their own admission it's an 'intense' setup, but it 'works well.' … Melinda said that even though they have disagreements, they always maintain a 'united front.' … "Working together as well as raising a family together, there's a certain intensity to that. But we're very lucky because we mostly see things the same way, the goals are very much the same," he said, adding that the couple are now 25 years into learning how to listen to each other. "It works well," he said.