At least to judge by our media, the U.S. is embroiled in white v. Black, white v. Asian, white v. Latinx, and hetero cisgender v. LGBTQIA+ fights. We're also adding $trillions in debt, welcoming millions of new welfare-dependent citizens, and instituting dramatic changes in government (every day we hear a new and exciting idea for a bigger more powerful central government!). It seems like a good time to ensure that children have the option to study, work, and live in Europe. The Europeans bumped up against the limits of how much government could be responsible for and don't seem anxious to go back to the 1970s.
There is no way to predict whether Portugal, Italy, Germany, France, or Sweden will be a better place to live than the U.S. in 2030, but keeping only a U.S. passport is essentially a bet that the U.S. will be a better place to live than anywhere in the E.U. Would we want to make that bet?
Portugal operates a "golden visa" program in which folks who purchase real estate (500,000 euro) or invest in Portuguese stocks and bonds (1 million euro) can obtain citizenship after five years of periodic visits (roughly one week per year) and demonstrating a reasonable command of the language. After a passport is obtained for one or both parents, children can then get Portuguese citizenship as well. Then they can hang out in the wonderful Azores or the historic cities of the mainland and wander at will among the rest of the EU nations.
The most obvious place to purchase real estate is Lisbon, but the property market could be vulnerable to a crash since it has been pumped up by all of the other folks purchasing real estate to meet golden visa requirements. There are some developers who promise to pay 3-5 percent as an annual return for anyone who buys an apartment in one of their buildings, but obviously they won't be paying if they run out of money after a collapse.
I'm wondering if it is safer and simpler to purchase Portuguese stocks, of which there are only 56 currently trading on Euronext Lisbon. The PSI-20 consists of the 20 largest stocks. A March 2021 Factsheet shows a P/E ratio of about 18 and a dividend yield of 3.63 percent. The big components seem to be energy companies and utilities, retail, and a bank (i.e., fairly conservative investments and maybe not a terrible hedge against U.S. stocks). The PSI-20 does not have a great track record. It is a good thing that there are dividends because the price is quite a big lower than it was in 2010: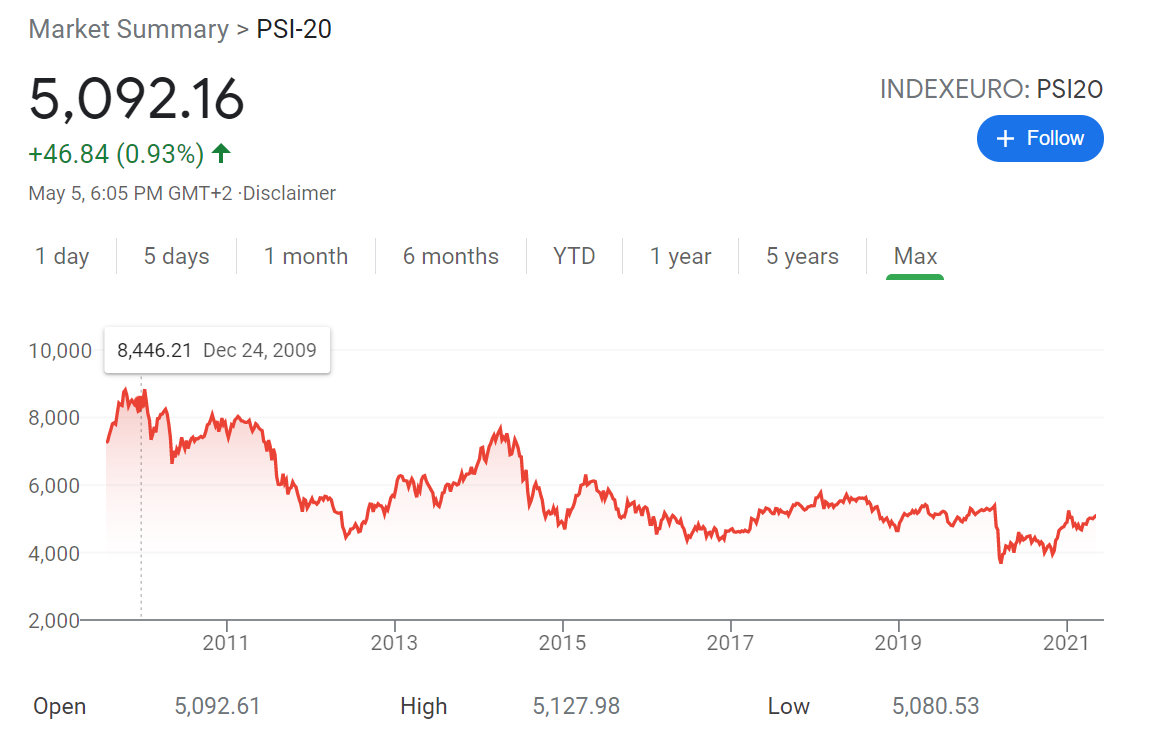 I've never liked real estate as an investment, especially for a foreigner. You have to trust a city, a neighborhood, a developer, a building, etc. But folks in countries that have had a lot of economic ups and downs love real estate! They also like bonds, but right now yields are minimal (see "Portugal Sets Precedent with Near-Junk Bonds That Yield Nothing" (Bloomberg, December 2020))
European readers: What do you think?
American readers: send me an email if you want to copy this idea. I have found some attorneys that seem reliable (referred by a major international bank). There are some ways to do this with a capital stake of only about $350,000.
Related:
"Former Google CEO Eric Schmidt applies to become Cyprus citizen, along with his wife and daughter…" (Daily Mail), i.e., the Biden advisor won't suffer too badly if his advice to President Biden doesn't work out
"Golden visas to be scrapped for Lisbon and Porto" (starting in 2021): S… the PS parliamentary group decided it was time to address the galloping property speculation that golden visas have generated, as well as try to dynamise 'poorer regions' where people could do with increased job opportunities.
"Call to rent out vacant golden visa homes" (March 13, 2020): In the motion signed by the BE councillor in Lisbon, Manuel Grilo, to which Lusa had access and which should be presented on 12 March, in a private meeting of the municipal executive, it is defended that the municipality urges the Government "to proceed with the survey of vacant properties acquired in connection with the granting of gold visas". In addition, and under the current legal framework, "the requisition mechanisms for public purposes must be considered in order to reinforce the housing supply in the municipality and, in such cases, define the obligation for these properties to be leased, within the scope of the Affordable Income Programme". (If the U.S. government, via the CDC, can order an eviction moratorium for more than a year surely the Portuguese government could issue regulations around how these apartments are to be rented.)