As we celebrate Tax Day (updated date for coronapanic) and you add up what you're paying to the Feds and states, it might cheer you up to look back to this 2019 article from a former Senator and a former top executive at the U.S. Bureau of Labor Statistics, a Wall Street Journal article on income inequality:
Official measures of income inequality, the numbers being debated, are profoundly distorted by what the Census Bureau chooses to count as household income.

The published census data for 2017 portray the top quintile of households as having almost 17 times as much income as the bottom quintile. But this picture is false. The measure fails to account for the one-third of all household income paid in federal, state and local taxes. Since households in the top income quintile pay almost two-thirds of all taxes, ignoring the earned income lost to taxes substantially overstates inequality.

The Census Bureau also fails to count $1.9 trillion in annual public transfer payments to American households. The bureau ignores transfer payments from some 95 federal programs such as Medicare, Medicaid and food stamps, which make up more than 40% of federal spending, along with dozens of state and local programs. Government transfers provide 89% of all resources available to the bottom income quintile of households and more than half of the total resources available to the second quintile.

Today government redistributes sufficient resources to elevate the average household in the bottom quintile to a net income, after transfers and taxes, of $50,901—well within the range of American middle-class earnings. The average household in the second quintile is only slightly better off than the average bottom-quintile household. The average second-quintile household receives only 9.4% more, even though it earns more than six times as much income, it has more than twice the proportion of its prime working-age individuals employed, and they work twice as many hours a week on average. The average middle-income household is only 32% better off than the average bottom-quintile households despite earning more than 13 times as much, having 2.5 times as many of prime working-age individuals employed and working more than twice as many hours a week.
Condensed version of the above: Your spending power will be roughly the same if you don't work at all (and therefore don't have to file tax returns, extensions, estimated tax, etc.) than if you work full time, unless you are a high-skill worker who can command a wage that is well above the median. The article includes a chart from 2017, before all of the Coronawelfare was ladled on top: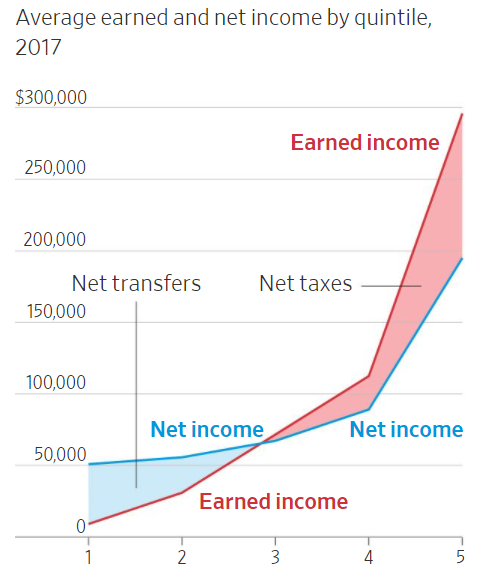 Note the flat shape of the "Net income" (i.e., spending power) curve until one is in the top 20 percent. The old sourpusses who wrote the article conclude with a scolding tone:
America already redistributes enough income to compress the income difference between the top and bottom quintiles from 60 to 1 in earned income down to 3.8 to 1 in income received. If 3.8 to 1 is too large an income differential, those who favor more redistribution need to explain to the bottom 60% of income-earning households why they should keep working when they could get almost as much from riding in the wagon as they get now from pulling it.
But, as Cicero noted more than 2000 years ago, "The cash that comes from selling your labour is vulgar and unacceptable for a gentleman … for wages are effectively the bonds of slavery." Maybe the fact that we've created the world's largest group of humans who don't work is a feature, not a bug?
(Separately, I don't see how the above calculation can be done accurately. Many of our brothers, sisters, and binary resisters who receive free housing and/or reduced rent are in private-sector apartment buildings that have been ordered by local governments to provide free or reduced rent. The rent subsidy is reflected in higher rents paid by market-rate tenants, not in a local government's budget.)
Related: