Juneteenth (June 19) is the latest day off for government workers, a great mid-summer demonstration of why it is stupid to work in the private sector (an Irish small business owner friend: "Government workers have been at home watching daytime TV for 15 months now"; just today: "the Government are still on holidays due to an abundance of caution"). But the paid day off this year falls on a Saturday, so "Most feds off Friday as Biden set to make Juneteenth a federal holiday" (Federal News Network). On the side of the article was the "Fed Photo of the Day". What's the most significant thing that this enterprise is doing in exchange for the $6 trillion that Americans will have to earn to fund it? (see "Biden to Propose $6 Trillion Budget to Make U.S. More Competitive" (NYT; the more you spend the more competitive you are)) The soon-to-be-on-vacation government workers are hoisting a rainbow flag: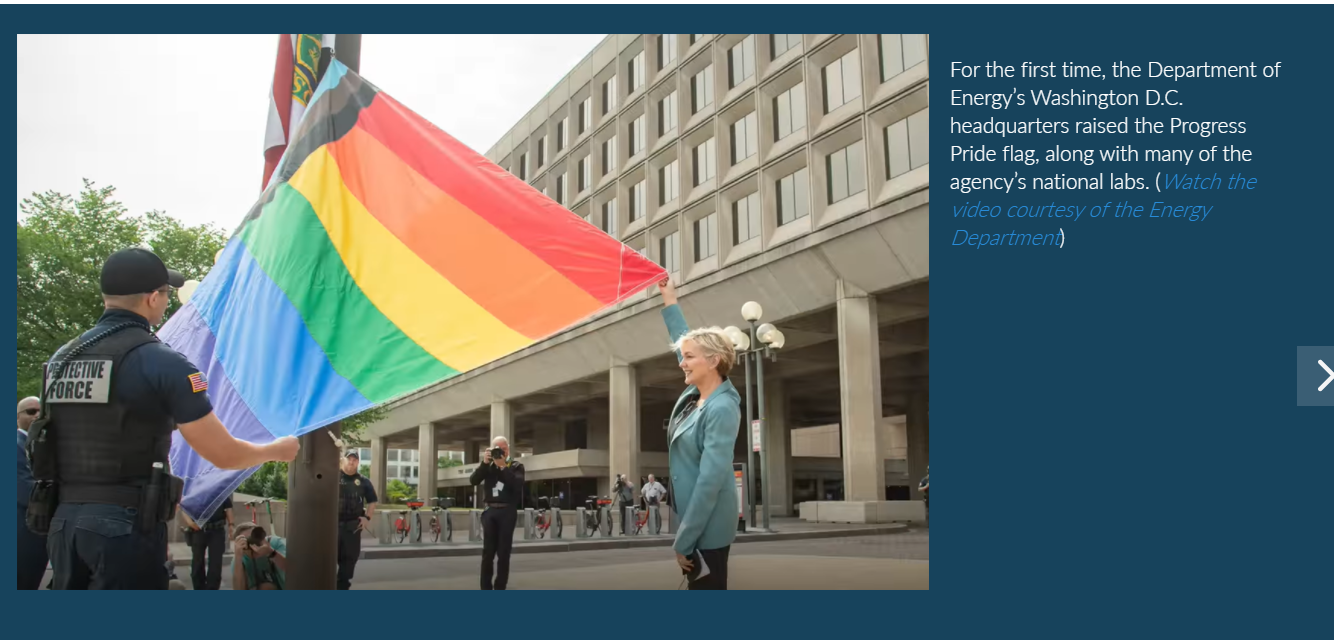 If you're a government worker, enjoy your well-deserved extra day of leisure. Hoisting that flag must have been a huge effort!
Everyone else: What are you doing to mark Juneteenth?
A scan of my inbox…
From Carnegie Hall:
Juneteenth commemorates our nation's true independence—the day when all members of the newly reunited nation were finally declared free after the American Civil War. More than 400 years after the first enslaved African people were brought to the North American colonies, the fight for equality continues. Rev. Dr. James A. Forbes Jr. leads this celebration—along with Tamara Tunie, and special guests Wayne Brady, Martin Luther King III, and Annette Gordon-Reed—to recognize the importance of this historic day and to acknowledge the long road still ahead. In addition to music, dance, and commentary, the evening also recognizes contributions made by prominent African Americans today: Bryan Stevenson, founder and executive director of the Equal Justice Initiative; Robert F. Smith, businessman and chairman of Carnegie Hall's Board of Trustees; and Congresswoman Sheila Jackson Lee.
A 400-year fight! The Vietnam War and the Iraq/Afghanistan wars were mere blips. (Note that the "event" is just a streaming TV show, not an in-person gathering in Manhattan.)
From the Boston Museum of Fine Arts:
In celebration of Juneteenth, join us for a virtual conversation with BIPOC leaders. Panelists will discuss the need for disruption in their industries, their personal stories of seeking and achieving liberation in their careers, the impact they hope to make with their own positive disruption, and what liberation looks like on individual and collective levels.
From KAYAK, the travel site:
Grab your popcorn! San Francisco Pride will be hosting two socially distanced Pride Movie Nights on June 11th &12th, to celebrate San Francisco's LGBTQ+ community. They'll also be hosting a Black Liberation Event in partnership with the AAACC on June 18th, the eve of Juneteenth, to highlight the intersection between LGBTQ+ rights and racial justice.
Separately, how soon before it becomes simpler for the government, rather than list holidays, to write down a list of days when government workers are expected to come into the office and work?