Anthony Fauci on Sunday said more than 99 percent of the people who died from COVID-19 in June were not vaccinated, calling the loss of life "avoidable and preventable."

"If you look at the number of deaths, about 99.2 percent of them are unvaccinated. About 0.8 percent are vaccinated. No vaccine is perfect. But when you talk about the avoidability of hospitalization and death, Chuck, it's really sad and tragic that most all of these are avoidable and preventable," Fauci told host Chuck Todd on NBC's "Meet the Press."
(Mx. Fauci does not merit the "Dr." title to join Dr. Jill Biden?)
Situation across the pond, July 2 (WSJ):
Data from Public Health England show that there were 117 deaths among 92,000 Delta cases logged through June 21. Fifty of those—46%—had received two shots of vaccine.
So… 46 percent of the deaths from the Delta variant (soon to be the only form of coronavirus that anyone has, at least until the "Delta Delta Delta" variant is available) are among the fully vaccinated in the U.K. The corresponding number in the U.S.? Around 1 percent.
You might say "Of course this makes sense. The U.K. has a higher vaccination rate than the U.S. If 100 percent of people in the U.K. were vaccinated, 100 percent of COVID-19 deaths would be among the vaccinated." Yet the vaccination rates are not that different….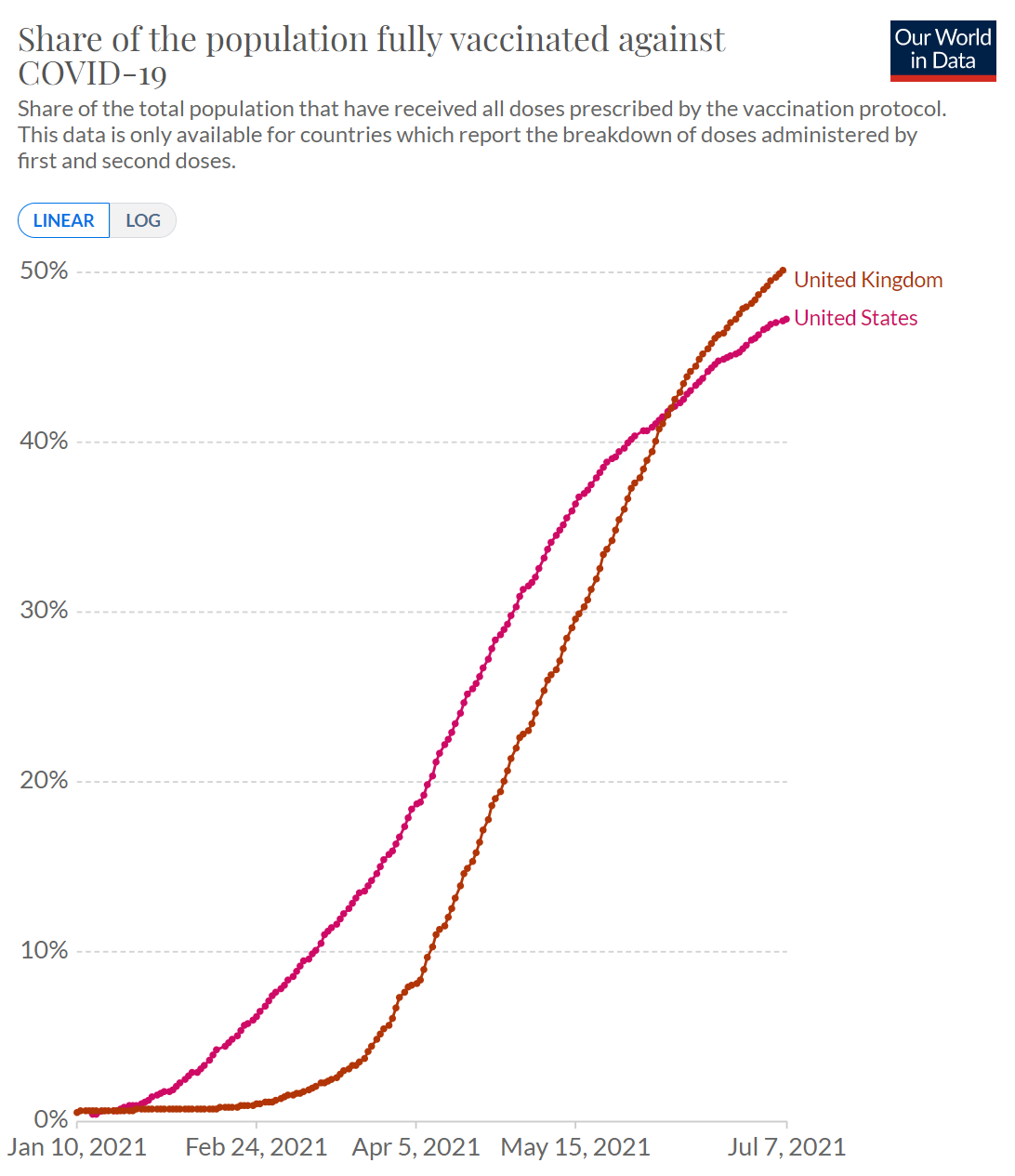 (Since we just celebrated July 4th, consider that if we hadn't traitorously rebelled, we would still be part of the U.K. and would therefore be enjoying a far superior COVID-19 prevention strategy (more lockdowns (exceptions for the elite), more vaccines!). We would also have been spared four years of Donald Trump's maladministration, racism, anti-LGBTQIA+ policies, etc.)
How do we explain the fact that the vaccines work so much better at preventing death in the U.S. compared to in the U.K.? These are more or less the same vaccines that are authorized for emergency use (not "approved") here. The U.K. has our three plus Oxford/AstraZeneca (NHS).