Four months ago, India was the subject of media attention due to a wave of coronavirus infection. Nearly all of the journalists whipped up hysteria by citing absolute numbers of infections and/or deaths in India, not adjusting for the population size. From Coronaplague in India proves Dr. Jeff Goldblum's theories? (April 14):
In other words, India has suffered more from COVID-19 than a country in which 100 percent of the population died of COVID-19, just as long as that country had only 13 million people.

How bad are things in what TIME and the Guardian say is the worst-plagued country on Earth? The country has suffered 125 COVID-19-tagged deaths per million inhabitants (ranking). That compares to 2,530 per million here in Massachusetts (states ranked; note that this is per 100,000 so multiply by 10). Maybe they will be getting worse, though. If things get 20X as bad as they've been in India, the situation will be about as bad as it is right now in Massachusetts.

Readers: What's your best guess as to how events unfold in India? My guess is based on regression to the mean. India was an outlier (125 deaths per million). When the dust settles, India will be somewhere in the middle (right now the worldwide average is about 375 deaths per million; 3 million deaths in a population of 8 billion). Perhaps we'd have to adjust for the fact that the median age in India is roughly 27, slightly younger than the world median (around 30).
It has been four months. We know that the science is settled. Is it fair to say that "the dust has settled" right now in India? (i.e., that they're at least between waves of coronavirus infection) If so, how accurate was my prediction of "slightly less than the worldwide average because of India's slightly younger-than-average population"? We can use Statista's COVID-19 deaths by country (the most thoroughly masked and shut nations at the top, #BecauseScience) as an authoritative source for India's death rate (about 314/million). We can take the total deaths on the WHO dashboard (4.33 million) and divide by the number on the Census Bureau's population clock (7.78 billion) to get the worldwide death rate: 556/million. In other words, after all of the media hysteria it turns out that India has a lower death rate from/with COVID-19 than the world average. What if we compare to the U.S. states? Maskachusetts is at 2,630 per million (a lot of U.S. stats are per 100,000 so we need to multiply by 10), a rate that is 8X higher than India's.
Let's also look at predictions from readers…
disevad, who lives in India, said "My intuition is that its going to subside in next 3 weeks or so".
[i.e., that the peak of "cases" would be roughly May 6, 2021. When was the peak? Our World In Data says… May 6, 2021 (414,118 cases). How about deaths? The peak was around May 17; see Google data below]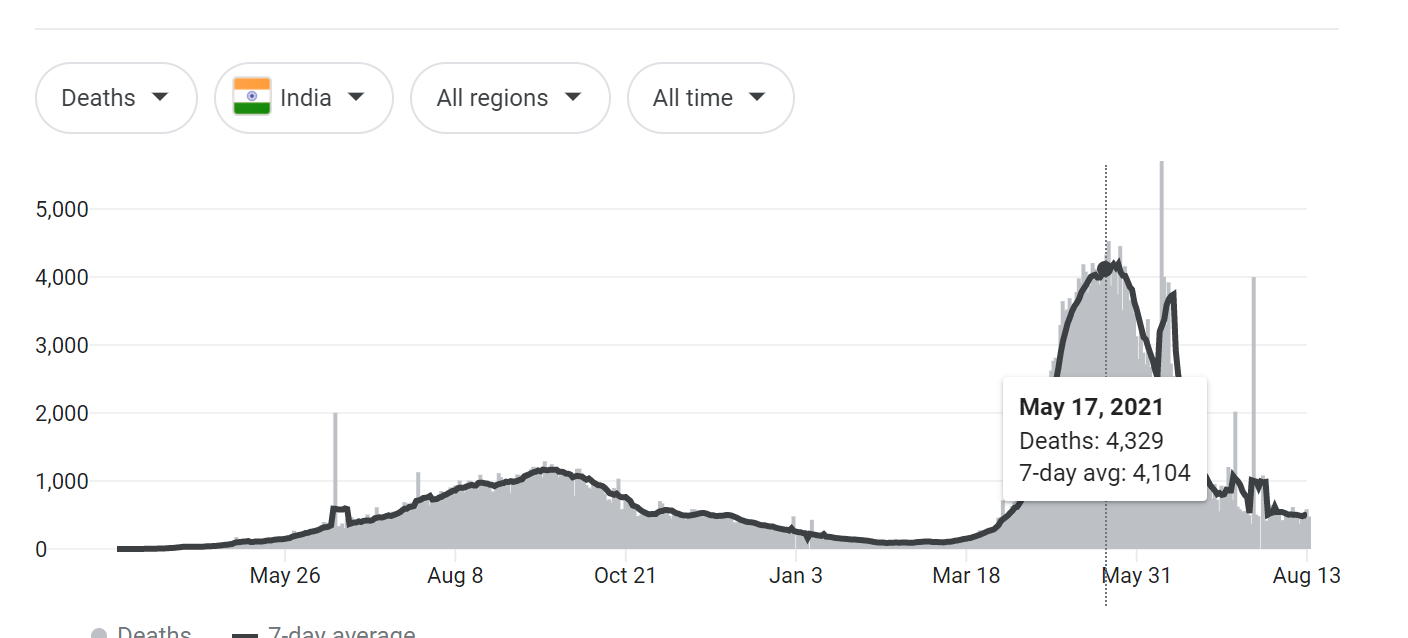 RS said, "I wonder if after the panic dies down and wearing masks continues to be something that people in CA and MA do for the rest of their lives it will take on a similar flavor. Wearing a mask during flu season (which will be renamed Corona season as you note) is a sign that they are making healthy choices, and a much easier choice than losing the 20-30 pounds that they gained during lockdown." To see if this prediction is correct we have to wait until the winter to see if the masks sprout, but we can check right now to see if our neighbors are still fat.
Viking said, "By the time it is obvious India is past the peak, say daily deaths are down to 650/day, I expect 200 to 300 cumulative deaths per million. So 8 to 12% of Maskachusetts rate." [The above numbers work out to 12%!]
Related: