We've been Florida residents since mid-August. Here are a few first impressions…
One of the most important issues to folks in Maskachusetts, at least to judge by lawn signs, emails from school administrators, teacher email signatures, and sincere expressions from politicians and government workers, is Black Lives Matter. After driving all the way from the border with Georgia to South Florida, and driving around neighborhoods (including some mostly-Black ones in North/West Palm Beach), I haven't seen a single BLM sign. In what folks in Maskachusetts would regard as a poor substitute for putting up a sign, what I have done is interacted with Black people. During our first weekend in Jupiter (Abacoa), I interacted with more Black people than I talked to during the preceding year in Massachusetts. A manager at our apartment complex happens to be Black, some of the neighbors, a woman in front of us on the mini golf course who helped putt back some of the wilder shots by our 6-year-old, a cable/Internet installer from AT&T, cashiers helping me check out at Walmart, Costco, and Target, etc. In our former home, a rich suburb of Boston, Black people are generally objects of pity and charity. A rich friend's wife is Black and the righteous moms of Lincoln, MA, seeing her at the local school, always started from the assumption that she was a "METCO parent" whose children were being bused out from Boston in a government-run program based on skin color.
It won't help our kids get jobs in the victimhood industry, but I'm happy that our kids will learn about Black Americans from talking to the Black residents in our apartment complex, rather than from seeing BLM signs, receiving anti-racism training from white teachers, etc. There are no subsidized units in our building, so when the kids meet someone who is Black they are talking to someone who has equal status with the landlord, pays the same rent as us, presumably has a reasonably well-paid job, etc.
A lot of Floridians, including some here in Jupiter, have built elaborate screen structures over their swimming pools and backyards. I was told that summer is the bug season, but we haven't seen or felt a single mosquito. We're right next to a golf course with a variety of water features. The no-mosquito situation was the same in a swampy nature trail area near the F45 airport (miles inland). The bug situation is far more annoying in New England.
Driving is much more challenging than in Boston, despite Boston's reputation for having aggressive, incompetent, and rule-flouting drivers. In Boston, roads are usually either so jammed that traffic is moving at only 10 mph or they are not too busy. If the speed limit is higher than 35 mph, the road is almost surely a limited access one. South Florida is densely populated, packed with commercial strip malls that generate mid-block entries and exits, and wide fast-moving main arteries. Since traffic is moving at 45 mph (the speed limit) on these 6-lane suburban thoroughfares, one needs to be alert. After only about two hours in the state, I was eating barbecue at an intersection near St. Augustine and witnessed a terrifying-sounding crash between a pickup truck and a car (fortunately, nobody seemed to have been hurt).
At least in the summer, car navigation systems should pull in NEXRAD weather radar data. There are quite a few small-ish rain cells in Florida that are dangerous to drive through due to reduced visibility. It would be a huge safety enhancement if Google Maps were smart enough to say "Pull over at the next exit and chill out at McDonald's for 20 minutes because that way you'll skip extreme precipitation."
Speaking of driving, I would expect almost everyone in Florida to drive a Tesla solely due to Dog Mode (my dream from 2003). A parked car heats up very quickly indeed. A golden retriever on the beach heats up and times out sooner than the kids in the water and needs to be put into an air-conditioned environment. Even for those without dogs, it would be a lot more comfortable on a day spent running errands to leave the car's climate system going during all of the stops.
Mask usage among adults was actually higher among Floridians in August than it had been back in the Boston area, perhaps due to summer being a peak COVID-19 time in Florida and a COVID-19 lull for New England (at least in 2020 and most of summer 2021). There is a lot less anxiety around COVID-19, however, especially among children. The Florida children we've met are not afraid to approach other children, adults, etc., and don't hurry to put on masks. Back in Maskachusetts, my friend's kids are literally terrified to go into another family's house, will rush to yank their chin diapers up over their nose and mouth when a non-family member approaches, etc. (This is true even after everyone eligible has been vaccinated.) Children aged 3-5 in our old town display what would have been called a panic response (back in 2019) if you ride a bike within 15-20′ of them (i.e., ride by on the street while they're in the driveway). By the standards that prevailed in 2019, children in Florida enjoy much better mental health than children in Massachusetts.
In Cambridge, MA, a Comcast Xfinity coax cable delivers, depending on what the neighbors are doing, 200 mbps down and 5 mbps up, plus TV, for $200/month. In Jupiter, AT&T fiber delivers 1 Gbps up and down, plus TV, for $60/month (i.e., 200X faster upload for one third the price, though I think we may be getting a small discount for being part of this apartment complex).
People are far friendlier than in Massachusetts. Nobody says what they rationally should say: "go back to where you came from so that you don't bid up rents and real estate prices and clog up the highway with your minivan and that Tesla that might show up in 2023 if you order it now." Instead, the locals say "welcome" and try to help us enjoy everything that they're enjoying about the area.
I'm not 100% sure that we made the right decision with Abacoa. It's great if you want to walk to work at Max Planck Institute, Scripps, or the Florida Atlantic University campus here. There are a lot of people to meet, restaurants to visit, etc. It is not super expensive ($2000 to $3000/month for an apartment) and therefore there are a lot of young people, even before factoring in the 200 who live in the FAU dorms. The landscaping and architecture are appealing when walking around. But this neighborhood is a 15-minute drive to the beach and maybe it would be better to live a car-dependent lifestyle in a house that is only a few minutes walk from a dogs-welcome beach. Not so great when the hurricane and storm surge hits, of course!
My quintessential Florida experience thus far has been hearing Mindy the Crippler drinking from her water bowl in the kitchen of our apartment in a massive concrete building while simultaneously seeing her sleeping in the living room. It turned out that a lizard had entered the apartment and taken up residence in the golden retriever's water bowl: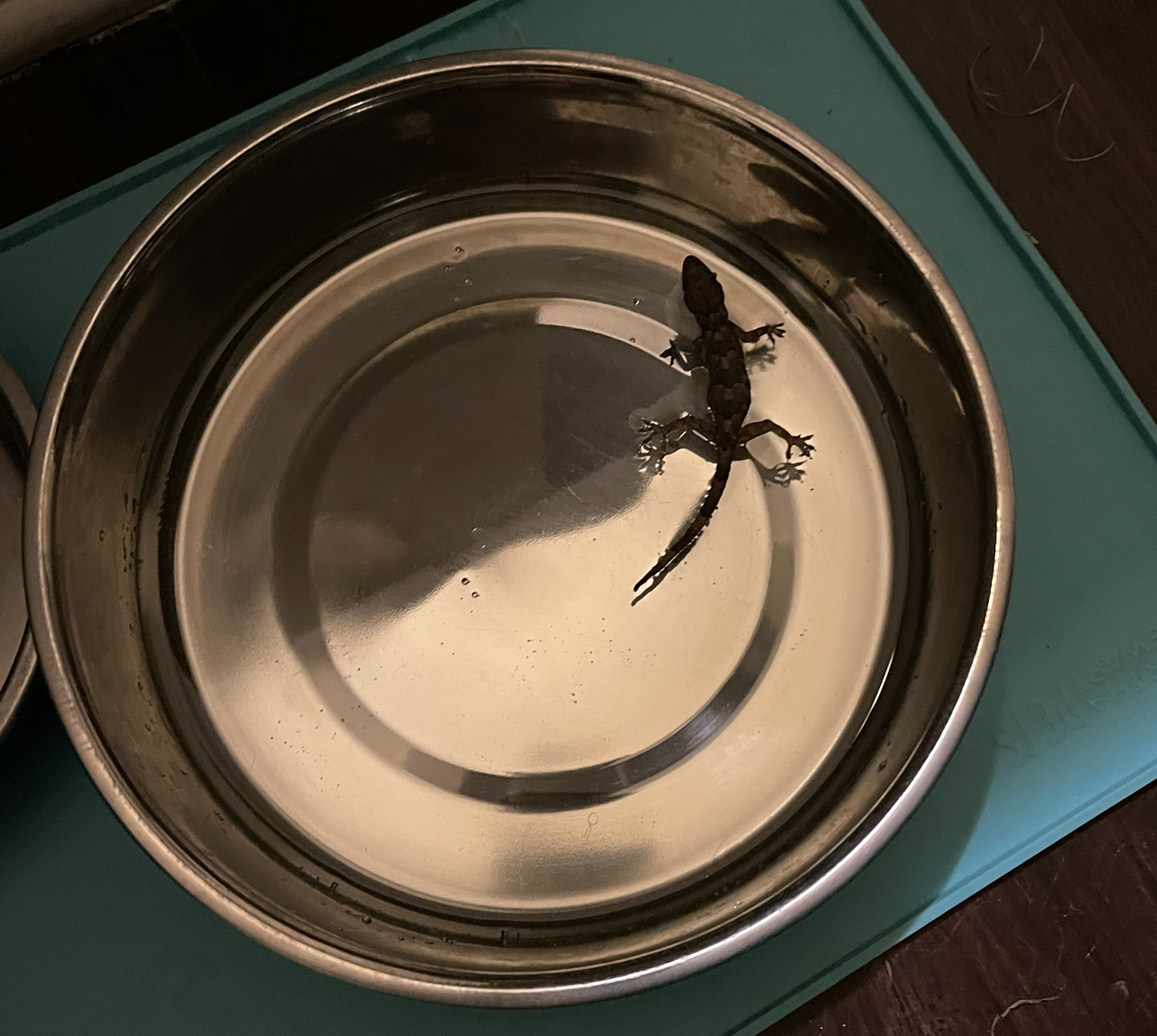 (I covered the bowl with a Chinet plate, carried the combined system out the front door, and dumped water+lizard into the bushes.)