When friends who don't follow #Science (most have MDs and/or PhDs) ask why U.S. state governors (except for the infidels in South Dakota and Florida) have generally ordered lockdowns, masks, and other measures that were considered useless against respiratory viruses through 2019, my standard answer is "They're politicians so the best answer is that they're doing what voters want them to do. If governors order people to wrap a saliva-soaked bandana around their mouths as a disease preventive, we can infer that the majority of Americans want governors to order bandanas." (A European friend: "The sheep demand a shepherd.")
Is it fair to say that the result of the referendum on keeping lock-down-the-peasants-while-dining-with-friends Gavin Newsom (66 percent in favor) tells us the percentage of Americans who want and/or need governor-directed lockdowns?
To extrapolate these numbers to the U.S., of course, we'd have to adjust for Democrat/Republican percentages. Presidents Biden and Harris won 63.5 percent of Californians' votes in 2020. So we can presume that, in any given state, the percentage of people who want to be locked down is roughly 3 percentage points more than the percentage who voted for Biden/Harris.
(What have been the effects of California's 1.5 years of lockdown, school closure, mask orders, etc.? On the leaderboard of states by COVID-19-tagged death rate, California has turned in a middling performance, with about 1,700 deaths per million (170). That's a worse performance than "do almost nothing because the virus won't care" Sweden (1,429 per million). Beach-closed schools-closed California has a 25 percent lower unadjusted-for-age death rate than no-mask-order, bars-open, indoor everything open, schools-open Florida, portrayed currently in the media as the Land of Certain COVID-19 Death (12/50 in the state-by-state ranking, with roughly 2,270 deaths per million). That's success, right, since we're measuring overall success of a society by a single number (COVID-19 death rate) and 1,700 is less than 2,270? Actually, if we look at the over-65 population that COVID-19 tends to kill, California has a higher death rate than Florida's. California is one of the youngest states in the country, with just 14 percent of its population over 65. Florida is the second oldest (not in our Abacoa neighborhood though!), with 20.5 percent of the population over 65. But neither the governor nor the media is not going to perform this adjustment (nor adjust for opioid addiction, alcoholism, weight gain in quarantine, reduced life expectancy from reduced education, reduced life expectancy from long-term unemployment, etc.) and therefore Californians will continue to believe that their governor's suspension of what had been their rights (e.g., to gather, to have children educated, to walk outside without a mask, to go to the beach or the park) "saved lives".)
Los Angeles, end of February 2020, almost the last day when Californians were free to walk outside their apartments, unmasked, and go to school or work without checking to see what the governor might have ordered. This homeless encampment is across from the lavish new Federal courthouse. The prediction on February 28, 2020? "Good Things Are Coming!" (schools for city children closed on March 16, 2020 and didn't full reopen until August 16, 2021).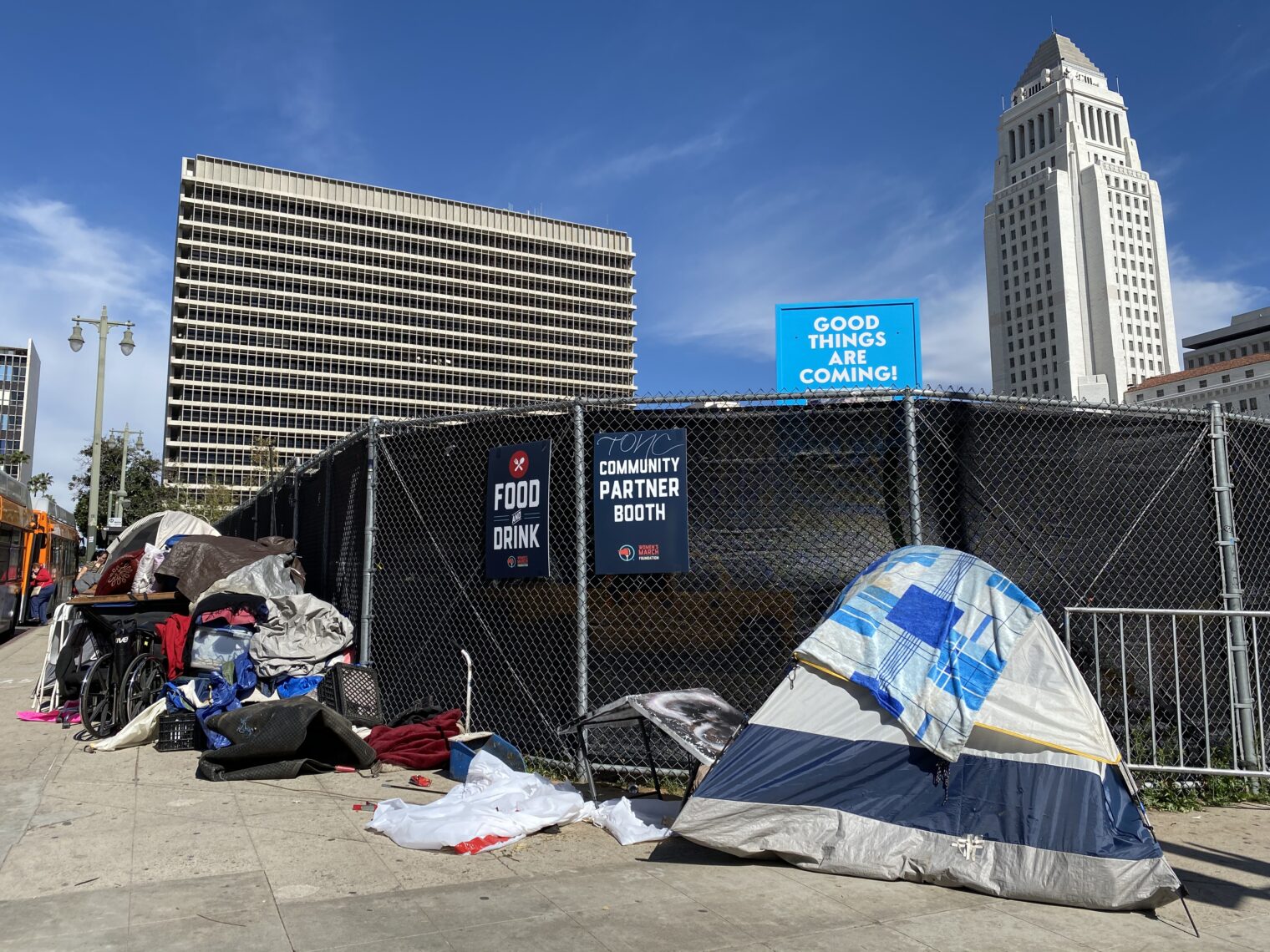 And let's not forget, in the Land of Big Hearts (TM), the homeless encampment across the street from the homeless encampment: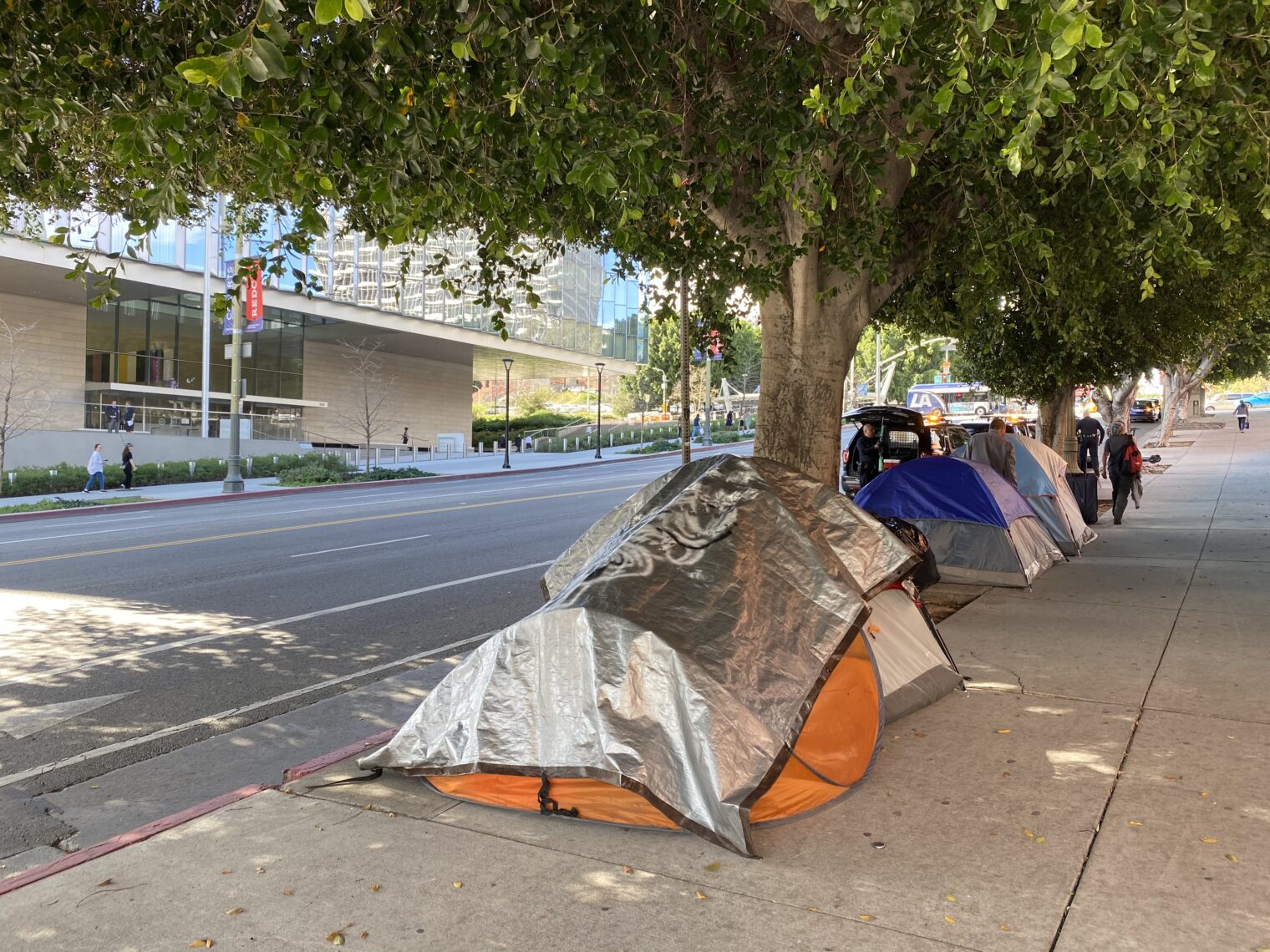 Readers: Can we agree that a vote for Newsom was a vote for lockdown?