How did everyone enjoy Halloween? In our Jupiter, Florida neighborhood, not a single mask was observed (other than costume masks). Substantial gatherings were observed in the next neighborhood over (Jupiter Heights), with candy for the kids and what appeared to be booze for the adults. Children were invited to grab candy from common bowls, thus risking the spread of COVID-19 via surface contamination that the righteous have been fighting for 20 months with obsessive disinfection.
(How is the Coronagod punishing the wicked unmasked partyers of Florida? The state is tied for lowest daily case rate among all U.S. states (NYT), at 9 per 100,000 (compare to 44 in Minnesota, 50 in Colorado, and 89 in Alaska).)
Meanwhile, email addressed to a Bethesda, Maryland neighborhood:
While we can't have our traditional party in the Bent Branch courtyard …

Trick or Treating: In order to facilitate safe trick or treating for neighborhood kids on Halloween (Sunday, October 31st), we are providing recommendations that allow everyone to maintain distance but still participate in this most favorite tradition. Below please find a list of ideas for neighbors who wish to pass out candy, but using alternatives to doing a candy bowl (that all the children reach into)…

Purchase and pre-stuff Halloween baggies…

"Candy sticking" – purchase popsicle sticks that you can tape the candy to and stick along your front walkway [link to photo below]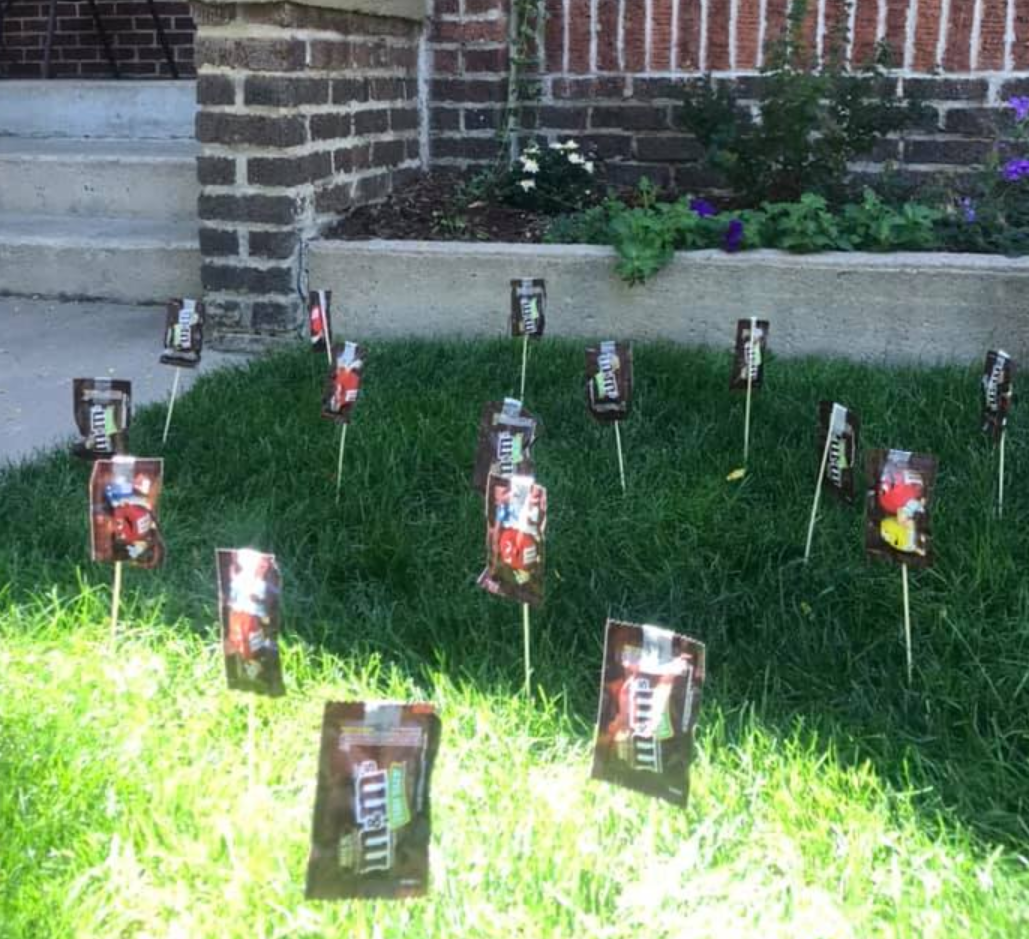 With so many people having been at home for 1.5 years, my impression is that many more houses are profusely decorated, both in Maskachusetts and here in Florida. From Newton, MA, last week:
I'm playing around with a Canon EOS R5 camera. Here are a few tests from last night in Jupiter, Florida (RF 50/1.8 STM lens):
Related:
"Get the candy bowl ready. Dr. Fauci says Halloween is a go this year" (NPR): "I think that, particularly if you're vaccinated, you can get out there and enjoy it," Fauci told CNN's State of the Union this weekend. … "This is a time that children love. It's a very important part of the year for children," he said. HealthyChildren.org recommended that families stick to outdoor trick-or-treating and doing so in small groups. For handing out candy and other goodies, the website recommended sitting outside and lining up individually prepackaged treats for children to take.