A friend in Ireland sent me this meme, which is widely circulating on WhatsApp: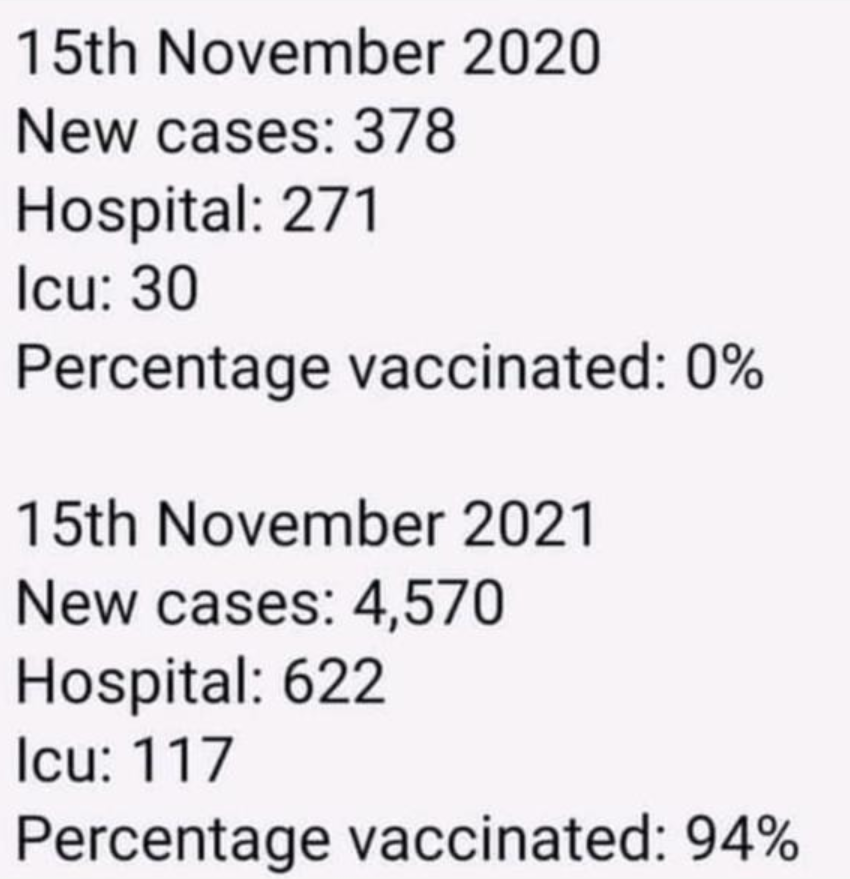 This is a counterpoint to Irish media pieces such as "Ireland will face severe Covid lockdown if people behave irresponsibly, O'Dea says". See also "Irish Deputy PM says the 5% of the nation's unvaccinated population is causing a problem" (CNN).
What has Ireland gained for its 21 months of trench warfare against SARS-CoV-2? On April 28, 2020, the New York Times used Ireland as a reference point for Sweden's COVID-19-tagged death rate and they were roughly equal. On the COVID-19 death rate leaderboard, Ireland now sits 9 places below give-the-finger-to-the-virus Sweden. For folks who measure a society's success by the single number of cumulative COVID-19 death rate, this makes Ireland's 21 months of living under restrictions well worth it. The trend, however, is for Ireland and Sweden to converge on this grim statistic.
(Unlike Facebook, WhatsApp doesn't seem to correct COVID-19 wrongthink. The 94% vaccinated stat above might look like it needs correction, but I think that, like many other Europeans, the Irish measure vaccination rate by looking at the percentage of people who are eligible for a vaccine, not by looking at the percentage of all humans, including those too young to be eligible, for example.)
Is meme consistent with official data? From the Google: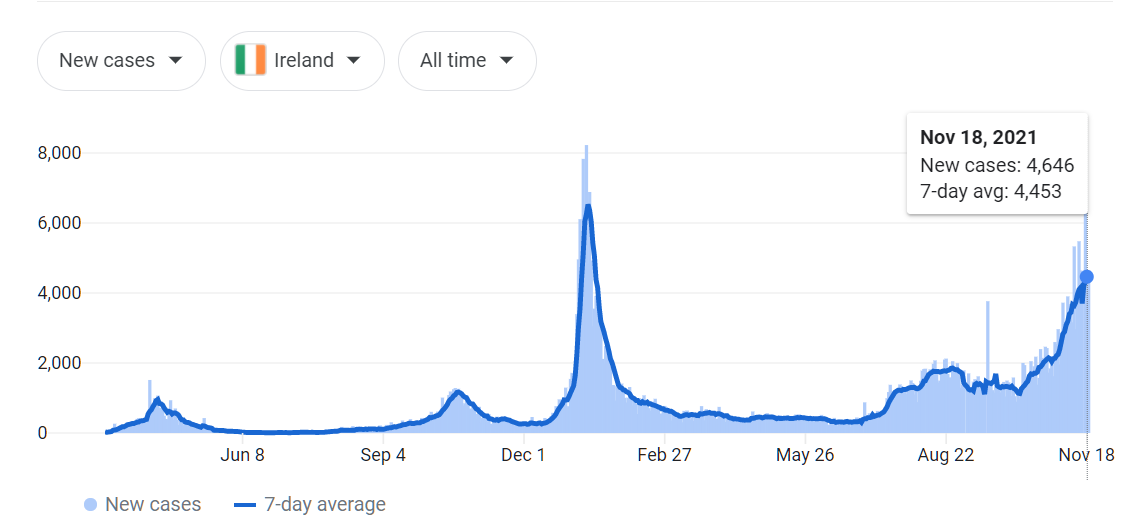 Note that "Irish lockdown" is pretty much the opposite of a Maskachusetts lockdown. In Ireland, schools remained open and generally unmasked while adults could not travel more than 2 km from their houses (enforced with police checkpoints), could not gather and drink alcohol, etc. In Boston, on the other hand, the public schools were essentially closed for 18 months while watering holes for adults, alcohol stores, and marijuana shops remained open. Adults could drive 30 miles from their homes at any hour of the day or night to meet a new friend from Tinder.
Related: