Happy Thanksgiving to Native American readers! I'm sure that you all are grateful for the waves of immigration and associated novel viruses that have washed up on American shores since 1492.
The big theme of 2021 so far has been central planners and technocrats in Washington, D.C. exercising hands-on control of the U.S. economy and many aspects of day-to-day American life. Perhaps it would make sense, therefore, to dedicate this Thanksgiving to expressing our gratitude to those who selflessly toil for our benefit, e.g., shielding us from paying market prices for a wide range of goods and services, and managing our currency.
Certainly, the energy of the central planners has worked well for the supply chain leading to Florida supermarkets. A few days ago, I asked at the local Publix whether there was any chance they'd run out of turkeys. "We got a crap ton," was the reply. Publix did run out of Pepperidge Farm stuffing mix, however, and I had to go to the Publix across the street from the Publix and get the last two bags at that Publix. Cream cheese was sold out (why?).
How about Inflation? Walmart had Jennie-O frozen turkeys for 87 cents/pound, i.e., essentially free, but it was 68 cents/pound in 2020, so that's 28 percent annual inflation. Speaking of free, Publix has free fruit for shopping kids:
The experts tell us that the 28 percent turkey inflation rate can't last? How much more far-sighted are experts in D.C. than the rest of us? Here's a screen shot that I made on April 30, 2015 from the Wall Street Journal: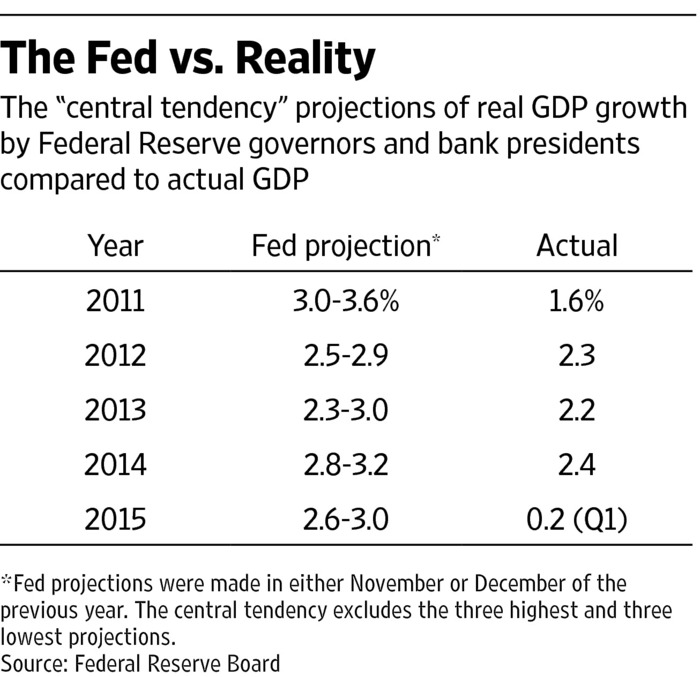 Keep in mind that the "actual" real (inflation-adjusted) numbers overstate GDP growth from the perspective of an individual American. For example, in 2011 when GDP grew 1.6 percent, the U.S. population grew 0.7 percent, and therefore the GDP per capita grew at closer to 0.9 percent.
Speaking of 1492…