"The Netherlands finds 61 Covid cases in air arrivals from South Africa, and is checking for the variant." (NYT):
Sixty-one people from two flights from South Africa to the Netherlands have tested positive for the coronavirus, Dutch health officials said early Saturday. It was unclear as of late morning local time if the cases were linked to the newly discovered Omicron variant.

The health officials tested 600 passengers who arrived on Friday morning at Amsterdam's Schiphol Airport. Those who tested negative were allowed to leave the airport and quarantine at home, or to continue their journeys.
In other words, 10 percent of the folks who arrived in Holland tested positive for plague. Why should that be surprising in a world crammed with 8 billion tempting human hosts for a virus? 100 percent of these people would have tested negative for plague shortly before getting on the two planes. The Dutch require a negative COVID-19 test result for anyone coming in from outside the EU (and also for many of those arriving from within the EU):
You must show a negative COVID-19 test result if you are travelling to or returning to the Netherlands from outside the EU/Schengen or a COVID-19 risk area within the EU/Schengen. This requirement applies to everyone aged 12 or over. There are some exceptions. For example: people travelling within the EU who can show proof of vaccination or proof of recovery (a Digital COVID Certificate) do not have to show a negative COVID-19 test result.
The requirements are detailed on a separate web page: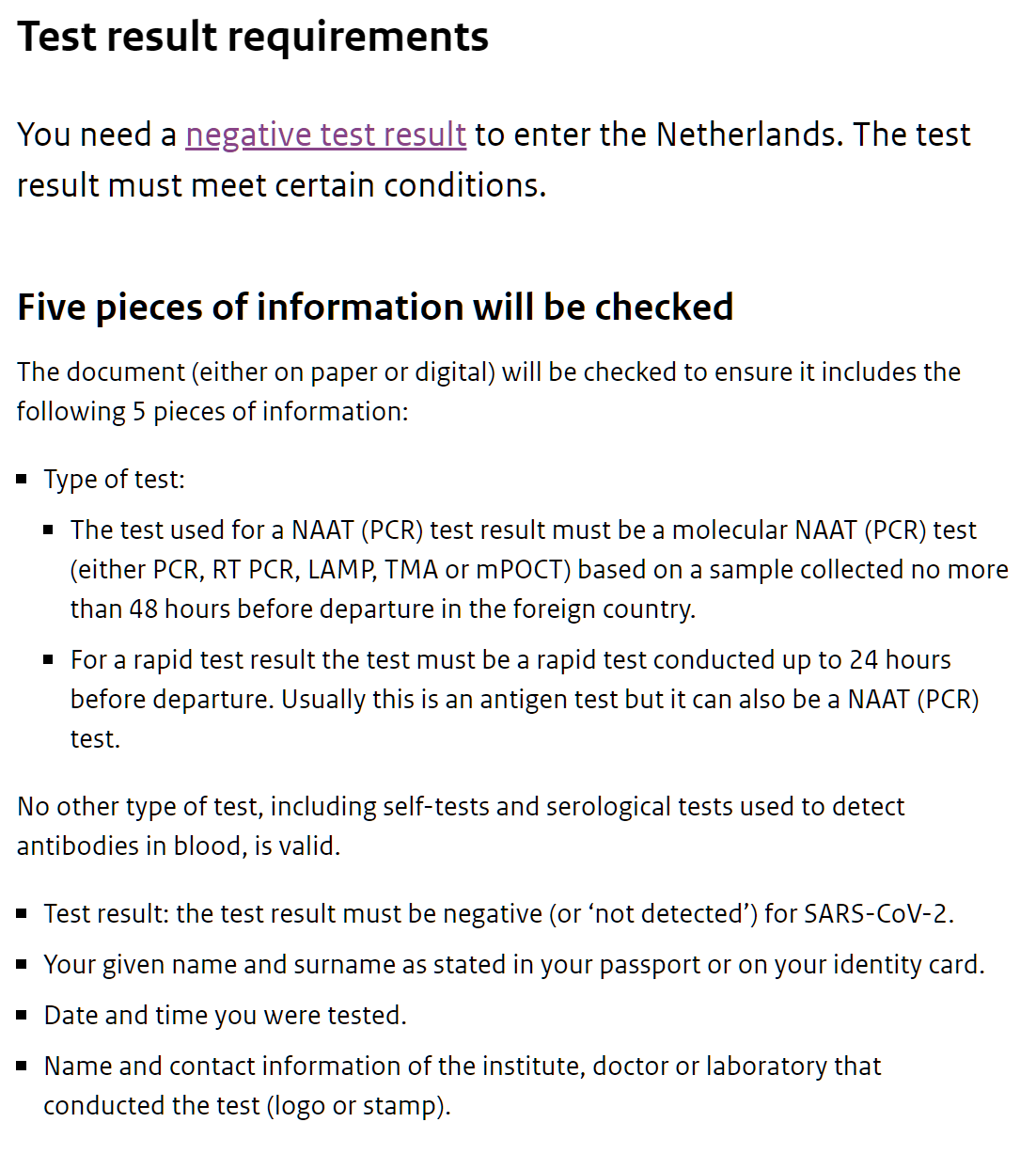 (Maybe some virtuously vaccinated folks could have skipped the pre-flight test if they were simply changing planes in Amsterdam, but most countries now seem to require a negative test and therefore the number who were pre-tested would be close to 100 percent.)
Does the news from Amsterdam give us any reason to question our faith in testing?
Didn't our heroine Elizabeth Holmes actually do better than this at Theranos? And yet she, despite being a victim of rape, is being prosecuted for the low quality of the Theranos tests.