Day 1 of COVID for my friend: fever of 102 (chronicled in Why is it still almost impossible to schedule a COVID-19 test? (at least in Maskachusetts) Note that he had been feeling less than 100% for a few days prior, so this technically could have been considered Day 3)
Day 1, evening: temperature down to 100. Friend in our chat group recommends monoclonal antibody treatment, available to anyone in Florida and to a subpopulation identified by technocrats in Massachusetts. The enthusiast for this emergency use authorized IV drug: "Make up a condition if you need to. Don't risk dying." I chime in: "I don't think an IV drug is the right thing to do. Not unless it seems like it is getting worse. Most new medicines work a lot less well than initially claimed and have more risks than initially claimed." Our mutual friend: "You have to get it right away! Don't wait for it to get worse. Tomorrow!" We seek advice from a cardiologist mutual friend in a separate chat: "Nope. [Regeneron is] overused in Florida. No hard core data but people favor 30 days of aspirin. At least 81 mg. It's thought to cause pro inflammatory, pro coagulatrice [?] state."
Day 2, morning: Right now about 100F in each ear. Throat doesn't hurt as much, coughing subsided. Although now that i wrote that it subsided i needed to cough. I can feel the vaccine working.
Day 2, afternoon: Gone. It was pretty much gone this morning.
One thing I learned: at least in Massachusetts, it is essentially impossible to figure out what to do with a K-12 child when a parent is sick. I visited the web site of the $25,000-per-student-per-year public school that my diseased friend's kids attend. You'd have to spend at least 45 minutes pulling down disparate documents and reading through them to get a high-level understanding of the policies. At the end of this, however, you'd still be uncertain regarding what to do with children whose parents are on track for death via COVID. You'd think they would have a little web form asking "Are you vaccinated? Is the young scholar vaccinated? Is the young scholar symptomatic? …" and then a red or green answer appears via the miracle of JavaScript.
(It turns out that Day 2 of my friend's Inexorable March Toward Death coincided with a TikTok panic regarding violence on 12/17 (see "Schools across US cancel classes over unconfirmed TikTok threats") and, thus, kids all around the country spent the day learning from Professor Xbox.)
Since we all, I hope, #TrustScience and #ListenToDoctors, how about asking a doctor whether children of a COVID-positive parent should go to school? A physician friend copied/pasted this from one of her all-doc discussion groups:
I have had three pfizer doses, booster was in mid-September. My three kids were 14 days post pfizer #2 on Saturday. Today I watched one of my daughters compete at the state gymnastics championships, and I was wearing a kn95 the entire time, cursing all those around me who were blatantly disregarding the mask requirement. As we left the gym, I felt slightly sneezy. I thought it was just from wearing a tight mask for over three hours. I went to pick up one of my other kids who had spent the night with my mom and stepdad. We ate pizza together. Later in the evening, I felt a little sniffly, so I did a binax now and it was instantly positive🤬 My husband is also vaxxed and boosted, binax negative, and plans to go to work tomorrow. What do I do with my fully vaxxed kids this week? Must they quarantine if asymptomatic? I will get us all pcr tested tomorrow and plan on testing the kids/husband again in five days if negative. Can anyone give me any assurance that my mom and stepdad (both fully vaxxed and boosted with pfizer) will be okay if they get this from me? I am freaking out at the thought of them getting sick.
Note that this physician implies that the incubation time from exposure to symptoms is only a few hours. And the doc sends the husband out from the plague-infested house into the workplace where he/she/ze/they can infected dozens of others after what could easily be a false negative test. And the doc is just as confused as the rest of us regarding what should be done with the kids.
Speaking of COVID and symptoms such as brain fog, we removed the front license plate from our Honda minivan yesterday and discovered that the dealer had made two attempts to screw it into the plastic bumper, thus leaving six ugly holes. I had an email exchange with a company that specializes in paint-matched plugs for just this application. I sent the following photo: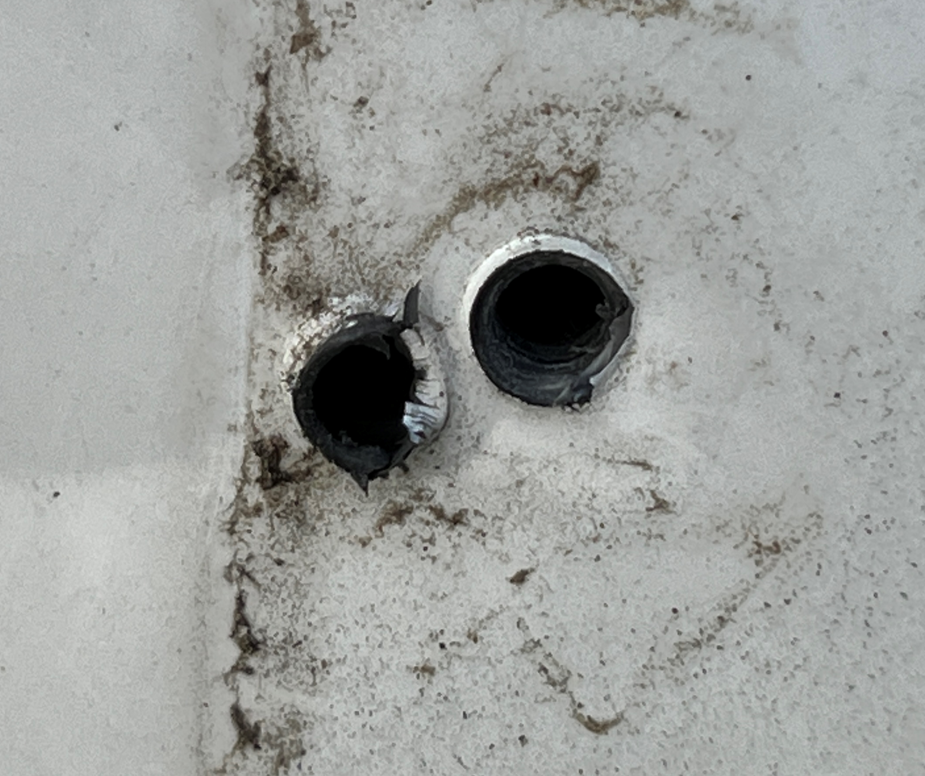 The expert's response: "Is the dealer tech who did this still alive? That's insane." But perhaps it was long COVID brain fog that can be blamed, rather than insanity? I could reinstall the bracket (a third set of holes?) to cover this ugliness. I asked The Google for "decorative front license plate". Here's the first non-ad result:

(How is it legal to sell a hate-filled license plate with inflammatory language, as shown above (i.e., shouldn't that last one read "Boy Birthing Person"?))
I'm thinking a custom photo-printed plate with an image of Mindy the Crippler. Now that my friend's brush with death seems to be over (until the next variant emerges), what do readers suggest for the nose of the minivan?