In a triumph of central planning, the test kits that nobody can buy will now be free. "Insurers Will Have to Cover 8 At-Home Virus Tests Per Month" (New York Times, 1/10):
The Biden administration announced the new guidelines as it continued to work to get coronavirus tests to people regardless of their insurance status.

Private insurers will soon have to cover the cost of eight at-home coronavirus tests per member per month, the Biden administration said Monday.

"Today's action further removes financial barriers and expands access to Covid-19 tests for millions of people," Chiquita Brooks-LaSure, the Biden administration's Medicare and Medicaid chief, said in a statement about the new guidelines.
From the CVS around the corner from our apartment, also on January 10:
(It's Florida, so, even in Palm Beach County, apparently there is no demand for a "please wear a mask" sign on the front door.)
A family of four would be entitled to 384 kits per year, which happens to be exactly 384 more kits than are available at all of the CVS stores within 20 miles right now. Joe Biden's campaign site, November 2, 2020:

As President Biden is not a liar like the previous dictator, presumably Uncle Joe will make good on this campaign promise and when that glorious day arrives, someone can actually get 384 kits. What could he/she/ze/they possibly do with them?
One use scenario comes from the comments on Protected by masks on a 100-percent full flight in which SK describes a family that was excluded from returning from Cancun to Seattle by air due to having tested positive while on vacation. They legally took a domestic flight to Tijuana, legally crossed the land border (no test required, whether one is a current or future U.S. citizen!), and then another domestic flight from San Diego to Seattle.
Suppose this family wanted to be sure of catching their flight home to Seattle and they had all of the reagent fluid from their 384 kits. What would stop them from, before taking the official test, using this fluid as a nasal spray to bind to whatever antibodies the official test's reagent is going to bind to? Then they flush their noses with saline and/or alcohol spray. Five minutes later, they take their official tests. At that point, isn't it likely that there wouldn't be enough test-triggering stuff left in their noses to result in positive tests?
(And, actually, this makes me wonder how big families can travel internationally right now. Isn't it virtually certain that at least one child, for example, will test positive? At that point, though, the entire family will be stuck in quarantine prison for 10 days. Who would willingly take this risk?)
A recent Facebook post: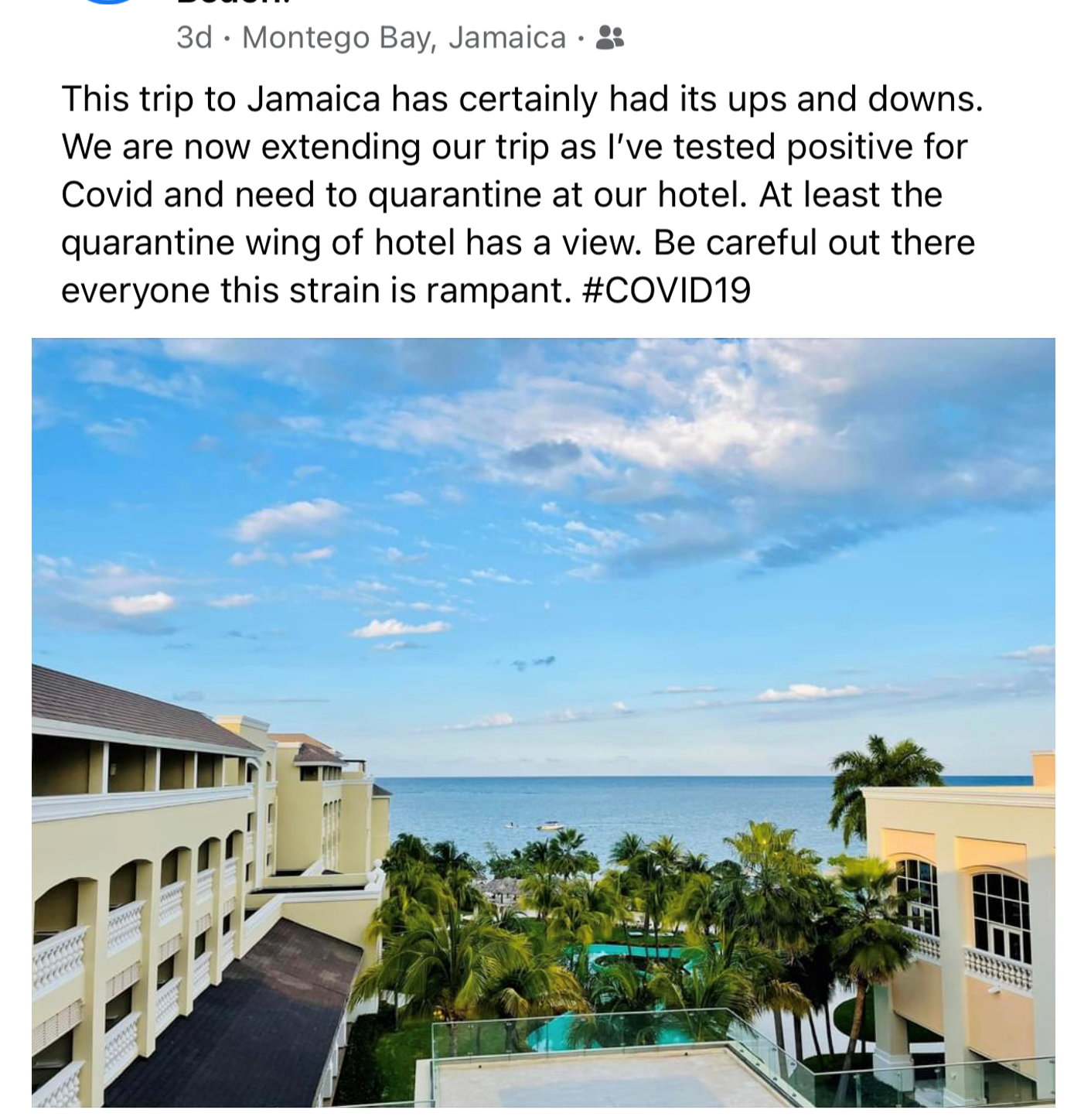 In other words, the trip to Jamaica turned into a prison experience, albeit a prison with a view.
Related:
"Povidone Iodine (PVP-I) Oro-Nasal Spray: An Effective Shield for COVID-19 Protection for Health Care Worker (HCW), for all" (Indian J Otolaryngol Head Neck Surg. 2021 Apr 8 : 1–6.) Here, an effective and safe Oro-Nasal Spray is designed to apply the PVP-I in nose and oral cavity to gain a protective layer or coating over nasal and oral mucosa, so that SARS-CoV-2 can't bind with the ACE-2 receptor and prevent their entry inside. Thus it will be effective for prevention of COVID-19. Moreover, as PVP-I has the ability for destruction of SARS-CoV-2, transmission of SARS- CoV-2 will be reduced also.
Nozin Nasal Sanitizer (Amazon): SCIENCE BACKED: Decreases germs. Keeps protecting for up to 12 hours. Clinically proven with peer-reviewed hospital studies. 62% alcohol based OTC topical antiseptic