I have finished San Fransicko, the book by a self-described lifelong "progressive and Democrat" that I wrote about in Reading list: San Fransicko.
Let's go to the solution first. The author describes 50 years of failure by California government agencies and 15-20 years of spectacular failure by state and local government agencies, with ever-growing revenue for non-profit contractors. What's the alternative to failed state government?
What California needs is a new, single, and powerful state agency. Let's call it Cal-Psych. It would be built as a separate institution from existing institutions, including state and county health departments and health providers. Cal-Psych would efficiently and humanely treat the seriously mentally ill and addicts, while providing housing to the homeless on a contingency-based system. Cal-Psych's CEO would be best-in-class and report directly to the governor. It is only in this way that the voters can hold the governor accountable for the crisis on the streets. Cal-Psych would have significant buying power, be attractive to employees, and be able to move clients to where they need to be. It would be able to purchase psychiatric beds, board and care facilities, and treatment facilities from across the state. And it would be able to offer the mentally ill and those suffering substance use disorders drug and psychiatric treatment somewhere other than in an open-air drug scene.
What if someone is homeless because he/she/ze/they is consuming opioids?
Cal-Psych would do as much as legally, ethically, and practically possible to establish voluntary drug treatment and psychiatric care and would also work with the courts and law enforcement to enforce involuntary care through assisted outpatient treatment and conservatorship. The low-hanging fruit, according to Rene, is getting twenty-something-year-old opioid addicts off the street and into medically assisted treatment programs, since we have good substitutes for opioids in the form of Suboxone and methadone.
What's in these "substitutes for opioids"? Suboxone isn't packed with healing essential always-available-even-when-schools-are-shut cannabis, but it does contain buprenorphine… an opioid. In other words, if someone is taking too many opioids, give him/her/zir/them more opioids.
So… the solution to failed government is more government and the solution to drug addiction is government-supplied drugs.
Homelessness certainly is a growth industry in California:
Between 2010 and 2020, the number of homeless rose by 31 percent in California but declined 19 percent in the rest of the United States.2 As a result, there were, as of 2020, at least 161,000 total homeless people in California, with about 114,000 of them unsheltered, sleeping in tents on sidewalks, in parks, and alongside highways. Homelessness had become the number one issue in the state.3 Half of all California voters surveyed said they saw homeless people on the street five times a week.
A big part of the reason for the failure of the homeless industrial complex has had to do with perverse incentives, progressive resistance to mandatory treatment, and the insistence on permanent supportive housing over shelters. But it also has to do with the neoliberal model of outsourcing services. Instead of governments providing such services directly, they give grants to nonprofit service providers who are unaccountable for their performance. "There is no statutory requirement for government to address homelessness," complained University of Pennsylvania researcher Dennis Culhane. "It's mainly the domain of a bunch of charities who are unlicensed, unfunded, relatively speaking, run by unqualified people who do a shitty job. There's no formal government responsibility. It's only something we dream of. And that is fundamentally part of the problem."23 Nobody can even accurately calculate how much money is being spent. The state auditor calculates that California spends $12 billion total on homelessness, and it is not clear how much of that is overlap with other state spending. The Legislative Analyst's Office found many difficulties: "Difficulty assessing how much the state is spending on a particular approach towards addressing homelessness, for example—prevention versus intervention efforts. Difficulty determining how programs work collaboratively. Difficulty assessing what programs are collectively accomplishing."
There is a philosophical-religious basis for why Californians decided that they wanted to be surrounded by tent cities:
Unlike traditional religions, many untraditional religions are largely invisible to the people who hold them most strongly. A secular religion like victimology is powerful because it meets the contemporary psychological, social, and spiritual needs of its believers, but also because it appears obvious, not ideological, to them. Advocates of "centering" victims, giving them special rights, and allowing them to behave in ways that undermine city life, don't believe, in my experience, that they are adherents to a new religion, but rather that they are more compassionate and more moral than those who hold more traditional views.
Some more quotes on how San Francisco got to this point:
How and why do progressives ruin cities? So far we have explored six reasons. They divert funding from homeless shelters to permanent supportive housing, resulting in insufficient shelter space. They defend the right of people they characterize as Victims to camp on sidewalks, in parks, and along highways, as well as to break other laws, including against public drug use and defecation. They intimidate experts, policy makers, and journalists by attacking them as being motivated by a hatred of the poor, people of color, and the sick, and as causing violence against them. They reduce penalties for shoplifting, drug dealing, and public drug use. They prefer homelessness and incarceration to involuntary hospitalization for the mentally ill and addicted. And their ideology blinds them to the harms of harm reduction, Housing First, and camp-anywhere policies, leading them to misattribute the addiction, untreated mental illness, and homeless crisis to poverty and to policies and politicians dating back to the 1980s.
There is a chapter on Jim Jones, who was close to former mayor George Moscone and Willie Brown.
Moscone made Jones the chairman of the powerful San Francisco Housing Commission.12 Jones cultivated progressives with money and favors. He made large donations to the ACLU, the NAACP, and United Farm Workers. Jones and Moscone met privately with vice presidential candidate Walter Mondale on a campaign plane a few days before the 1976 presidential election, and Mondale praised People's Temple shortly afterward. Jones met with First Lady Rosalynn Carter several times. Governor Jerry Brown praised Jones. Glide Memorial Church's Rev. Cecil Williams loved Jones. There is a photo from 1977 of a smiling Williams awarding Jones the church's "Martin Luther King, Jr. Award."

A conservative member of the Board of Supervisors who was defeated in the mayoral election by Moscone accused the new mayor, the San Francisco Chronicle, and the rest of the city establishment of being blind to Jones's extremism. "There's no radical plot in San Francisco," insisted Moscone, in response. "There's no one I've appointed to any city position whom I regard as radical or extremist."

Brown was master of ceremonies at a dinner for Jones in the fall of 1976 attended by an adulatory crowd of the rich and powerful, including Governor Jerry Brown.

San Francisco's establishment stood by Jones even after a California magazine, New West, owned by Rupert Murdoch, published an exposé of Jones's beatings of Temple members and financial abuses in August 1977. The article was written by a San Francisco Chronicle reporter and was meant for the Chronicle to publish. But the newspaper killed the story because it didn't want to alienate Jones, whom it viewed as central to its plans to expand the Chronicle's circulation in the heavily African American Fillmore District. Jones also managed to avoid investigation and prosecution in part by getting the district attorney to hire as deputy district attorney Jones's longtime attorney and confidant.

Harvey Milk, too, was tarnished by his association with Jones. In the fall of 1977, Milk wrote to President Carter's secretary of health, education, and welfare requesting that Social Security checks be sent to elderly Temple members in Guyana. "People's Temple," wrote Milk, has "established a beautiful retirement community in Guyana."

"Even as the bloated bodies of the dead were removed from the jungle and the wounded were airlifted by the U.S. Air Force to hospitals in the United States," wrote a historian, "Brown said he had 'no regrets' over his association with Jones." They repeatedly disavowed responsibility. Said Moscone, "it's clear that if there was a sinister plan, then we were taken in. But I'm not taking any responsibility. It's not mine to shoulder."
Moscone was ultimately killed by Dan White, an anti-Progressive former firefighter. The author tries to explain how Dan White was acquitted of what certainly looked like premeditated murder:
The jury appeared to pity White. What seemed to be particularly influential was a recording of White breaking down in tears during his confession to the police.

Playing the victim, or what researchers call victim signaling, appears to be working better than ever. Society's definition of trauma and victimization is broadening, researchers find. As a result, there are more people who identify as victims today, even as actual trauma and victimization are declining. Researchers find that people are increasingly "moral typecasting," or creating highly polarized categories of "victim" and "perpetrator." And they find that people who portray themselves as "victims" believe they will be better protected from accusations of wrongdoing. In one study, participants judged how responsible an imaginary car thief was for his actions. One group was told that he had a genetic oversensitivity to pain. The other group was not given that detail. The people in the group who were told that the man was oversensitive to pain held him less responsible for his action.

Victim signalers are more likely to boast of their victim status after being accused of discriminating against others, or of being privileged. And so-called virtuous victims, people who broadcast their morality, alongside their victimization, are more likely to gain resources from others, researchers find, and display Dark Triad personality traits, than victim signalers who did not signal their virtue.
San Fransicko is worth reading, if only to see just how bad things can get for the middle class and even upper middle class before the elites need to worry about losing elections or personally experiencing anything negative. I find it tough to believe that the author's proposed solution, a new massive state bureaucracy, would be effective. Suppose that the new state agency worked precisely as hoped, unlike any of the previous or existing government initiatives described in the book. If California were then to deliver on its promises to its current homeless, why wouldn't that attract a more or less unlimited supply of new homeless people from other states, other countries (just walk across the border), etc.?
In the meantime, since California progressives are so passionate about helping the homeless, the least that folks in other states can do is purchase bus tickets for any homeless person who wants to go to California!
Greyhound bus photos below are from February 2020, Los Angeles Museum of Contemporary Art, currently a Deplorable-free environment:
THE CITY OF LOS ANGELES REQUIRES PROOF OF FULL VACCINATION TO ENTER THE MUSEUM. At MOCA this policy applies to all visitors 12+.
What counts as proof of vaccination? You must provide both:
Your vaccination card issued by the U.S. Center for Disease Control and Prevention (which includes the name of the person vaccinated, the type of vaccine provided and the date(s) dose(s) administered), or similar documentation issued by another foreign government agency, such as World Health Organization, a digital vaccine record, a legible photograph of the vaccination card, or documentation of a COVID-19 vaccination from a healthcare provider; AND
Your photo ID.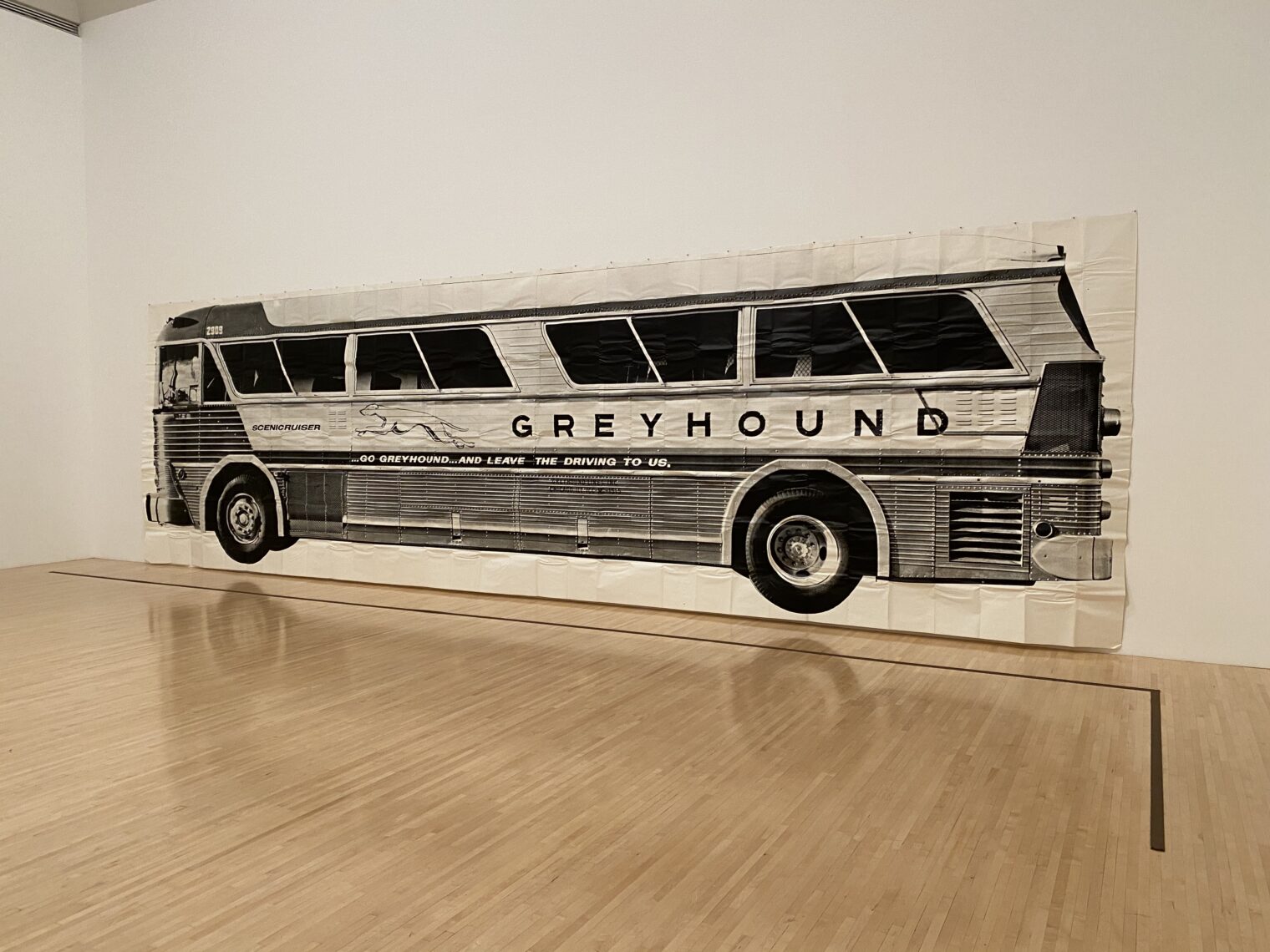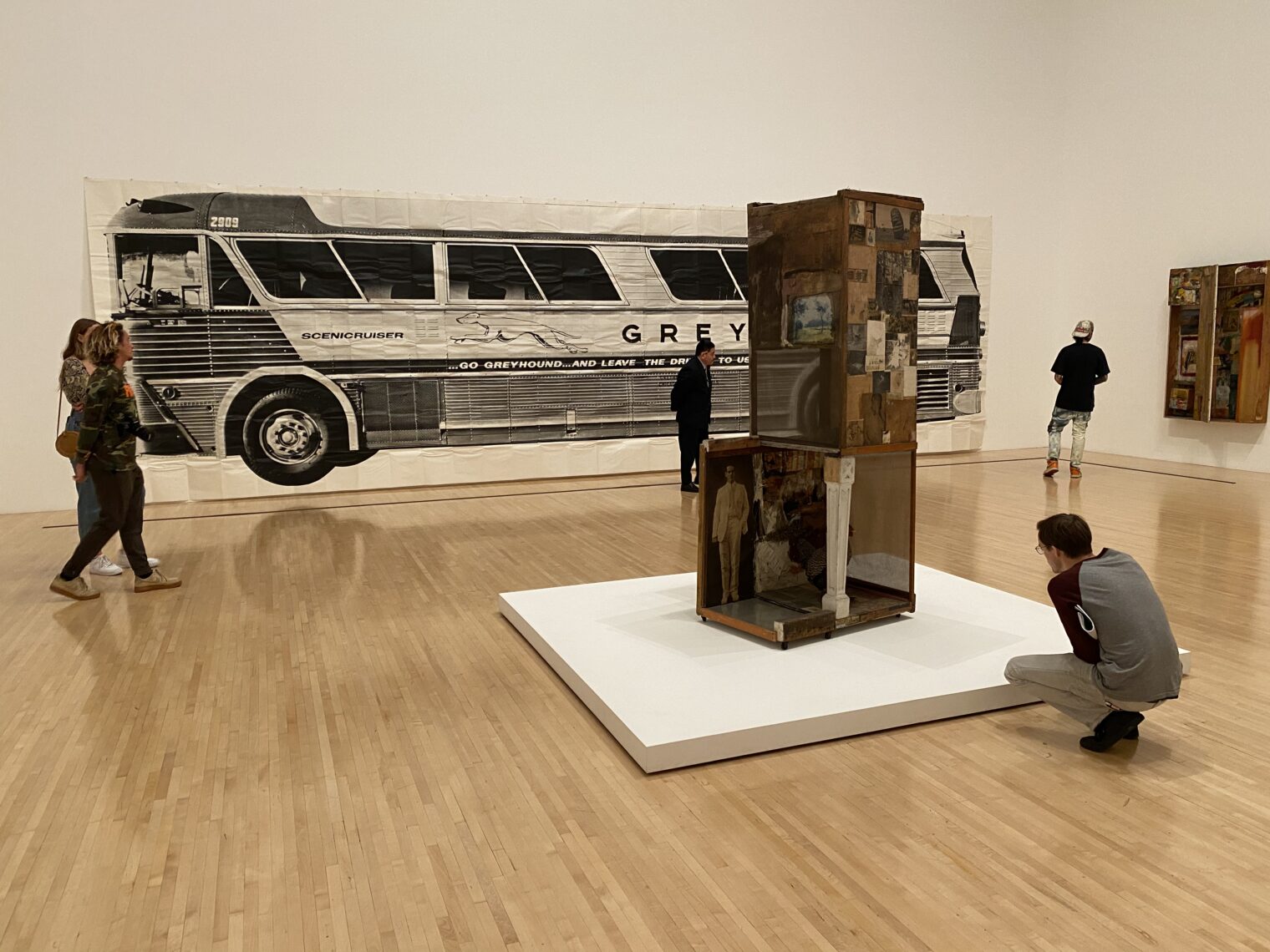 (It is not in any way racist to require a photo ID.)