The U.S. is a great place to be on welfare. Except for France, we spend the largest percentage of our GDP on government handouts such as free housing, health care, food, and smartphone (Washington Post). Marijuana is legal in a lot of states (and "essential" so it will be available through any COVID-19 shutdowns), booze is cheap, and Medicaid will buy you a suitcase full of opioids.
The U.S. is also a great place to be rich. There is no limit to corporate executive pay. After the shareholders have been thoroughly mined, there are plenty of swank neighborhoods in which to hang out with other rich people. At least until 2020, there was a huge supply of low-wage service workers to meet the needs and wants of those in the rich enclaves. Unlike Europe, we have no massive value-added tax to discourage consumption. (Depending on the state, rich people are much more exposed to family court predators than in Europe; see Real World Divorce.)
There is a slavery zone in the middle, though, where an American earns too much to get subsidized housing, health care, food, etc., but not enough to have a spending power or material standard of living substantially higher than what someone on welfare enjoys (quantified by state). He/she/ze/they will pay a crushing array of taxes as well in order to support the comparable material lifestyles of those who don't work at all.
American slaves seem to be prevented by economics from reproducing. From $50,000 per year to nearly $200,000 per year, fertility is lower than for those on welfare and for the elites. A chart from 2019: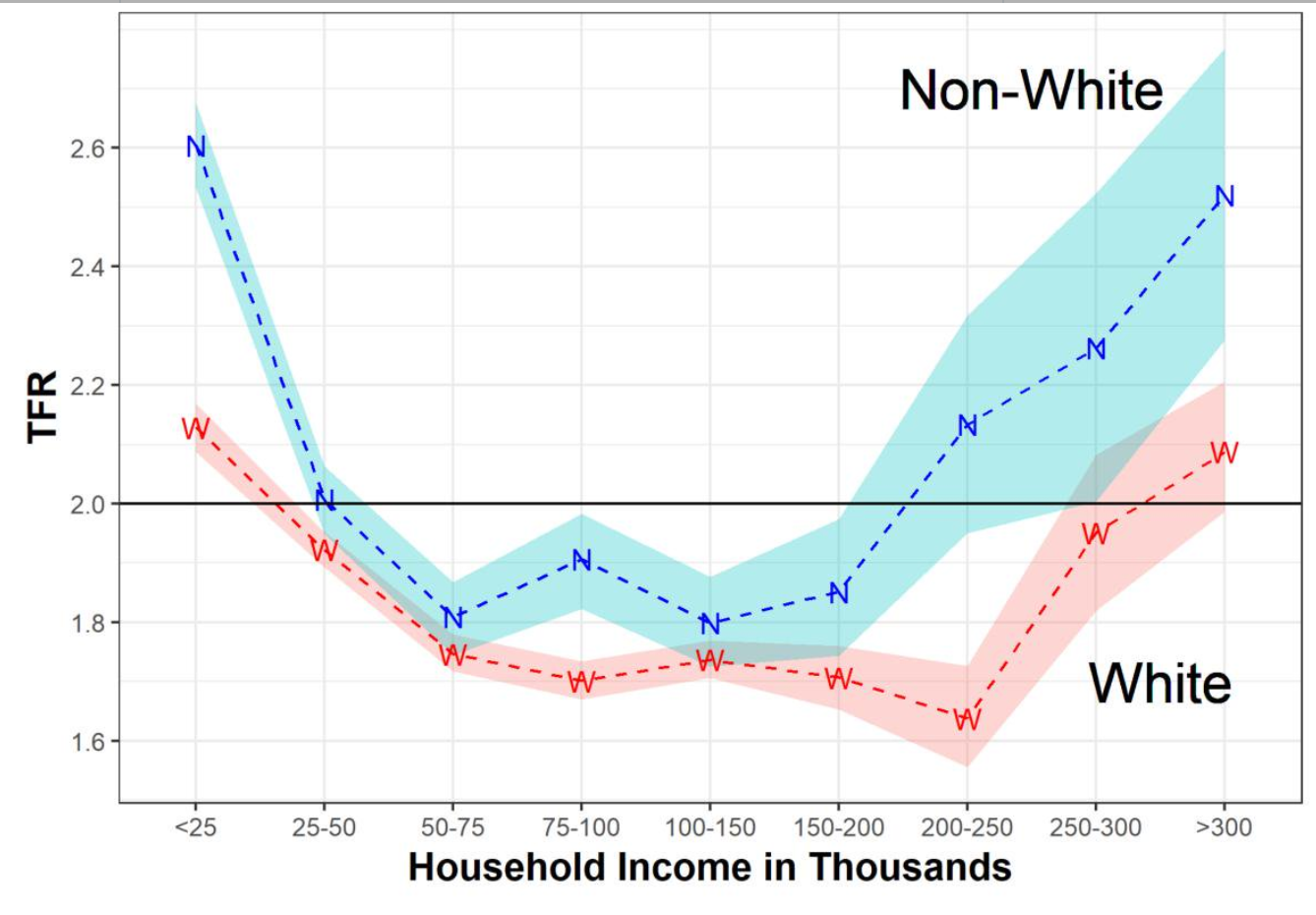 The Wall Street Journal (2/7/2022) says the trend is toward additional oppression of these slaves. "In Covid-19 Housing Market, the Middle Class Is Getting Priced Out":
At the end of last year, there were about 411,000 fewer homes on the market that were considered affordable for households earning between $75,000 and $100,000 than before the pandemic, the study found. At the end of 2019, there was one available listing that was affordable for every 24 households in this income bracket. By December 2021, the figure was one listing for every 65 households.

For households earning between $75,000 and $100,000, five of the top six metro areas with the fewest affordable homes for sale per household were in California, NAR found, led by the San Jose metro area. The state's shortage of affordable housing helps explain why many people left California's coastal cities during the pandemic and moved inland.
Is it safe to say that the future of the American middle-class slave is apartment living and a one-child max? The population keeps growing while land and roads are more or less fixed. Construction costs go up much faster than wages. A median earner in China can't afford a single family home. As the U.S. approaches Chinese levels of population, why would we expect someone near the median here to own a single family home?
Related: