American labor force participation rate is falling (BLS):
An evil (i.e., profit-seeking) company owner whom I know installed an activity logger on the Windows laptops that he provides to employees. "Actual work fell from about 30 hours per week in the office to 20 once people were working from home," he said. (The young engineers, meanwhile, told HR that they were overwhelmed and suffering from a lack of work/life balance.)
So we have fewer Americans working and fewer hours per week spent commuting and working for those who are, at least in theory, still working.
Here's a report from Disney World on a recent Monday:
Historically, we've seen low crowds throughout much of January and February, but this year has brought 6-hour lines and ridiculously packed parks for what is supposed to be the "off-season."

By the time we got closer to the front [of the security screening line], the Cast Members were warning the guests at the back that it would be at least an hour before they'd be able to get into the park. WOW!

We finally got through and made it to the monorail, which, unfortunately, had a line of its own. This entire process usually takes us less than 30 minutes at this time of the morning, but today it took a little more than an hour to get inside Magic Kingdom from the parking lot.
But not everyone can be in a theme park.
Perhaps the new leisure hours were filled with people applying for all of the new government grant programs? Bad news… "Biden administration denies funding programs that hand out crack pipes to prevent infection and promote 'racial equity'" (Daily Mail):
The $30 million grant program will distribute funds to nonprofits and local governments to make drug use safer and 'advance racial equity'

Included in the grant is money to purchase 'safe smoking kits/supplies'

A spokesperson for HHS said included in these kits could be pipes for users to smoke substances like crack cocaine and crystal methamphetamine

President Biden's Health and Human Services department (HHS) denied that it is finalizing a plan for funding to dole out crack pipes to drug addicts as part of its 'Harm Reduction Plan.'

The $30 million grant program, which accepted applications until Monday and will begin doling out money in May, intends to provide funds to nonprofits and local governments to make drug use safer, to advance 'racial equity.'
I.e., no matter how hard someone worked on a new crack pipe design, the Biden administration won't buy it.
What about meeting up (in a COVID-safe manner) with new friends? 2020 was a record year for Tinder and 2021 was even better (source; note that the scale is mislabeled (should be $millions)):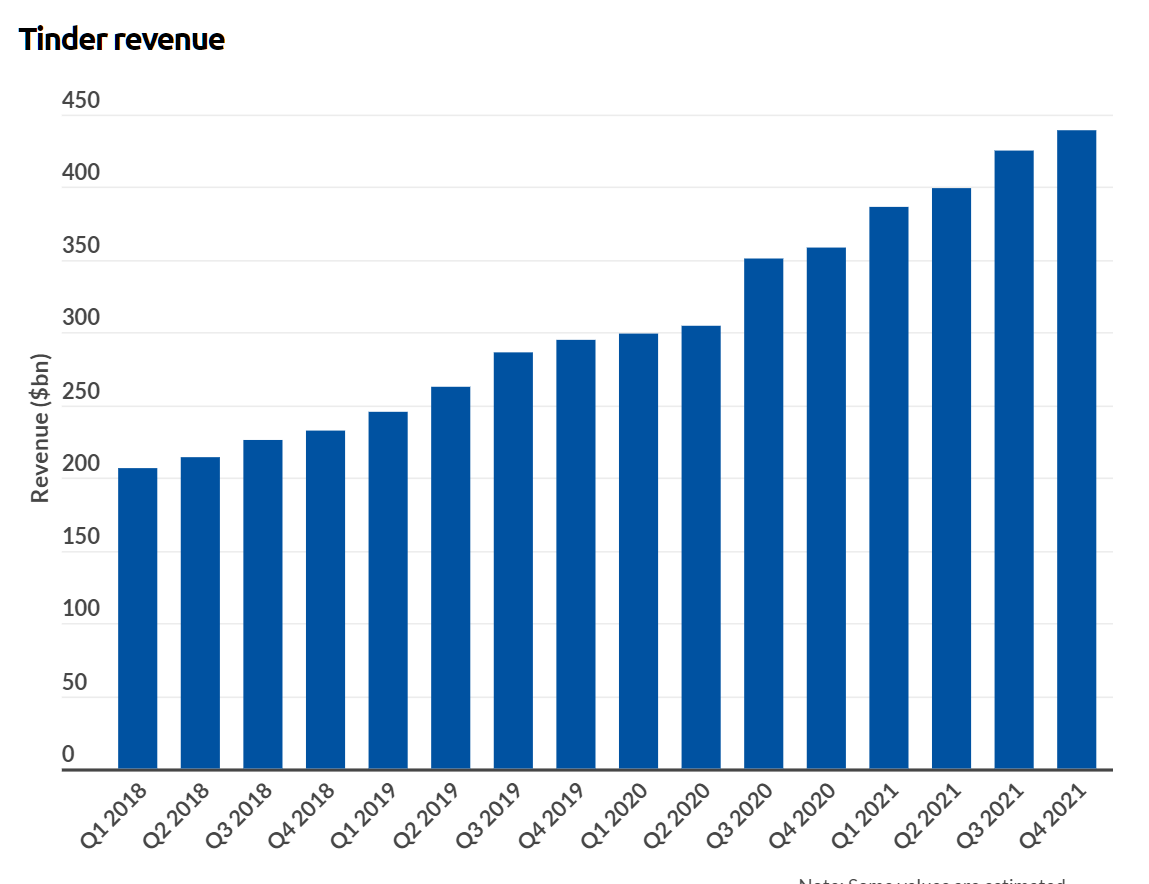 Watching TV, play games, and streaming? It is tough to find statistics for adults, but "U.S. Adolescents' Daily Screen Time Doubled During Pandemic" (US News): "Recreational screen time among U.S. teens doubled from before the pandemic to nearly eight hours per day during the pandemic…"
What else is a realistic possibility?