The mobile data/voice network in the United States is spotty (in fact, there are plenty of places near our house in flat thickly-settled Jupiter, Florida where it is impossible to get data service from Verizon Wireless). This leads to occasional tragedies such as the family that died on a Northern California hiking trial last summer. For aviation and boating enthusiasts, the chance of being out of cellphone coverage in the event of a serious problem is rather high. Consequently, it makes sense to carry a Personal Locator Beacon. These are about the size of a mobile phone, but can summon rescue from anywhere with a clear view of the sky via a 406 MHz signal to a satellite network. They cost $250-400 typically.
The batteries expire after 6 years and by then it might make sense to get an upgraded version rather than send the old one back for replacement batteries and re-waterproofing.
My choice this year, which I'm definitely hoping never to use during flights over the Everglades, to the Keys, and out to the Caribbean, is the ACR PLB 425 ResQLink View. If you want to buy it straight from ACR, use "10OFFACR" to get a 10 percent discount (they sent me the code after I bought mine direct from them in order to be sure of getting the freshest battery and therefore longest life). This one is basically the same as previous ACR units, which are kind of a standard due to inherent buoyancy while being reasonably compact, but it has a small display that explains what the device is doing, e.g., "GPS Acquiring" and "406 Sent!". The device also has a built-in strobe to help the Coast Guard find you at night in your Survival Products raft (Switlik would be better, but their rafts are too heavy and bulky for four-seat airplanes).
I hope this blog post inspires at least one reader to check the battery expiration date on his/her/zir/their PLB. If so, I will have potentially saved at least one life and therefore this post can be considered as effective as a mask order for 333 million Americans.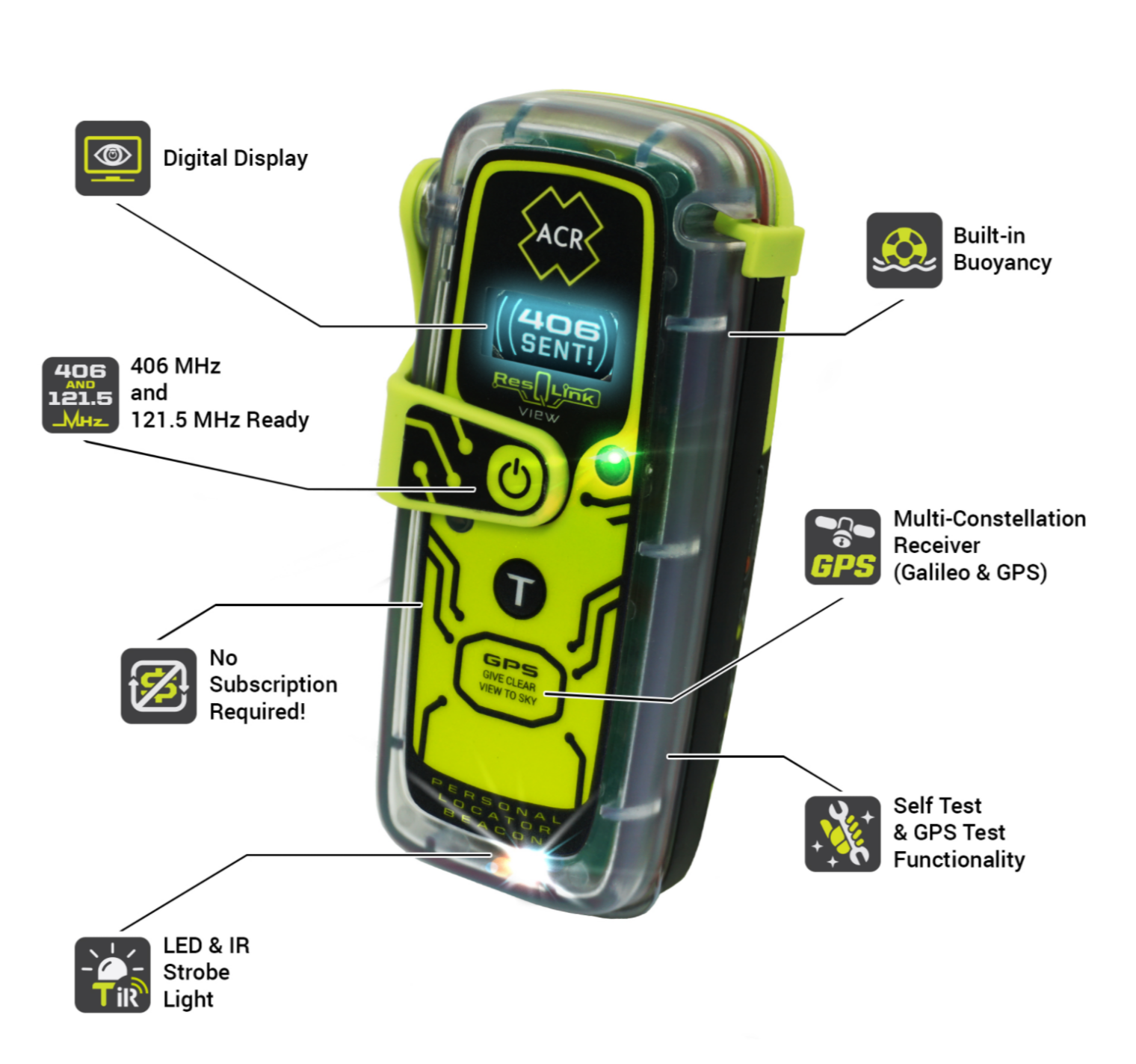 (There is a $50/year subscription service where testing the PLB results in some email and text messages being sent out. Potentially useful for peace of mind before heading out over the Caribbean, but the rescue process is the same if you don't pay for the subscription.)
Related:
About the same price to buy, but $180 per year to maintain, the Garmin InReach lets you communicate via the Iridium satellites. (I don't think this a substitute for a PLB because it requires charging and everything that can be discharged when you need it will be discharged when you need it.)