"Twitter suspends Babylon Bee for naming Rachel Levine 'Man of the Year'" (New York Post):
Twitter locked the account of a right-leaning parody site, The Babylon Bee, after it awarded Rachel Levine, the transgender Biden administration official, the title of "man of the year."

The Babylon Bee story was a reaction to USA Today's naming of Levine, who is US assistant secretary for health for the US Department of Health and Human Services, as one of its "women of the year" last week.

Twitter says it will restore the account, which has more than 1.3 million followers, if the Bee deletes the tweet, but CEO Seth Dillon says he has no intention of doing so.
Apparently, Mr. Dillon was not unpersoned and could still tweet: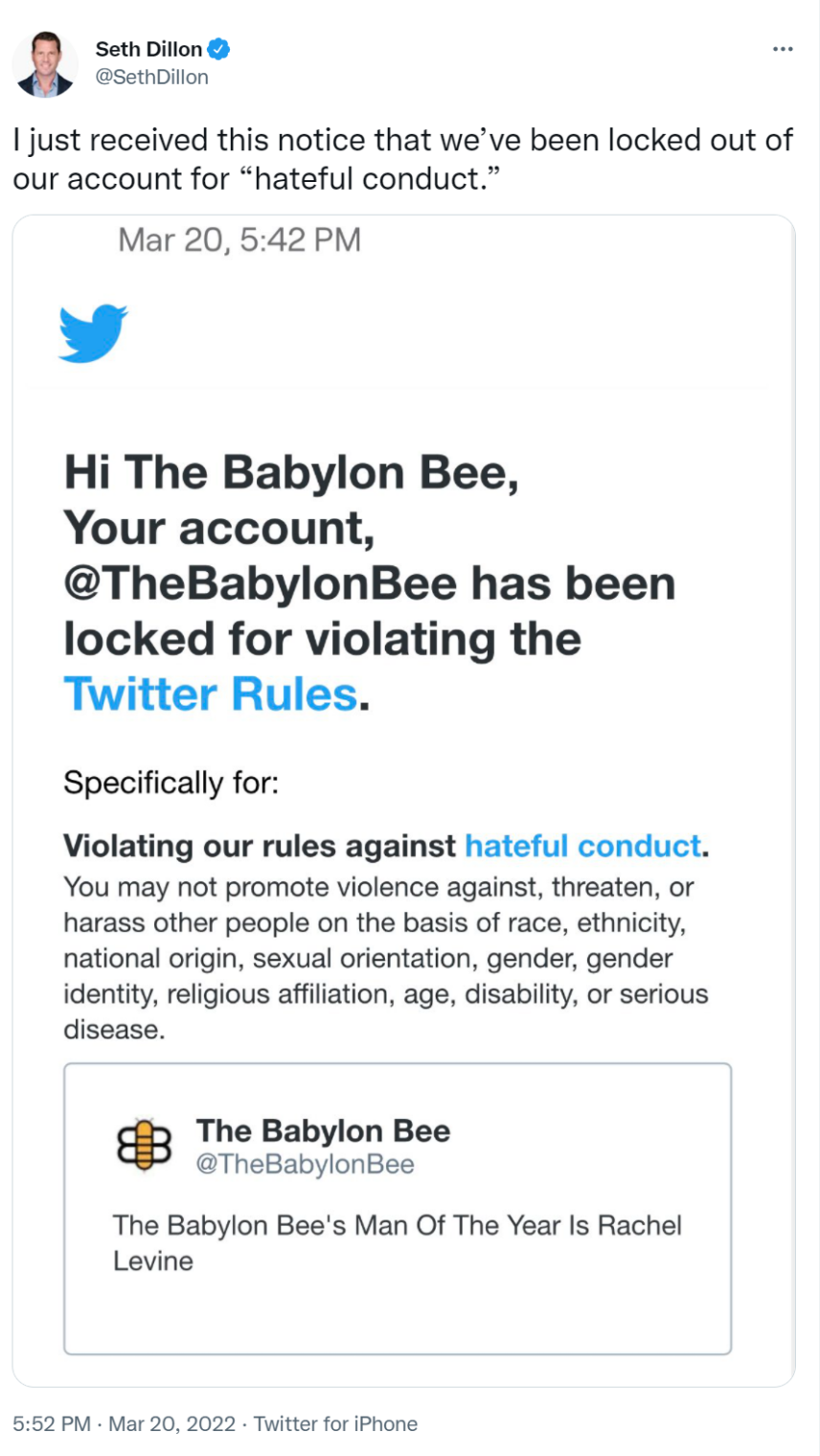 My question concerns the requirement that the Babylon Bee heretics delete their own tweet. Why didn't Twitter's orthodoxy enforcers delete it once they noticed the thoughtcrime?
A Facebook friend's take on the original story:
it's a meta-joke. The joke isn't that he's a man, the joke is that saying so is such a transgression of the orthodoxy that everyone immediately reacts, "omg, I can't believe they said that" and bans them from social media
Is it an important part of the healing process for a thoughtcriminal to delete his/her/zir/their own tweet?
Related:
"Facebook and Twitter restrict controversial New York Post story on Joe Biden" (Guardian, October 14, 2020): Twitter said it was limiting the article's spread due to questions about "the origins of the materials" included in the article, which contained material supposedly pulled from a computer that had been left by Hunter Biden at a Delaware computer repair shop in April 2019. … Facebook, meanwhile, placed restrictions on linking to the article, saying there were questions about its validity. "This is part of our standard process to reduce the spread of misinformation," said a Facebook spokesperson, Andy Stone.