"Disney pledges to help repeal Florida's 'Don't Say Gay' bill" (The Hill):
Disney has pledged to help repeal Florida's "Don't Say Gay" bill, which was signed into law on Monday by Gov. Ron DeSantis (R).

The Walt Disney Company issued a statement shortly after the bill was signed on Monday that said, "Florida's HB 1557, also known as the 'Don't Say Gay' bill, should never have passed and should never have been signed into law."

"Our goal as a company is for this law to be repealed by the legislature or struck down in the courts, and we remain committed to supporting the national and state organizations working to achieve that," the spokesperson said.

"We are dedicated to standing up for the rights and safety of LGBTQ+ members of the Disney family, as well as the LGBTQ+ community in Florida and across the country," the spokesperson added.

The bill is set to go into effect on July 1 and will prohibit primary school teachers from classroom instruction related to sexual orientation and gender identity, while educators of all grade levels will be prohibited from instruction on those topics that is not "age appropriate or developmentally appropriate" for their students.
Note that public elementary schools are not prohibited from providing classroom instruction related to sexual orientation and gender identity. The prohibition is only for kindergarten through third grade. Starting in 4th grade, a student could receive 2 hours per day of instruction on these topics, which would prepare him/her/zir/them to "earn salaries ranging from $329,000 to $430,000" as a diversity, equity, and inclusion administrator in a state university (source: the dreaded Fox News, which seems to have pulled public salary data) and, perhaps, even more at an elite private college.
The question for today is why Disney can't act directly, rather than trying to overturn the law passed by the Florida Legislature? Disney has announced an official corporate policy in favor of sexual orientation and gender identity instruction for K-3 children. Millions of K-3-age children visit Disney World every year. Many of them are from Florida and thus, due to this new law, are at risk of being denied "classroom instruction related to sexual orientation and gender identity". Why can't Disney step in to fill the gap? In the photo below, a (masked outdoors) Disney employee (maybe in California?) holds a sign reading "Help us teach our children kindness and inclusion". But, with a captive audience of millions, Disney shouldn't need any help to teach whatever it wants to teach.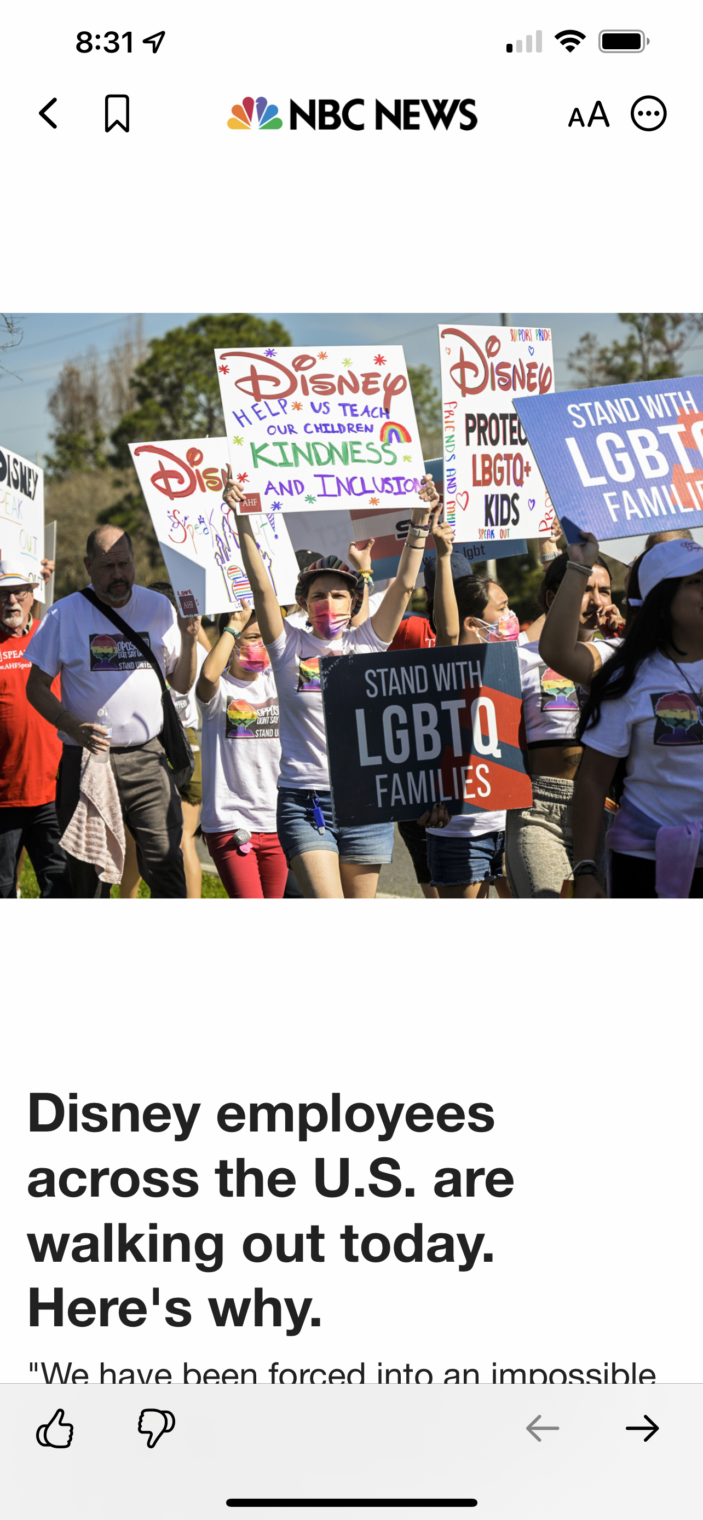 How about a dark ride along the lines of It's a Small World? Children of all ages, including K-3, could travel in a vehicle shaped like a Mazda Miata and learn about myriad options for sexual orientation and gender identity. By including video screens, the ride could be kept continuously updated with the latest Science and, e.g., newly developed gender IDs.
You might say that sexual orientation and gender identity isn't as much fun as some other topics, but if Disney isn't passionate enough about 2SLGBTQQIA+ to offer this to the children who are already on site, can we accept their passion for 2SLGBTQQIA+ in the public schools as sincere?
Readers: What should the scenes of the sexual orientation and gender identity dark ride include? I can start with the cisgender heterosexual section. A "man" and a "woman" (Kentaji will bring in a biologist to assist with these terms) are alternately bored to death by each other's company and annoyed to death by their biological children. A banner overhead reads "Marriage means that we solve problems together… problems that we wouldn't have if we had stayed single." The second scene is family court where the plaintiff asks for "permanent alimony" under Florida family law. The third scene is a pickleball court in The Villages where the now-leathery heteros congregate in single-gender groups while their adult children are ignoring them from 1,000 miles away.
A separate idea: Because Americans don't have to work anymore, every Disney World ride requires waiting in line for 1-3 hours, even on weekdays. K-3-targeted sexual orientation and gender identity instruction could be provided to those waiting in line, a literal captive audience.
Potentially inspiring, scenes of African and Mexican life from It's a Small World (September 2021):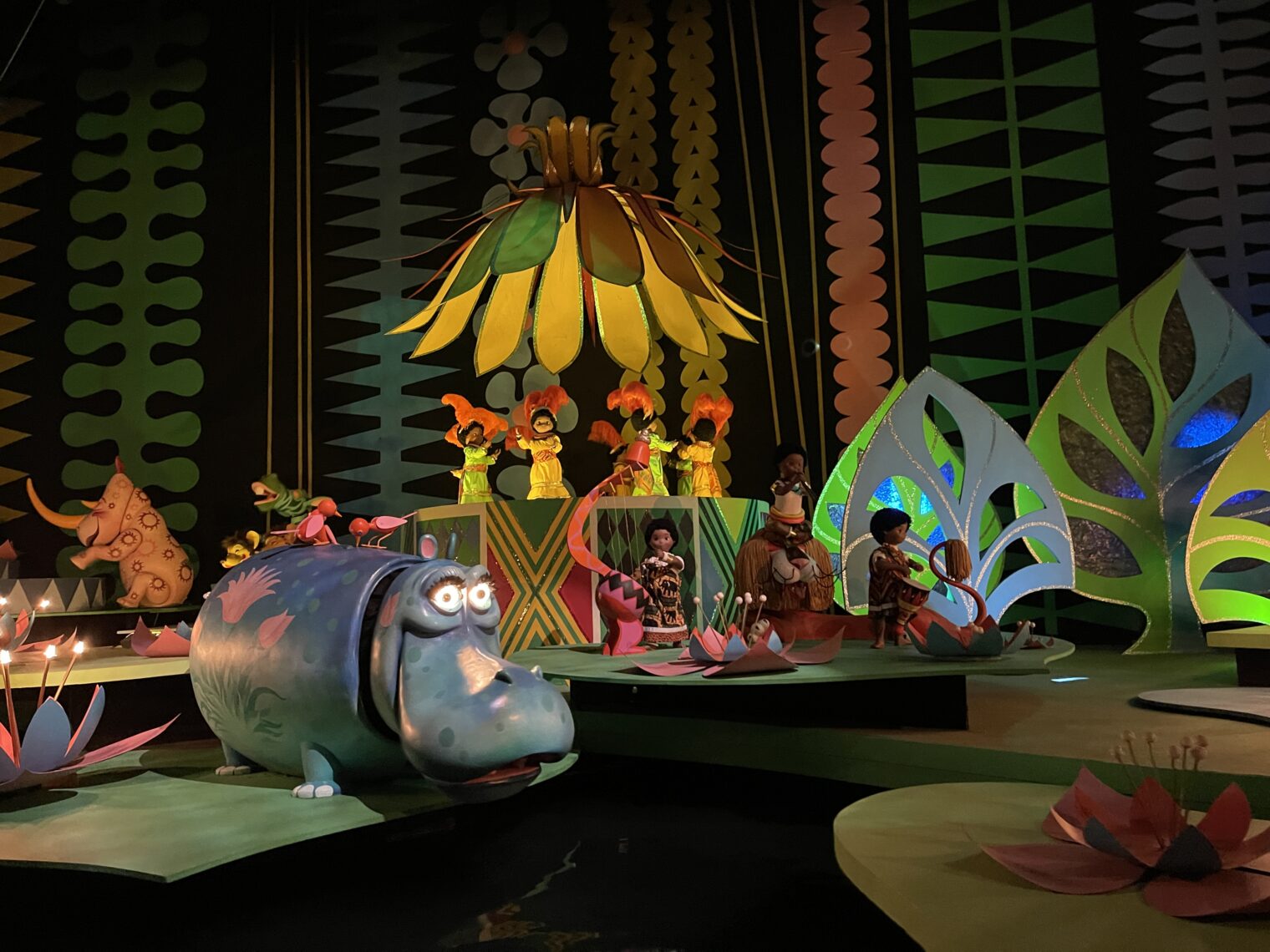 Related:
Carousel of Social Progress for Disney World? (see image below)
"I got a 'dress code' violation at Disney World over my revealing top" (New York Post), in which K-3-age children were protected from seeing some portions of a 23-year-old's body. Disney prohibits "clothing which, by nature, exposes excessive portions of the skin that may be viewed as inappropriate for a family environment."
LGBT rights in Saudi Arabia (Wikipedia): "Both male and female same-sex sexual activity is illegal. LGBT rights are not recognized by the government of Saudi Arabia. … Homosexuality and being transgender are widely seen as immoral and indecent activities, and the law punishes acts of homosexuality or cross-dressing with capital punishment, fines, public whipping, beatings, vigilante attacks, vigilante executions, torture, chemical castrations, imprisonment up to life and deportation." (Disney Plus operates cheerfully in Saudi Arabia and Disney has not suggested any changes to these laws and customs.)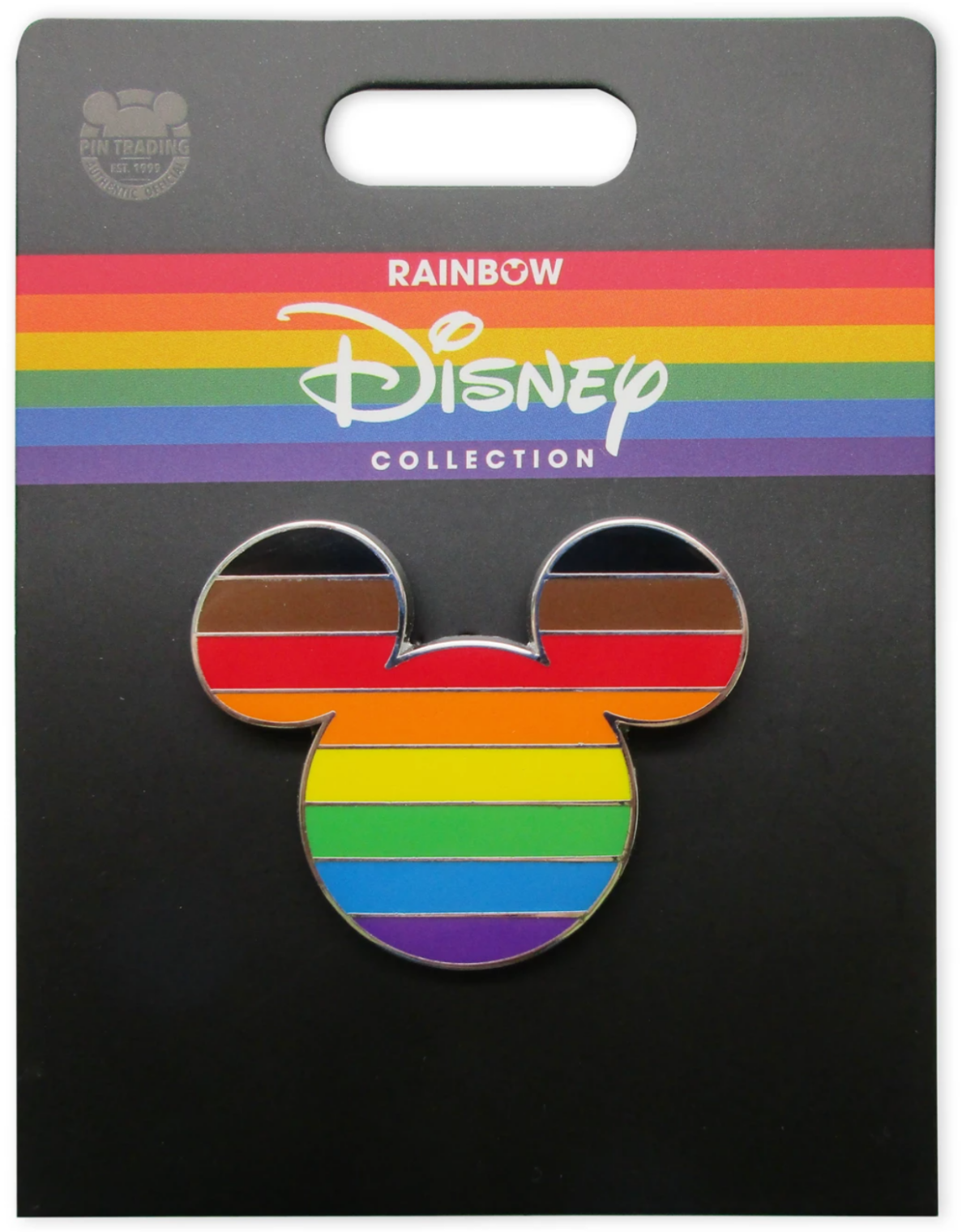 Note that SeaWorld has a 2SLGBTQQIA+ section in the gift shop, but no rides specifically on the topic of 2SLGBTQQIA+. From earlier this month: