The NYT, under a headline about "A Transformative Justice":
Judge Ketanji Brown Jackson will help make the Supreme Court look like the nation but will have little power to halt its rightward trajectory.

Judge Ketanji Brown Jackson, the first Black woman confirmed to the Supreme Court, will in one sense transform it. Once she replaces Justice Stephen G. Breyer, one of the 108 white men who preceded her, the court will look a lot more like the nation it serves. … there will be two Black justices. And a Latina.
U.S. Census says that the percentage of Americans who identified as Black in 2020 was 12.4 percent. If a numerate person were setting up racial quotas for the Supreme Court, therefore, just 1 out of 9 justices (11.1 percent) would identify as Black. With 22.2 percent Black justices, for those who "see color", the Supreme Court will actually look less like the nation it serves.
Maybe it isn't about the skin color criterion established by President Biden, but about socioeconomics. Wikipedia says that Ketanji went to Harvard undergrad, then Harvard Law School, and is married to a surgeon from a "Boston Brahmin" (i.e., rich) family. So someone from a household containing two Harvard graduates and enjoying an income of at least $1 million per year will make the Supreme Court look like more of a cross-section of typical Americans?
Separately, let's look at microaggressions from the world's nerds. Microsoft Word recognizes "Ketanji" as a legitimate word/name yet here in a text area on Google Chrome it is flagged as a spelling error. (Who else on Planet Earth has a first name of "Ketanji"?)
From CNN:
The Senate confirmed President Joe Biden's Supreme Court nominee Ketanji Brown Jackson on Thursday in a historic vote… Vice President Kamala Harris, the first Black woman to serve as vice president, presided over the chamber during the historic vote in her capacity as president of the Senate. … Senate Democrats and the White House have continually highlighted the historic nature of the nomination. … The Senate chamber was packed for the vote, with most senators seated at their desks for the historic occasion.
We have all just witnessed a historic event. What will change as a result of this rich Harvard graduate joining the Supreme Court?
Finally, if Ketanji Brown Jackson were to change her gender ID to "man", thus disqualifying himself from the job under the race+gender ID criteria established by President Biden, would he be subject to impeachment? CNN seems to think that Ketanji Brown Jackson and 2SLGBTQQIA+ are related topics: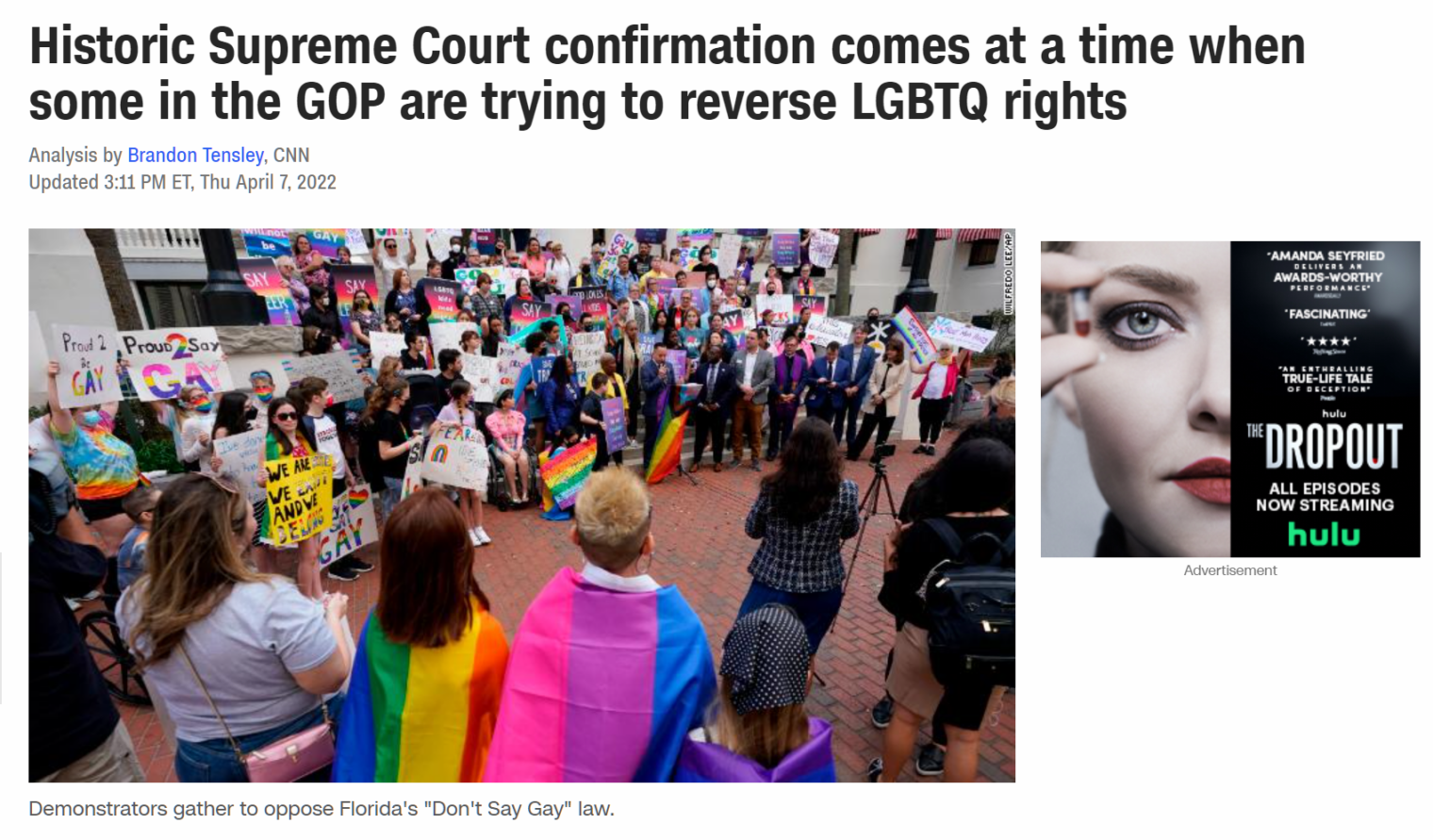 Notice the ad at right regarding a TV biography of Elizabeth Holmes, who certainly made history as the first teenage multi-billionaire founder of a chemistry company without any degree in chemistry.
Related: